Grounds crew creates beauty — and biodiversity — on campus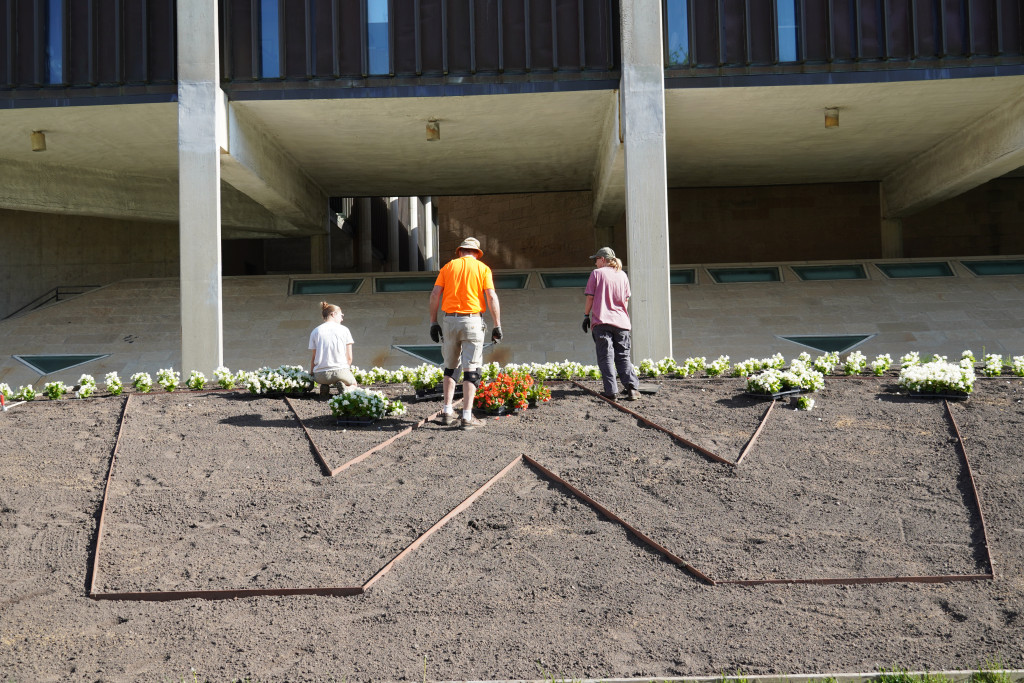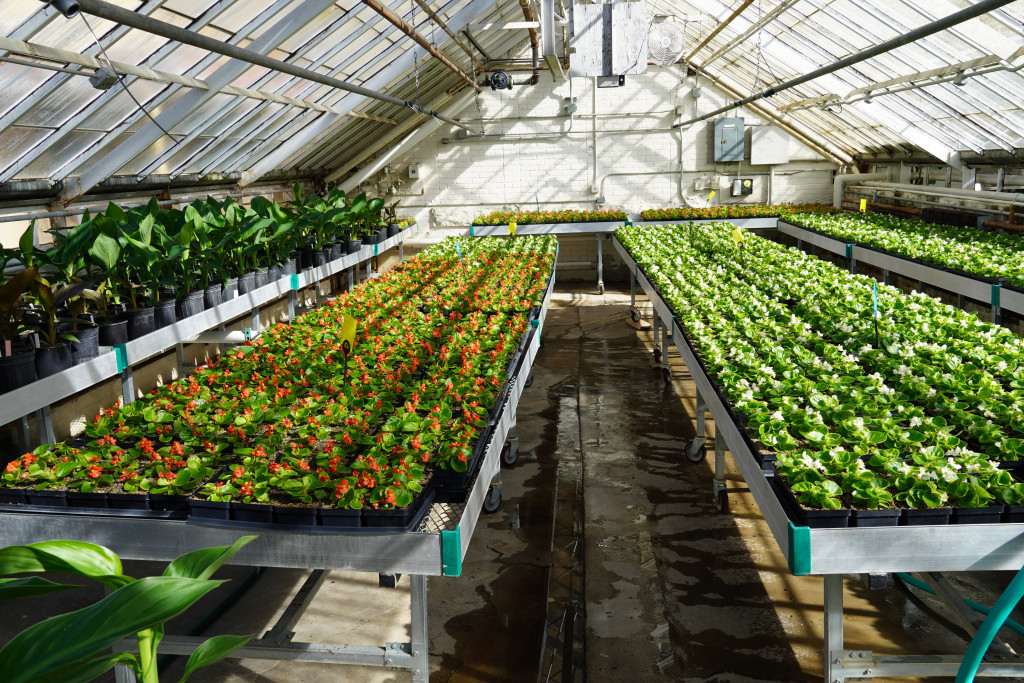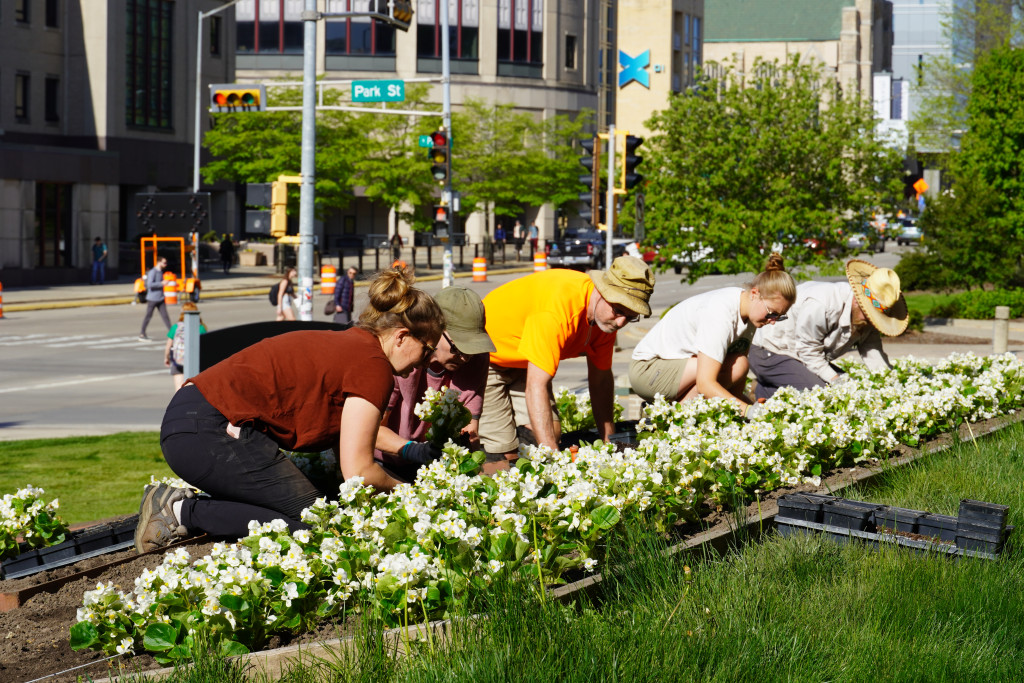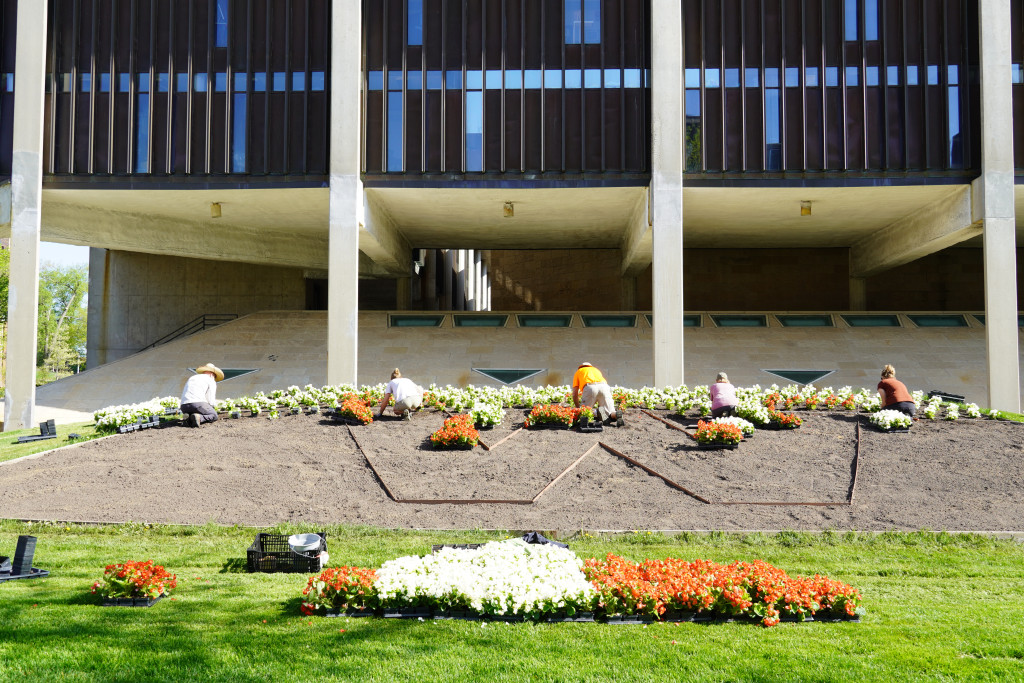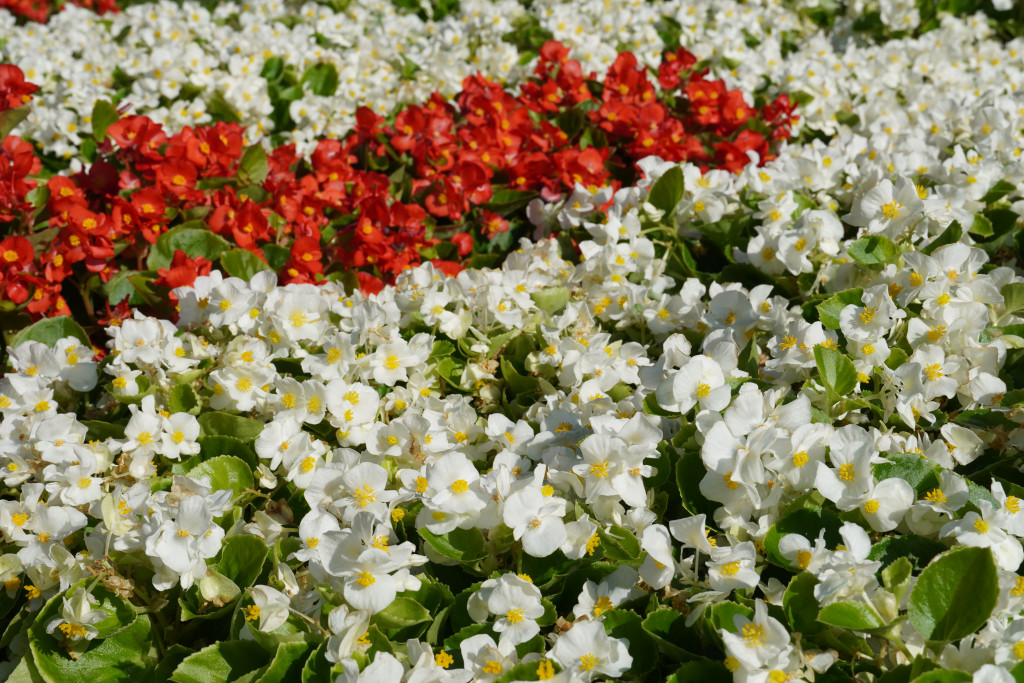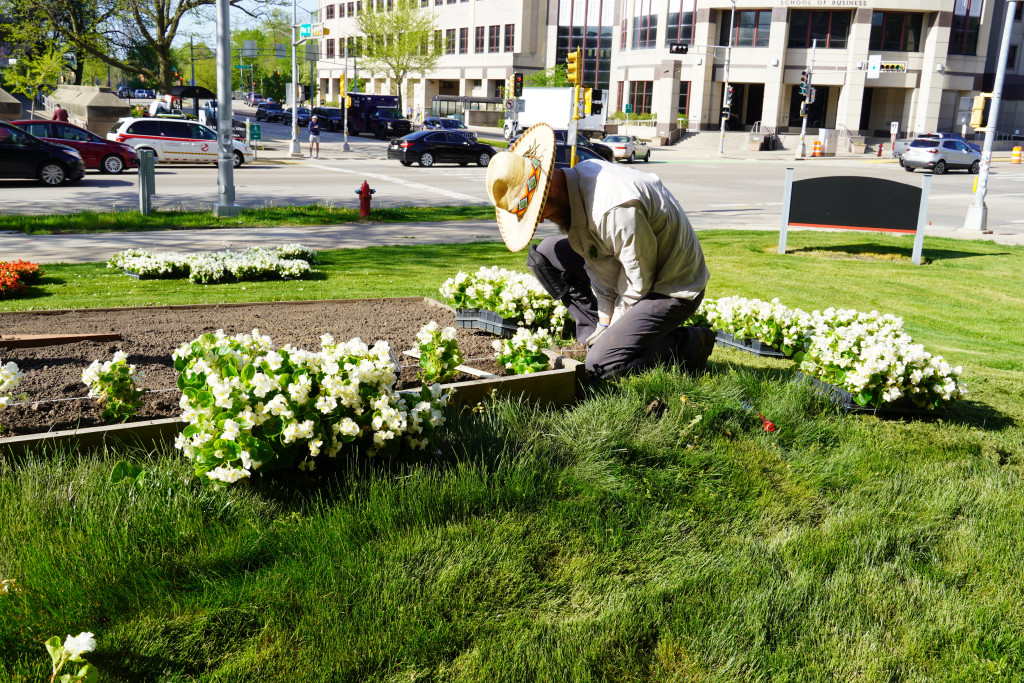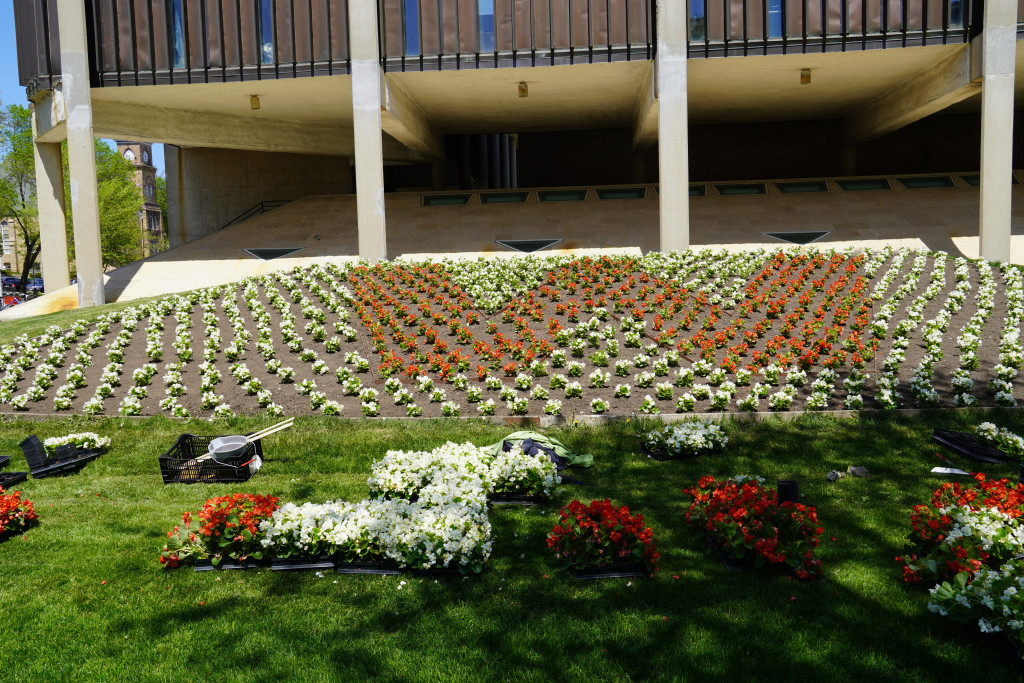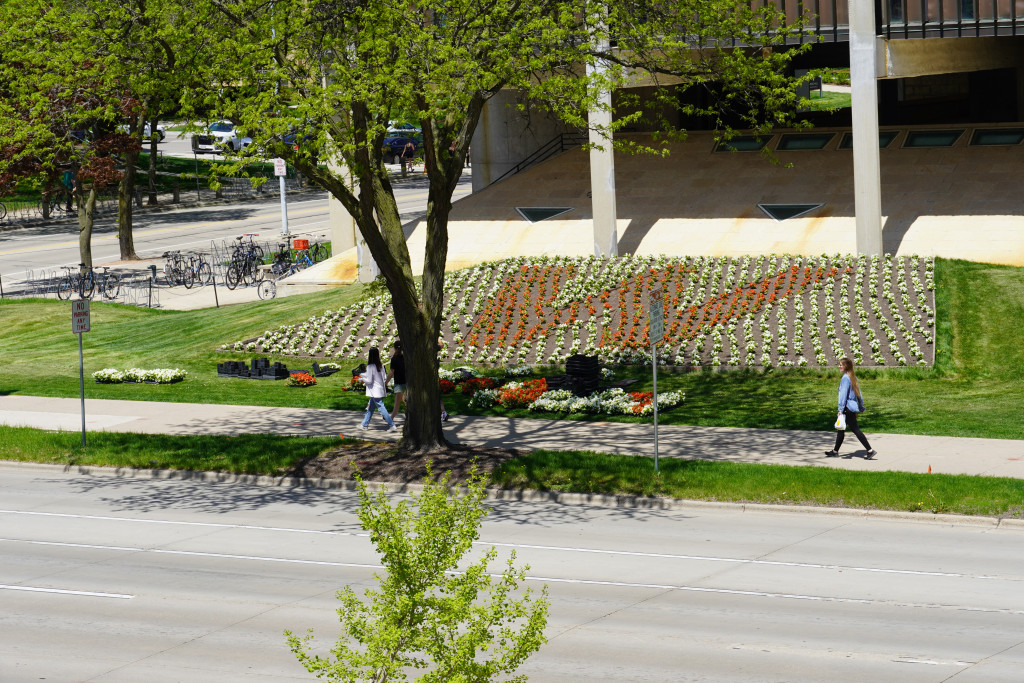 Among the abundant flowers and gardens that grace the University of Wisconsin–Madison campus, the flowerbed in front of the Humanities Building stands out for its bold, meticulously created message. 
Red and white flowers are arranged neatly in the shape of a "W," making it one of campus's most photographed and cherished floral displays.
Horticultural technicians planted them on the morning of May 10, the culmination of a lot of hard work and planning by the Grounds Department, in the Facilities Planning & Management Physical Plant.
"We see winter for quite a while around here, so it's nice to see some color," said Madi Weedon, one of the horticultural technicians doing the planting.
Those walking by noticed. "During finals, it's nice to see the beginning of summer coming," said Elizabeth Gediman, a junior majoring in history, as she passed by the W. "I've been taking pictures of things that make me smile, so I snapped a picture of the W. The W, tulips blooming and the chairs on the Terrace are my favorite parts of spring."
But the Grounds Department's efforts to keep campus beautiful go far beyond creating the W.
The goal is to create a campus landscape that supports biodiversity while providing an inviting space for students, employees and visitors alike, said Ellen Agnew, Interim Director of Services for FP&M's Physical Plant, and Robert Scott, Building & Grounds Supervisor for FP&M's Physical Plant.
Creating a sustainable environment on campus is not a new thing for the Grounds Department. "We've been trained to be as sustainable as possible. I started here in fall 2001, and we progressively become more and more sustainable ever since I first started," said Scott. 
The Grounds Department generally doesn't use the "no-mow May" approach, as new research shows that allowing the grass to grow unchecked throughout May and then suddenly mowing it can disrupt pollinators in their foraging patterns. Additionally, the long grass provides nesting grounds that are ultimately destroyed during mowing.
So Grounds opts for regular mowing while leaving a significant height of 3 to 3.5 inches in the main turf areas. This method, implemented since 2001, strikes a balance between the needs of people and the naturalistic needs of pollinators. The mowers used for these areas are designed for rear discharge or mulching, ensuring that clippings are left on the lawn to provide cushioning, retain moisture, and enrich the soil with nitrogen.
While some areas on campus are designated as "no mow" areas, they are carefully managed to maintain their ecological integrity. These areas are cleaned up during spring and fall, and the excess clippings and leaves are collected to prevent smothering of plant life and maintain the aesthetics of the campus. The collected grass clippings are taken to Picnic Point for on-site composting, while leaves are treated similarly for composting purposes. Notable examples of these areas include the slope behind the School of Human Ecology, which is being transformed into a vibrant no-mow zone, and a small raised bed near Union South.
In addition to the "no mow" areas, there are sections designated as "low mow" areas that require periodic maintenance. These areas are mowed a few times a year, primarily in May and June, to clean out old growth and prevent the growth of weeds and woody plants without the use of chemicals. By managing these areas strategically, the Grounds Department strives to create an environment that is both visually pleasing and ecologically sound.
Looking ahead, the Grounds Department is actively working on expanding native planting areas with reduced mowing requirements. Native plants and sedges are being introduced to enhance biodiversity and reduce maintenance needs. Collaborative efforts between the Grounds Department and the Office of Sustainability are underway, exploring the possibilities of planting native and prairie-type vegetation across campus.
In 2023, the Greenhouse Team grew in the greenhouses a large number of perennials that are pollinator friendly to be planted across campus.
When asked his favorite planting area, Scott said the plantings on campus complement each other within a holistic design, so he can't pick only one favorite.
One noteworthy project that highlights the commitment to sustainability is the implementation of a bee lawn behind Tripp and Adams. Grounds worked closely with students on the Green Fund project that was student-proposed and facilitated. This area, established last fall, provides a habitat specifically designed to support native bee populations and other pollinators. The introduction of a biological-based approach to pest control further exemplifies the department's dedication to sustainable practices, utilizing natural enemies to suppress pest populations.
Greenhouse Team by the season:
To support the UW-Campus, the UW–Madison Greenhouse Team grows the majority of plants from seed in our very own on-campus greenhouses, and plants them. The work varies by season:
Spring:
 7,500 Pansies and Violas
500 Snapdragons
1,000 Other assorted spring bedding plants
350 Cabbage, Kale, Swiss Chard, Mustard
Summer:
5,500 Assorted Annuals
600 Propagated Plants
The Iconic "W" formation outside of the Humanities Building on Park Street
1,728 Planting Bed Display Seedling Plugs
1,500 Other Seedling Plugs
Fall:
17,000 Bulbs are planted across campus, including 700 mums that are purchased from outside grower
Winter:
Assembles assorted greenery displays across campus. Most of the material in the displays come from our very own campus, directly from late season pruning of campus trees and shrubs