Graduates reflect on life and career ahead at Friday commencement
More than 900 University of Wisconsin–Madison graduate and professional students celebrated the hard work and perseverance that led them to this point as they received their degrees in the Friday commencement ceremony at the Kohl Center.
"I wanted to be a vet since I was three years old, so it's been a lifelong dream of mine to fulfill," Lanre Odusote said amid the buzz before the ceremony. His family traveled to Madison from his hometown of Nashville, Tennessee, as well as Ohio and Nigeria to watch him graduate.  "It still feels pretty surreal that it's happening"
And then the UW Band struck up the music as the graduates, wearing the academic hoods they had now earned, took their seats.
"Graduates, if we have done our job right, we've expanded your skills and prepared you for successful work in your field – and I hope we've also expanded your perspectives," Chancellor Rebecca Blank told them.
She advised them to take risks, communicate effectively, and to find ways to follow their passions while improving their communities.
"I hope that you've all absorbed the message of the Wisconsin Idea during your time here," Blank said. "And I hope that you will hold onto the notion that you have a calling to use your education to make something in this world a little bit better, to answer what Dr. Martin Luther King called 'Life's most persistent and urgent question,' namely: What are you doing for others?"
Sabrina Dumas, who was receiving her doctorate in nutritional sciences, already has a goal in mind.
"I would like to help solve the obesity epidemic," she said, explaining that UW–Madison's record of biochemical advances, such as the discovery of Vitamins A and D, drew her here, where she has researched the metabolism underlying obesity.
Originally from Trinidad and Tobago, Dumas said Madison suits her.  "I like the cold," she said.
She will join a metabolism research lab at the Madison Veterans Affairs hospital after graduation.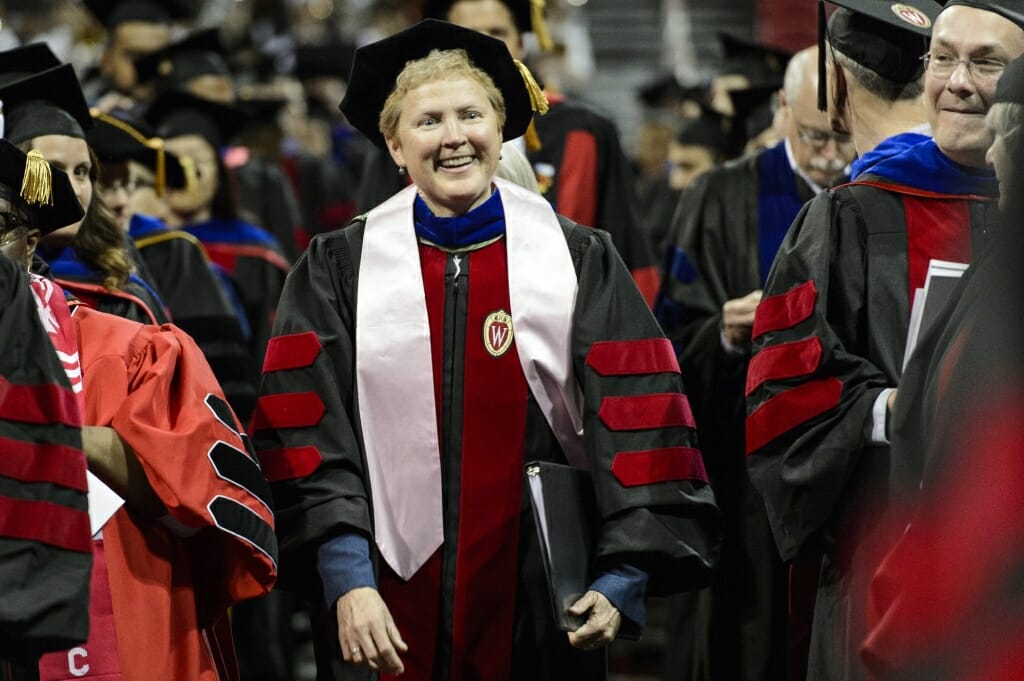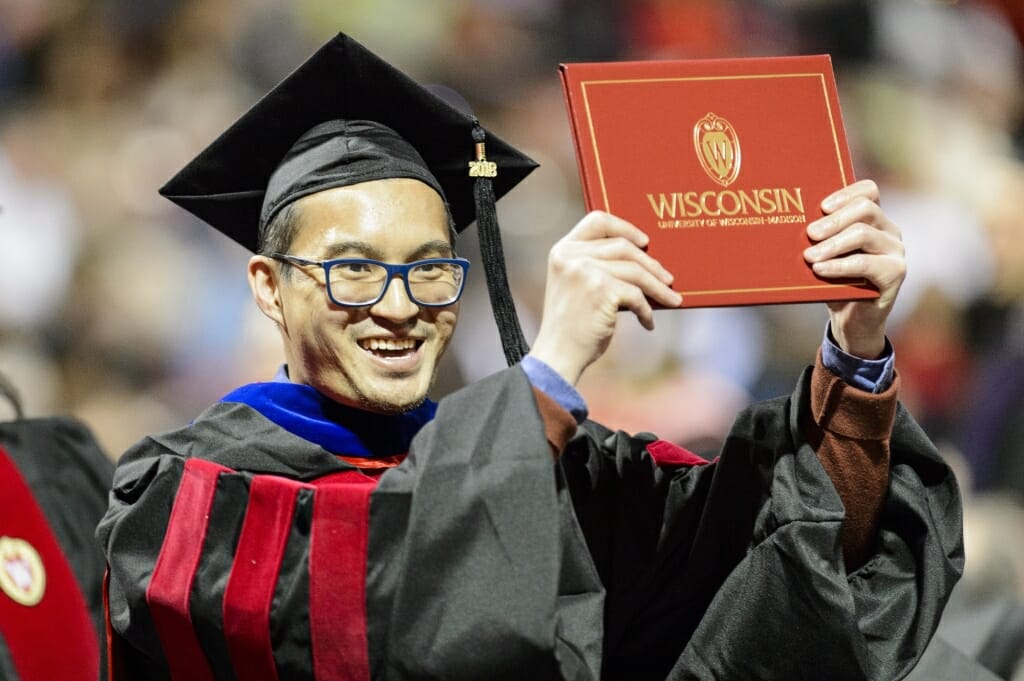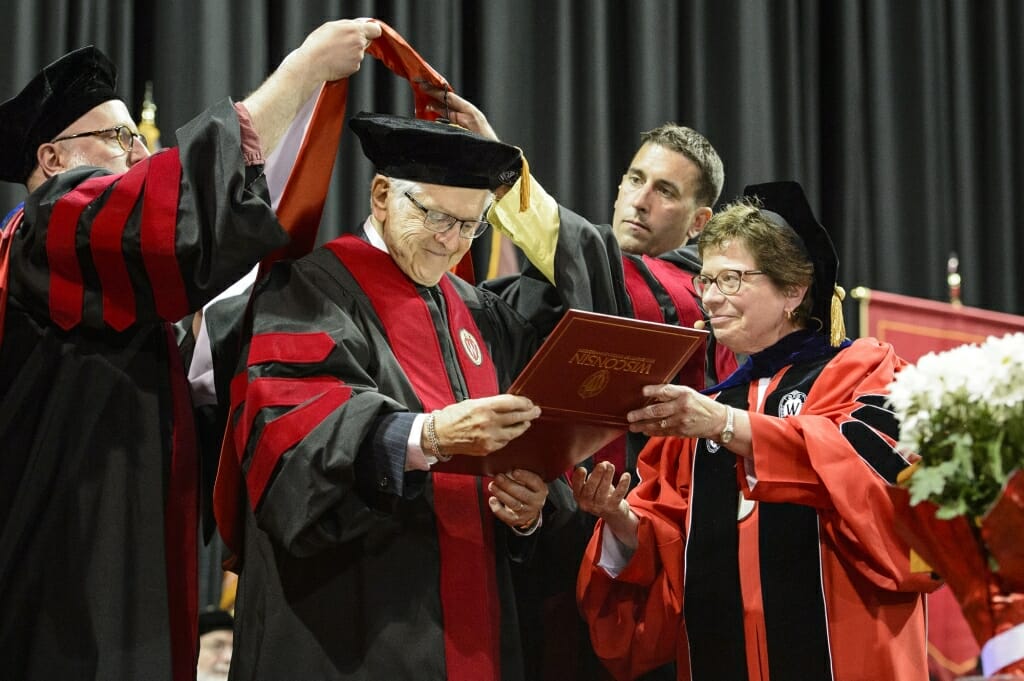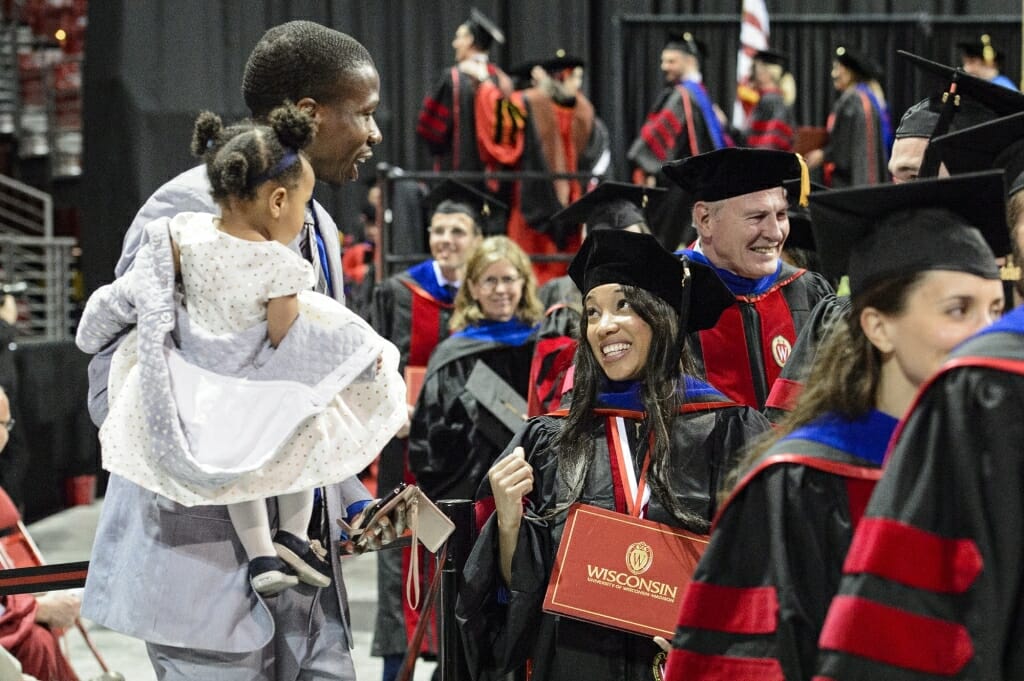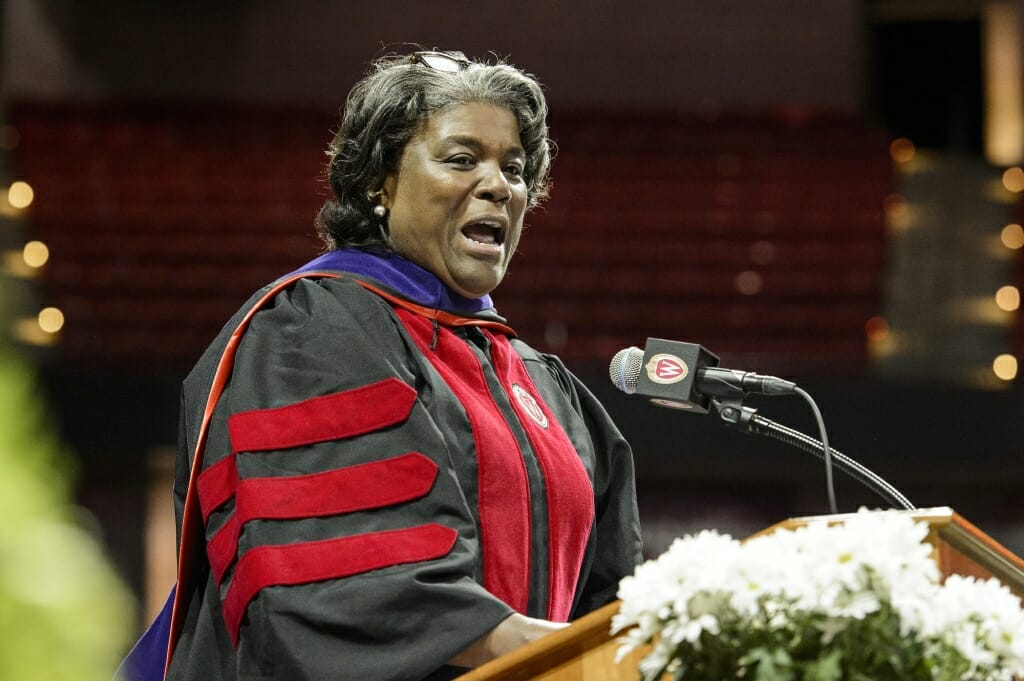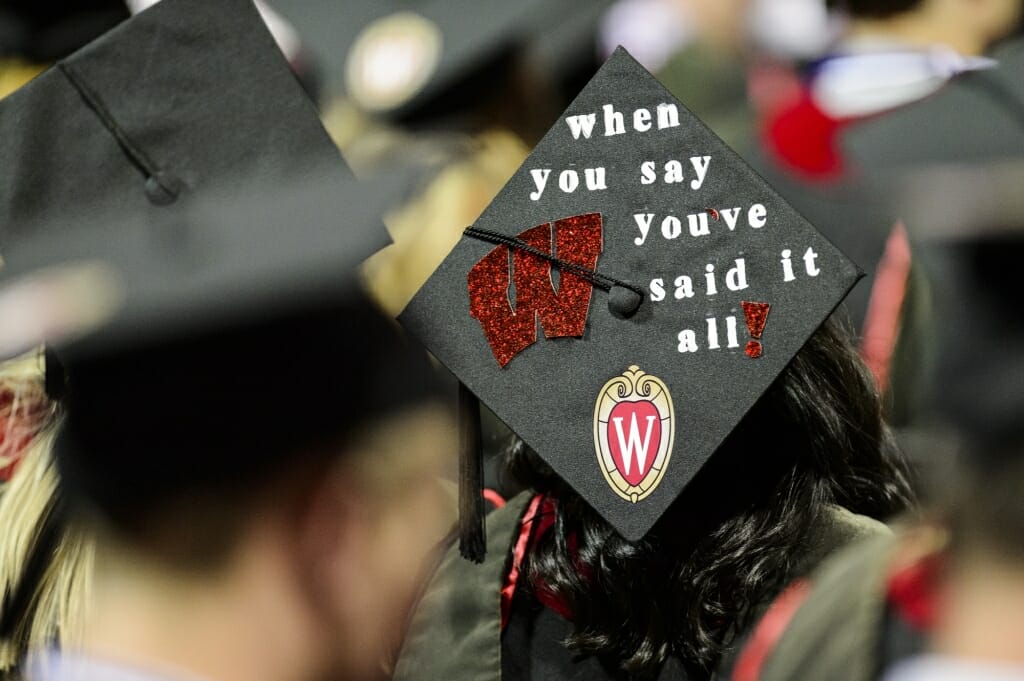 Regent Vice President Drew Petersen honored departing Dean of Students Lori Berquam for her contributions to the university before welcoming the graduates to the University of Wisconsin alumni family.
"Cherish these UW connections. Value them. They are real, and they are powerful. Stay connected, and please stay engaged," Petersen said.
Honorary degrees were presented to atmospheric scientist David Fahey, diplomat Linda Thomas-Greenfield and businessman and philanthropist Jerome Chazen. UW–Madison awards these degrees to recognize individuals with extraordinary careers that exemplify the values of the university. All three of this year's recipients are graduates of UW–Madison.
Chazen credits an undergraduate art history course with awakening his interest in the visual arts as he earned a bachelor's degree in economics from UW–Madison in 1948. After a successful career co-founding and leading the women's apparel company Liz Claiborne Inc., Chazen shared that passion for art by making the lead gift, along with his wife Simona, to the Chazen Museum of Art, which opened at UW–Madison in 2011.
He shared the unpredictability of life and careers and the value of reaching for new opportunities that arrive.
"I say to each one of you as you enter your careers and begin that journey, that you learn every day, that you stay open to change and opportunities and never feel it's too late to start something new," he said.
Climate researcher Fahey is hailed as a key architect of the Montreal Protocol, the 1987 worldwide agreement that limited ozone-depleting substances. He was born and raised in Madison and graduated from UW–Madison in 1975. Fahey went on to earn a Ph.D. in physics from Missouri University of Science and Technology in Rolla before working for more than 35 years at the National Oceanic and Atmospheric Administration.
Fahey asked the graduates to make their own contributions to his field by looking for solutions to climate change in their lives. And he spoke of the influence his mentor, professor emeritus Wilmer Anderson, had on his career before passing on Anderson's advice.
"Go forth and do something important for the world and don't wait for permission," Fahey said.
Ambassador Thomas-Greenfield earned a master's degree in public administration from UW–Madison in 1975 before launching a diplomatic career that crossed continents and broke barriers. She was the ambassador to Liberia from 2008 to 2012. As director general of the foreign service, she oversaw all personnel functions for the State Department's 70,000 employees. Thomas-Greenfield is now a distinguished resident fellow in African studies at Georgetown University.
"For students in the room, the moral that I want to share with you today is that there is no right path except the one you choose. And the one less traveled will always lead you to somewhere different," Thomas-Greenfield told the graduates as she shared how her first trip to Liberia changed her career and personal life course. "And as my life story illustrates, the first chapter of your life does not foretell what will be in subsequent chapters of your life."
Chancellor Blank then welcomed the graduates across the stage as spontaneous celebrations broke out among family and friends in the stands.