Governance groups meet jointly on budget proposals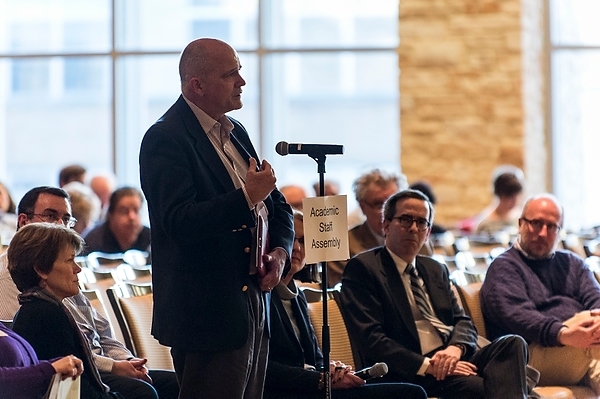 Paul Hutson, professor (CHS) and associate dean in the School of Pharmacy, asks a question about proposed cuts to the state's funding of the UW System during a meeting at Union South. Members of the Academic Staff Assembly, Classified Staff Congress and Faculty Senate jointly attended the session.
Photos: Jeff Miller
Speaking to a joint meeting of employee governance groups Monday, UW–Madison Chancellor Rebecca Blank said proposed cuts to state support would impact educational quality and jeopardize generations of taxpayer investment that have made the school a world-class university.
The hour-long Q&A session included questions on topics ranging from how the cuts would be distributed, to what effect they could have on the university's research and outreach missions.
With the fiscal challenge facing the state, Blank said that expecting there to be no funding reduction to the UW System is unrealistic. But she said there is hope that the size of the cut may be reduced, and echoed the statement she made at the Board of Regents meeting last week.
Chancellor Blank (at podium) listens to a question from an audience member.
"This budget cut is too big for the university and for the state," she said.
Blank said the $300 million cut proposed by Gov. Scott Walker would be spread across the institution and touch all corners of the campus. Funds received from the state government are directed primarily to educational programming. To minimize the impact to instructional programs, cuts would also be allocated to administrative units. The result could mean layoffs to academic and classified staff. Deans and department directors and chairs would be empowered to make budgeting decisions, she said.
"I know how hard all the employees at the university work on behalf of the university and on behalf of this state," Blank said. "We could not operate without the researchers, teachers, custodians, outreach specialists, administrative assistants, steamfitters, and student services staff — to name just a few. Everybody plays a role, and the university needs all of you."
The public authority proposal would convert the Board of Regents into a governing board, granting greater autonomy to the UW System in human resources, tuition, procurement and construction decisions. But the details of how this would be set up are yet to be worked out, and savings from those flexibilities would not provide budget relief in the current biennium, she said.
Hundreds of UW–Madison faculty and staff attended the Q&A session at Union South.
The proposal to move to a public authority model also makes major revisions to Chapter 36, the state statute that includes provisions regarding the UW System like campus governance and tenure. These provisions would have to go into regent policy. But Blank said she has spoken with regents and they are in strong support of maintaining those important policies going forward.
"I'm quite confident we can set up a very stable and effective regime that preserves the protections we currently have," she said.
Increases in tuition for out-of-state undergraduates and professional school students could help to bring more revenues, and Blank said she will pursue those proposals with the Board of Regents. She will also request that the cap on out-of-state undergraduate enrollment be increased from 27.5 percent to 30 percent to increase revenue.
UW–Madison ranked fourth nationally in 2013 in research expenditures, with more than $1.1 billion. Academic research funding comes primarily from federal government agencies.
"I'm quite confident we can set up a very stable and effective regime that preserves the protections we currently have."
Rebecca Blank
Blank said while budget cuts would likely affect outreach programs, she can't imagine outreach not being part of the culture at UW–Madison.
"Everyone I know takes the outreach mission seriously. We will not roll all cuts into that area," she said.
A series of campus forums are scheduled this week. The first, scheduled to accommodate third shift employees, is Wednesday at 11 p.m. at the Health Sciences Learning Center.
A second forum will be Thursday at 2:30 at Union South, with a third on Friday at 9 a.m. in Ebling Auditorium. Student-focused budget forums are also being planned for later in the month.
For updates on the state budget process, go to budget.wisc.edu.