Get ready to vote – now, or on Nov. 4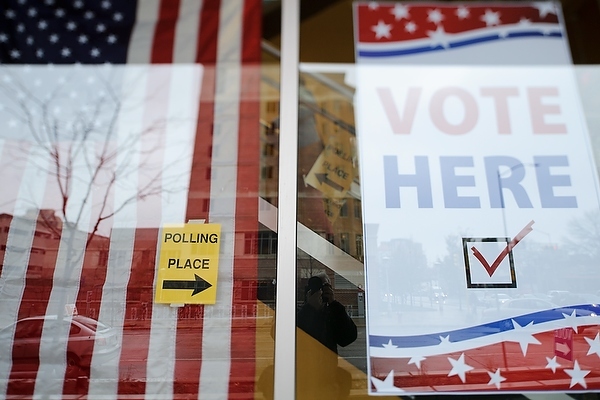 No photo ID is required to vote in the Nov. 4 election. Early voting is underway for registered voters, and same-day registration for eligible citizens will be available at the polls.
Photo: Jeff Miller
Election Day is less than a week away: Are you prepared? Make sure you've got the information and registration you need before Tuesday, Nov. 4.
"UW-Madison has a reputation for attracting and producing students who consider civic engagement an important part of their lives," says Lori Berquam, vice provost for student life and dean of students. "I hope every member of the university community will not only participate in the voting process but encourage others to do so, too."
Here are the top five things you should know about voting.
1. You do NOT need a photo ID to vote. On Oct. 9, the U.S. Supreme Court ruled that Wisconsin's voter ID law will not be implemented for the Nov. 4 election.
Note: If you obtained a UW–Madison voter ID, remember that it was intended for voting purposes only, and was not intended as a substitute for your Wiscard (the university's official identification card).
2. Who can vote? If you are a U.S. citizen, will be 18 years of age on or before Election Day and have resided in Wisconsin for at least 28 consecutive days before Election Day – AND you're registered! – you are eligible to vote in Wisconsin. Out-of-state students can vote by registering like any other Wisconsin resident.
3. Not registered by Election Day? Do it at the polls. You'll need a proof of residence document (see here for examples) showing your name and current address. You can also show it to the poll worker on your smart phone, tablet or laptop.
4. Voting hours are 7 a.m.-8 p.m. on Election Day. Don't know where to vote? Go here to find out the polling place for your ward (and read additional FAQs about polling places).
5. You can vote (and register) early, through Friday, Oct. 31. Hours are 8 a.m.-7 p.m. at the City-County Building (Office of the Madison City Clerk), 210 Martin Luther King Jr. Blvd. Information on early/absentee voting in Madison is available here or at voting@cityofmadison.com.
Detailed voting information is available at vote.wisc.edu.