Education, surgery try "speed dating" for research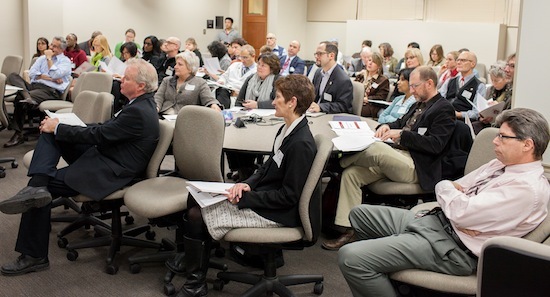 Researchers from the Department of Surgery and the School of Education got together last month to weigh the possibilities of research and other collaborations.
Ambitious surgeon seeks educator who longs for a research partner. Let's get together and chat about issues of mutual interest to consenting scientists.
Okay, so there was no adult ad involved, but a campus event in December brought together about 60 faculty members from the UW Department of Surgery and the School of Education to brainstorm about joint projects. Think of it as an "e-Harmony" for research.
Craig Kent
Dr. Craig Kent, chairman of surgery, said he hopes that it is at least as successful as a 2010 "speed dating" event with engineering faculty. That one resulted in several research partnerships between surgeons and engineers.
Dr. Carla Pugh, vice chair of education and patient safety in the surgery department, said the drive to improve health care quality explains why surgeons are so interested in the assessment and coaching skills of professional educators.
"The push throughout health care is for quality improvement," Pugh said. "Yet how do we assess quality and how do we best improve? These questions are critical for surgery."
And, as Kent noted, in welcoming the education faculty to the Health Sciences Learning Center, the entire U.S. medical system could benefit from improvements in how surgical skills are taught and assessed.
"The old surgery model of 'See one, do one, teach one,' doesn't work in today's world," Kent noted. "There's room for incredible innovation. There are millions of surgeries in the United States each year, and surgery and caring for surgical patients accounts for about half of the total U.S. health care budget."
Julie Underwood
School of Education Dean Julie Underwood said her faculty are interested in new research areas and partnerships, and added, wryly, "As a patient, I'm glad you're moving away from that 'see one, do one' model."
The group heard brief pitches on research methods, ranging from Kurt Squire, professor of curriculum and instruction, who talked about using video games to teach, to surgeon Dr. Caprice Greenberg, who plans to use Google Glass to record and evaluate surgeries.
"The ideal is lifelong learning and performance improvement,'' said Greenberg, who heads the Wisconsin Surgical Outcomes Research Program. "But the majority of surgeons are in the state of arrested development – we're not improving."
After the short presentations, the educators and surgeons grabbed taco salads, and headed out to have smaller lunch discussions with colleagues with mutual interests.
Kent said the previous event, which began with two-minute speed dates between engineers and surgeons, continues to bear fruit. The collaboration between Kent and Dr. William L. Murphy of Biomedical Engineering has produced exciting results in a study using biocompatible polymer sheets wrapped around a reconstructed blood vessel to release a drug that prevents narrowing of vessel.
Dr. Lian-Wang Guo of surgery and biomedical engineer Dr. Shaoqin "Sarah" Gong just received a $100,000 grant to develop a durable and targeted perivascular drug delivery system employing nanoparticles that could be used during vascular surgery to prevent blood vessels from narrowing.
And Gong, Dr. Herb Chen, division chairman of general surgery, and Renata Jaskula-Sztul, a surgery researcher, were also recently notified that they received a $75,000 award for their research into using nanocarriers to target therapy for neuroendocrine cancer.
To sweeten the deal this time, the surgery department is offering two $15,000 mini-grants in support of collaborative efforts between the School of Education and the department of surgery. Additionally, surgery plans to hire a faculty associate with a Ph.D. or an Ed.D in training and assessment to work with Pugh's medical education and research program.
Several promising partnerships emerged from December's dating event. Stay tuned to see if they bear fruit.