Documentary connects multiple sclerosis, Vikings and Nordic skiing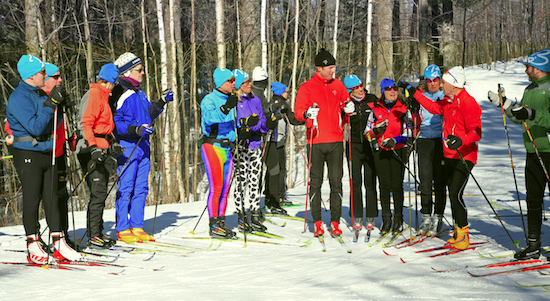 Ian Duncan (far right) and eight-time Olympic gold medalist skiier Bjorn Daehlie (center) are pictured here talking with some of the donors who helped fund the documentary "Multiple Sclerosis, the Vikings, and Nordic Skiing." Duncan is an expert on diseases like MS and Daehlie's mother is affected by it. All three are featured in the documentary.
Multiple sclerosis (MS), a neurological disease that affects more than 400,000 Americans, attacks the nervous system and causes many symptoms, including difficulty moving. But many who suffer from the disease defy its effects by maintaining an active lifestyle.
A new documentary titled "Multiple Sclerosis, the Vikings, and Nordic Skiing," which will air on Wisconsin Public Television on Dec. 19 at 9 p.m., looks at the benefits of exercise for MS patients.
One of the major drivers behind the documentary is Ian Duncan, professor of neuroscience at the University of Wisconsin–Madison School of Veterinary Medicine and an expert on diseases like MS.
Duncan studies the loss of myelin-the material that insulates the nerves that control muscular movement via electrical signals-in MS and other disorders. His work also explores therapeutic treatments for these diseases.
Ian Duncan
"There's a growing body of studies highlighting how exercise can be beneficial for people with multiple sclerosis," says Duncan. "So we set out to make this documentary to create awareness about it and encourage MS patients to be more active."
Numerous studies point toward exercise as an extremely effective way to counter some of the symptoms of MS, which include weakness, fatigue, speech and vision problems, incontinence, and related psychological issues like depression.
Featuring six people who suffer from MS, the film chronicles the story of their diagnoses, how the disease has affected them personally, and the hope they have found in exercise-all interwoven with their journey to the finish lines of the American or Norwegian Birkebeiners, two of the most famous cross-country skiing races in the world.
"Their stories are heart-wrenching yet inspiring," says Duncan, an avid cross-country skier who completed both Birkebeiners along with some of the subjects of the film.
The documentary, which cleared a final hurdle by raising funds for post-production and distribution through a successful Kickstarter crowd-funding campaign, also features experts from around the world who discuss what the future may hold for new therapies. In addition, it explores the origins of MS and how the Vikings may have spread the disease through a combination of genetic predisposition and wanderlust.
To create the documentary, Duncan turned to filmmaker Steinar Hybertsen, a Norwegian-American from Colorado who also has participated in both Birkebeiners. He says he was intrigued by the connection between MS, his ancestry, and one of his favorite activities.
"I'd love for our film to be seen all over the world and help raise money for research that could one day lead to a cure for this terrible disease," says Hybertsen.