DeLuca to step down as provost, return to medical physics faculty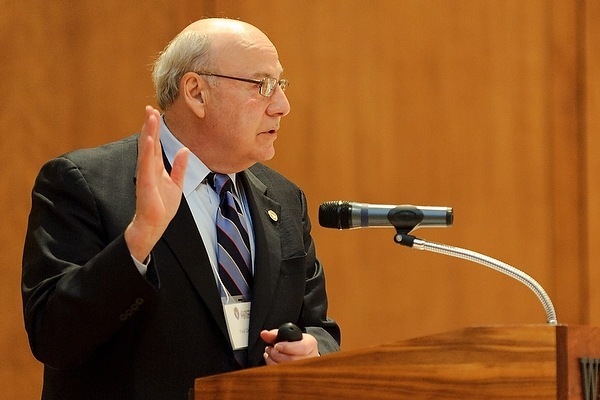 Outgoing Provost Paul M. DeLuca Jr. — after speaking about strategic approaches to resource stewardship — responds to questions during the UW Board of Regents meeting at Union South on Dec. 8, 2011.
Photo: Jeff Miller
University of Wisconsin–Madison Provost and Vice Chancellor for Academic Affairs Paul M. DeLuca Jr. announced today (June 12, 2013) that he will step down as the university's chief academic officer and return to the faculty.
A professor of medical physics and former vice dean for research and graduate studies in the UW School of Medicine and Public Health, DeLuca was appointed provost in June 2009 by then-UW-Madison Chancellor Biddy Martin. DeLuca will remain as provost until a successor is named. A search will begin in the fall, with a new provost expected to be in place sometime in the spring semester.
"Being provost has been the most rewarding aspect of my career at UW–Madison, but at the same time it has been a daunting task that required tremendous effort and focus," says DeLuca. "I am looking forward to returning to medical physics and pursuing some of the research that I love."
At UW–Madison, the provost serves as the lead academic official, helping to set and guide the university's academic missions of research and education. The provost works closely with the chancellor and with the deans of UW–Madison's 13 schools and colleges, and oversees programs for faculty and staff, diversity initiatives, enrollment management and is the point official for shared governance. In the absence of the chancellor, the provost assumes the role of chief executive.
During his four year tenure as provost, Deluca has overseen a major leadership overhaul for the university — perhaps the largest in the institution's history — playing a lead role in the recruiting and hiring of ten new deans and directors for various schools, colleges and institutes. Among those are the Colleges of Engineering, Letters and Science, Agricultural and Life Sciences, as well as the General Library System and the chief information officer for the university.
The Madison Undergraduate Initiative, an effort to enhance and improve the quality of the undergraduate experience, also blossomed under DeLuca's watch with the hiring of a cadre of new faculty and staff in critical mission driven areas.
"Paul DeLuca has been an outstanding colleague and leader," says Interim Chancellor David Ward. "We were fortunate to have someone with a deep understanding of research and with extraordinary insights into complexity making him an invaluable part of the leadership team. UW–Madison is a much better place for his years of service."
Other accomplishments attributable to Provost DeLuca include:
Significant new programs to modernize teaching labs.
An overhaul of the introductory biology sequence and major.
Guiding the establishment of the Wisconsin Energy Institute.
Dramatic upgrade of the information technology environment, including a new initiative in high-performance computing, large data storage, and improvements in network access and security.
Creation of the Office of Industrial Contracting.
Rebuilding the Vilas Trust program to support senior faculty.
Helping oversee the establishment of the "Discovery to Product" (D2P) program and the Shanghai Innovation Office.
DeLuca arrived at UW–Madison as a post doc in 1971, shortly after receiving his doctorate in nuclear physics from the University of Notre Dame. In 1973, he became an assistant scientist in the Medical Physics Section of the Department of Radiology. He joined the faculty as an adjunct professor in 1974 and in 1985 was named a full professor in what is now called the Department of Medical Physics, a department he subsequently led for more than 10 years as chair. He also holds a faculty appointment in the Departments of Engineering Physics, Radiology and Human Oncology.
As a scholar, DeLuca is known for his studies on the effects of high-energy particle radiation on humans. He is the author or co-author of more than 75 research papers, many focusing on the various applications of physics to the diagnosis and treatment of cancer. In addition, DeLuca has numerous technical reports, book chapters and other publications to his credit. As a teacher, he has supervised nearly 50 graduate students and post-doctoral fellows through graduate work or post-doctoral training.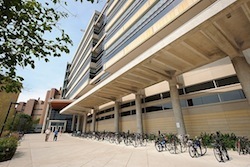 The Wisconsin Institutes for Medical Research (WIMR)
Photo: Jeff Miller
DeLuca's years of work as an administrator helped shape UW–Madison's future. As vice dean of the UW School of Medicine and Public Health, a position he held just prior to becoming provost, DeLuca was deeply involved in the development of the Wisconsin Institutes for Medical Research (WIMR), a burgeoning biomedical research complex on the west campus. DeLuca helped inform both the physical and intellectual underpinnings of WIMR, which seeks an innovative approach to treating human disease through synergistic interdisciplinary collaboration.
Being provost of one of the world's leading research universities, DeLuca notes, was an extraordinary and gratifying experience, one that permitted working with "simply outstanding faculty, staff and students. I will deeply miss the opportunity to experience and work with these most innovative and committed individuals to the greater good of the institution."