Cow feed efficiency project builds on a century of UW-Madison dairy R&D
It's a cool and dusty morning on the Rosy-Lane farm, located just south of Watertown, Wisconsin. Lloyd Holterman creaks back in his kitchen chair with a cup of hot coffee in hand. A skid-loader hums outside.
"I'm telling you, there are a lot of people selling a lot of stuff," says Holterman. "When a product shows up out here on the farm, we literally don't buy it unless it has some kind of university research."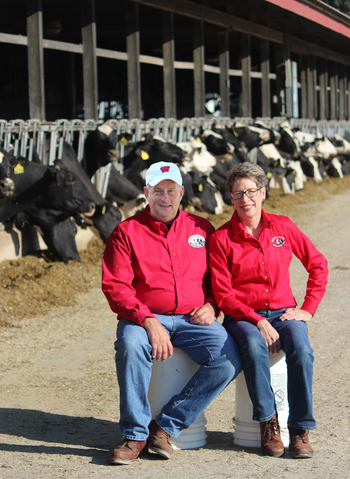 Lloyd and Daphne Holterman won't buy a new product for their dairy farm south of Watertown unless there's university research backing it.
Photo: Morgan Strauss
That sort of endorsement is what drives faculty at the UW–Madison Department of Dairy Science, which is among the university's oldest — and most cutting-edge — research and development powerhouses.
Most recently, the department has served as a major player on a $5 million U.S. Department of Agriculture National Institute of Food and Agriculture project that will deliver genomic predictions for residual feed intake (RFI) to the dairy industry — information that will help farmers select animals that can digest feed and convert it to milk and body tissue more efficiently than their herdmates. Along with collaborators at Michigan State University, Iowa State University, Virginia Tech, Florida State University, USDA Agricultural Research Service (USDA-ARS), Wageningen University (Netherlands) and the Scottish Agricultural College, UW–Madison researchers have assessed roughly 6,000 Holstein cows to date.
Global projects like the RFI study build on a long tradition of applied research in the department, which has used laboratory science to solve local farm challenges since 1898.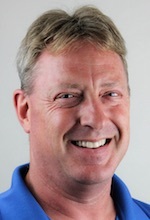 Kent Weigel
"We aren't just doing research to increase our own understanding of science, like many academic researchers, but ultimately to solve practical problems," says Kent Weigel, chair of the Dairy Science Department and UW-Extension dairy research specialist. "That's always in the front of our minds. This means talking with dairy farmers, industry stakeholders, extension agents and others to keep abreast of the challenges Wisconsin's dairy farmers are facing at any given time, and then making the link with our own scientific tools and expertise to come up with effective solutions."
Examples of department projects that have directly benefited Wisconsin farmers include work by Larry Satter, the late UW–Madison nutrition expert and former director of the USDA-ARS Dairy Forage Research Center. In 2000, Satter demonstrated that dairy cows need far less phosphorus in their diets than previously thought. Holterman, the Rosy-Lane farmer, says the finding personally saves him an estimated $50,000 per year in feed costs.
"We aren't just doing research to increase our own understanding of science, like many academic researchers, but ultimately to solve practical problems."
Kent Weigel
In 1995, Professor Milo Wiltbank created a timed artificial insemination protocol, known as Ovsynch, that has radically changed the way Wisconsin farmers manage cows. "It's dramatically improved the 21-day pregnancy rates in the industry, by a good five percent, and each percentage point leads to a significant improvement in profitability," says Paul Fricke, UW–Madison dairy science professor and UW-Extension dairy cattle reproduction specialist. "The numbers have just improved tremendously over time."
Additionally, emeritus professor George Shook developed a new method to count somatic cells as an indicator of mastitis infection — information that has been incorporated into standard herd genetic improvement programs.
From his kitchen chair, Holterman reflects on a recent trip to a dairy conference in Ukraine, which he says has the richest farmland he's ever seen but with nowhere near the education, research and development available to farmers in Wisconsin.
"We are still, by far, the most technologically advanced agricultural country in the world. We're way ahead of everybody else," he says. "And it's because of the research that goes on at the university and the extension that gets it out so that people don't just actually use it, they understand it better."
Read more about UW–Madison dairy science projects