2020 Cool Science Image Contest
We're extending the entry deadline for the 2020 Cool Science Image Contest to allow extra time for those whose lives have been complicated by coronavirus. If you'd like to enter images or videos, please do so by the end of March 22.
Want to share your work or interest in science?
Send us your cool science images and videos.
Entries for the 2020 contest will be accepted from Jan. 30 to March 15 March 22. See the entry link below.
What we're looking for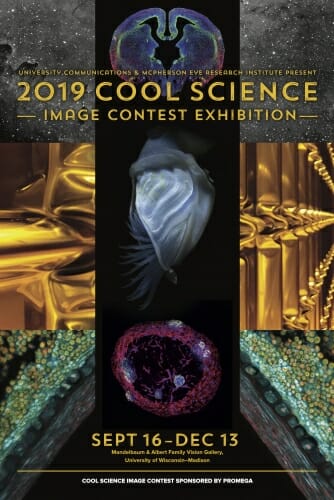 This contest is open to the UW–Madison community. Faculty, staff, students, postdocs and others with campus connections are eligible, and may enter as individuals or groups.
Images can depict an object or phenomenon from any discipline, and we welcome any method of producing an image — including, but not limited to:
• Photography (astronomy, nature, etc.)

• Animations and (short) videos

• Photos of 3D-printed objects
Images will be judged on aesthetic and informational qualities.
What you could win
A published image. Winning entries are featured in slide shows on UW–Madison and select external web sites and venues.
A valuable prize. Creators receive receive a $100 Downtown Madison gift certificate for each winning image or video.
A large format print. Winners receive a large format print courtesy of DoIT Digital Publishing and Printing Services.
Winning images will also be displayed in a fall semester exhibit at the McPherson Eye Research Institute's Mandelbaum and Albert Vision Gallery.
How to enter

Click here to fill out the 2020 contest entry form and upload an image or video.
Our entry form asks for the following information:
Who to credit, including the names and titles of the individuals responsible for creating the image.
Your affiliation with UW–Madison (i.e. undergraduate student, graduate student, postdoc, faculty, or staff). Please include university departments.
Your permission to allow us to reprint your entries.
A caption, no more than 150 words long, that answers questions like these:

— What does the image depict?
— How was the image made?
— What is an interesting fact about the object or phenomenon depicted?
— How is this object, phenomenon and/or method of image-making important to your research, discipline, studies or interests?
Important note: Please write your caption in layman's terms, avoiding scientific jargon. It should be easy for a non-scientist to understand. An image that can be described in a meaningful way to a broad audience has an advantage in our contest.
Image quality is important. Please enter high-resolution image files. We are keenly aware of copyright issues on the web and we always credit creators when publishing images or videos. We hope this encourages others to be respectful of copyrighted property.
Winners will be announced in April.
Judges and advisors
Steve Ackerman, professor of atmospheric and oceanic sciences
John Baldacchino, director, Arts Institute
Terry Devitt, former director of research communications, University Communications
Kevin Eliceiri, director, Laboratory for Optical and Computational Instrumentation
Michael King, visual communications specialist, College of Agricultural and Life Sciences
Steve Paddock, associate scientist, Department of Molecular Biology
Paula Panczenko, director, Tandem Press
Kara Rogers, science writer and editor, Encyclopedia Britannica
Ahna Skop, professor of genetics
Kelly Tyrrell, interim director of research communications, University Communications