Classified Staff Executive Committee gets organized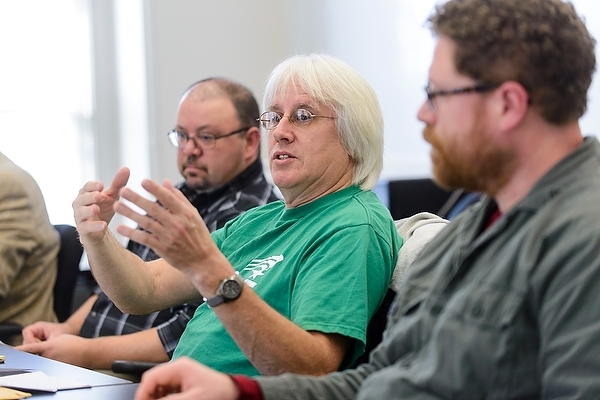 Terry Fritter (center), animal research technician, gives comments during a classified staff executive committee meeting in Bascom Hall on Nov. 14.
Photo: Bryce Richter
It was a historic moment as the newly elected UW–Madison Classified Staff Executive Committee met for the first time Thursday in Bascom Hall.
The nine-person committee will represent the nearly 5,000 classified staff members, giving them a formal shared governance structure at the university for the first time.
"There are a lot of challenges and opportunities in front of you," said Vice Chancellor for Finance and Administration Darrell Bazzell as he congratulated the group.
The committee elected Russell Kutz as chair. Kutz had previously served as chair of the Classified Staff Advisory Committee, which oversaw the election. Gary Mitchell will serve as vice chair.
The group also recommended Tom Ripp, a locksmith in University Housing, and Barb Peters, a food service assistant in Housing, to serve on the housing director search and screen committee.
The group decided that weekly meetings will take place from 2 to 4 p.m. in room 271 of Bascom Hall with the next meeting this Thursday.
For more information, visit http://www.vc.wisc.edu/CSAC.html.