Charter Street Heating Plant keeps campus comfortable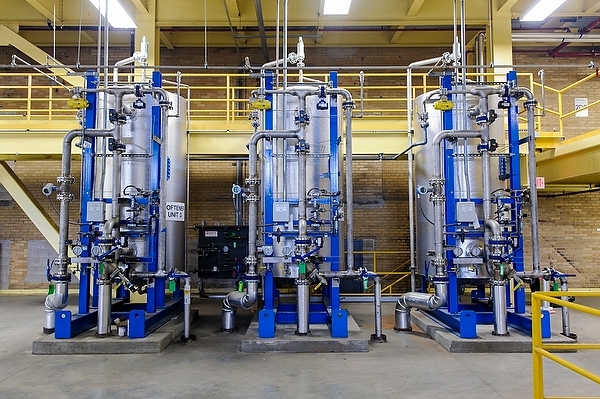 A water softener system that provides a second level of demineralization and deionization of water for the boiler feed-water system in the Charter Street Heating Plant.
Photos: Bryce Richter
It was called the Polar Vortex, an ominous sounding winter event that challenged even the heartiest of Midwesterners with double-digit below zero temperatures and wind chills. And because once wasn't enough, Polar Vortex II quickly followed.
Yes, we bundled up in extra layers while walking a bit faster on campus. But once we entered our respective buildings, we could rest assured: the heat was on.
The Charter Street Heating Plant is responsible for keeping the 65,000 people who work and study on campus in more than 300 buildings comfortable. That's roughly the population of Janesville, Wis.
This is a view of one of a gas-fired boiler at the Charter Street Heating Plant.
Most people probably don't think much about it, but over the past five years, big changes have happened at the plant. While it once used more than 150,000 tons of coal per year, it has gradually switched from coal to natural gas — a more efficient and environmentally friendly way of heating campus.
"Environmentally, it's the right thing to do," says John Harrod, who retired as director of the physical plant in February 2013 and has been retained to help bring the project to completion. "Not only that, but natural gas is less expensive. It used to be the other way around."
Harrod has overseen the transition every step of the way.
Photographed through a viewing portal, natural gas burns inside a boiler.
"This is the way you want to leave," Harrod says. "With things better off than when you started."
Originally, the plant was going to switch to a biomass boiler, but budget constraints caused a switch to natural gas, which is still cleaner and more efficient than coal.
Gone are the coal-burning boilers purchased used in the 1950s from an American Motors factory in Detroit. Now, there are four identical 225,000-pound per hour natural gas/oil fired boilers. The plant retained one 300,000-pound per hour gas boiler that is still operational.
The project also included a new water treatment system and mechanical, electrical and digital control system replacement and upgrades.
"This is huge for campus," Harrod says. "This gives us long-term reliability and stability."
The new boilers were built in Lincoln, Neb. Weighing 200 tons each, they traveled slowly but surely to Madison with one truck pulling them and another truck pushing.
Plant Manager Dennis Koch has been with the heating plant for 36 years.
A worker uses a series of computer monitors to keep watch on the plant's operations.
"This has been home to me," Koch says.
He started as an ash puller and now oversees both the Charter Street Heating Plant as well as the one on Walnut Street. He had been a farmer and mechanic prior to working at the plant.
Now, Koch knows the ins and outs of the heating plant and the science behind the heat.
"Really, it's a science," Koch says.
Simply put, the boilers heat water to create steam that turns into heat that keeps campus warm.
The pressure in the pipes gets as high as 600 pounds per square inch with temperatures up to 725 degrees. By way of comparison, the pressure in a car tire is between 32 and 35 pounds per square inch.
This view is inside the plant's first floor, an area containing process pumps and chemical-addition systems for water purification.
About 40 people work at the Charter Street Heating Plant, with 10 at the heating plant on Walnut Street. Both Harrod and Koch credit their workers with helping make the transition and laud people's willingness to learn the new technology that is part of the improved heating plant.
Much training was given to help employees with the transition, especially since now all of the equipment is operated through a state of the art digital control system. There was never an interruption in service during the transition.
"Everyone takes a lot of pride in the changes that have been made," Koch says.
Approximately 820,000 gallons of fuel oil are kept on hand in case there is an interruption in the natural gas supply. The plant keeps, on average, three-and-a -half days worth of fuel oil but that supply decreases during cold snaps like the Polar Vortex when there is a shortage of natural gas.
Heating campus is a responsibility that requires backup plans — and backup plans for backup plans. If one boiler goes out, the plants are still able to heat campus without interruption.
They stock their own parts for repairs since waiting for parts to be delivered is not a good option when you're talking about heat.
The plant's vintage control monitoring room will soon be repurposed and redesigned as office space for maintenance and planning.
Campus square footage has grown significantly over the past decade. With the campuswide energy conservation initiative and the improved efficiency of the new boilers, campus energy use has been stabilized. The new boilers have an efficiency rating between 88 and 89 percent. The old boilers were at 64 percent.
Being more efficient and environmentally friendly will always be the goal, Harrod says.
"We keep watch on the cutting edge of technology," Harrod says. "We want to leave less of a footprint."