Center for Dairy Research helps entrepreneur create snack bar for young women
A new line of dairy-based snack bars developed to promote healthy eating and a healthy self-image among young women were created by a UW–Madison alumna with help from UW–Madison's Center for Dairy Research (CDR).
"Years ago, I was eating a particular bar that had a weight management message attached to its name and marketing," said creator Dana Wendt of Oregon, Wisconsin. "My daughter, Hadley, saw me eating this bar and asked if she could take it to school as a snack. While the nutrition was acceptable, I began to worry about the message the bar was trying to send to my daughter. It basically said, 'you're not the right size, but if you eat this, you'll be better.'"
Wendt worked with her daughter and her mother to develop the initial plans for a bar that would pair a positive message with an ingredient list and flavor profile that young women and their caregivers could support. "To the power of girl" served as the tagline.
The bar's name, Jouzge, was the phrase Wendt's father used as a self-affirmation each day before he headed to work at his B2B dairy company.
"My Dad had to make a lot of sales calls as a part of his job, which required a lot of confidence," said Wendt. "Each day, after he was finished getting ready he would flip his hair back, look himself in the mirror and say, 'You've got so much Jouzge.'"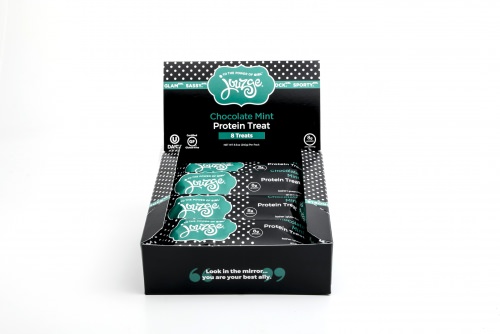 Growing up in the dairy industry, Wendt was aware of the health benefits of milk, so she was eager to create a dairy-based bar. She reached out to CDR, located on the UW–Madison campus, for help.
The premier dairy research center, CDR offers dairy foods companies access to scientific expertise in dairy research, technical support and  
education. Funded by dairy farmers through the dairy check-off program and partners such as the Wisconsin Milk Marketing Board and the National Dairy Council, it is the center's goal to help companies such as Jouzge to bring innovative, nutritious and profitable products to the global marketplace.
CDR Dairy Ingredients, Beverages & Cultured Products Coordinator KJ Burrington and CDR Associate Researcher Susan Larson helped Wendt develop her product. Wendt was able to use CDR culinary services and use of the CDR applications lab kitchen where formulation took place.
For several months, Wendt and the dairy ingredients team experimented with formulas, bar shapes, sizes, coatings and drizzles.
"It was a collaborative effort when she came to CDR," Larson said, "We would try product, play with flavor and tweak the formula to meet her directives, which included a clean label, shelf-stable product with a moderate amount of protein."
Utilizing dairy proteins was an important part of the formulation process, which included the use of whey protein concentrate, whey protein isolate, milk protein isolate and whey protein crisps, which created a crunchy texture in some of the bars.
"Dairy proteins are high quality complete proteins that contain all the essential amino acids," Larson said. "Essential amino acids are ones that must be provided by your foods as your body cannot make them. Specifically, whey proteins have an especially high concentration of the branched chain amino acids: leucine, isoleucine and valine that are used for building and maintaining lean body muscle."
The bar is offered in three flavors: chocolate peanut butter, chocolate mint and chocolate chip cookie dough. Each clean-label bar contains no more than 130 calories and seven to eight grams of dairy-based protein and no more than seven grams of sugar.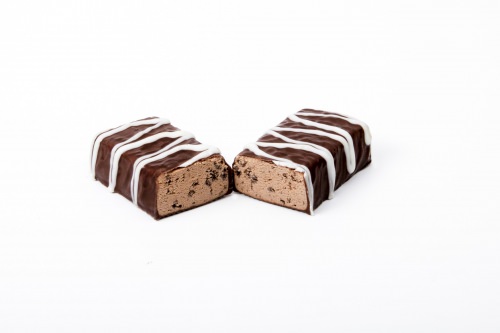 "Susan and KJ really hit the flavor out of the park," Wendt said. "The girls who tested the product ended up calling it a treat. It was really a huge effort on CDR's part to come up with the great candy-like flavor. The girls just light up when they talk about our bars."
With CDR's help, the company secured co-packer Betty Lou's out of McMinnville, Oregon, and it was accepted into the Land O'Lakes, Inc. Dairy Accelerator program, which supports U.S. dairy entrepreneurs by providing access to business resources, financial support and more.
"The Land O'Lakes, Inc. Dairy Accelerator program will serve as a mini-MBA," Wendt said. "We expect it will accelerate the launch of Jouzge and advance dairy."
Launched on Aug. 16, the bar is currently sold at Hy-Vee in Fitchburg as well as Amazon.com. Having sold several cases in the first few weeks, Jouzge was recently accepted into the Amazon Launchpad program, which provides start-ups with the resources they need to succeed on Amazon.
Wendt is grateful for the early support and success, but is most thankful for the opportunity to provide young women with a dairy-based snack that promotes self- esteem.
"Jouzge is all about self-love and knowing your self-worth," Wendt said. "This snack is meant to serve as a daily self-affirmation for girls."
Utilizing social media, Wendt's daughter Hadley and her friend Galia serve as brand ambassadors, promoting the brand and encouraging girls to share empowerment stories on the various brand outlets.
"I'm so thankful to all those who have helped along the way and particularly CDR who helped us to secure partners and break this start-up process into meaningful steps," said Wendt. "It's also great to know that this is a product formulated for women, by women. I think a lot of our success is thanks to great women. It's been incredible to see that no one wants to say no to girl power."