'Cabinet of curiosities' captures nature through work of artists and scientists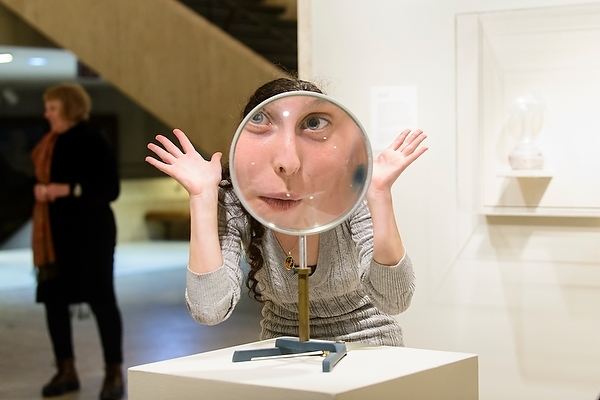 Student Lauren Silverstein looks through a 360mm convex glass lens at the opening reception for "Capturing Nature: Instruments, Specimens, Art" at the Chazen Museum of Art. The exhibition features objects from a number of UW campus collections that examine human interactions with the natural world.
Photos: Bryce Richter
Of all the places Sierra Swenson expected to end up during her first semester at college, precious few were lined with jars full of preserved reptiles.
"It's actually a very creepy place," says Swenson, a University of Wisconsin–Madison freshman from River Falls, of the Zoology Museum's wet specimen shelves. "Almost like a horror movie."
And yet, Swenson and her classmates in last fall's Science History Detectives First-year Interest Group plucked a jar of pale blue garter snakes from those shelves to play a role in "Capturing Nature: Instruments, Specimens, Art," an exhibit they curated that now graces the Mayer Gallery in the Chazen Museum of Art.
Ann Smart-Martin (center) professor of art history, explains the workings of a transverse wave machine to two attendees at the "Capturing Nature" exhibition.
It took just a couple months to assemble, even as students were also installing displays in Birge Hall to highlight the history of limnology at UW–Madison and the way research at UW–Madison benefits people beyond campus, and in Chamberlin Hall to show off some of the more intricate glass instruments used to study light and gaseous elements.
"With a lot of the objects we chose, the idea we were trying to get across was that you can find beauty in a lot of places you would never expect," Swenson says. "I think a lot of people would find the blue snakes creepy or disgusting. But, if you're willing to look, I think you can see the beauty I did, too."
That was the thrust of the First-year Interest Group, or FIG, that gathered 18 students from "The Information Society," a large library and information sciences course taught by Greg Downey, in a pair of more intimate classes led by professors Ann Smart Martin and Lynn Nyhart.
"They were all courses about communication, about communicating the importance of objects through presentation and juxtaposition," says Nyhart, professor of the history of science. "Our approach as a FIG was a more experimental version of teaching those concepts."
Attendees view a display of bird specimens at the exhibition, which features objects chosen by UW students in the First-Year Interest Group Science History Detectives program.
Covering an impressive amount of ground on campus and off — from the top of Van Hise Hall to the Wisconsin State Herbarium to the Weeks Hall Geology Museum and the Milwaukee Public Museum and Art Museum — the FIG introduced students to the way a system of display can add depth or accentuate unappreciated aspects of an object.
Hung on a wall at the Hasler Laboratory of Limnology, a plankton net seems run-of-the-mill.
Encounter the same net surrounded by glass, metal and paint shaped by artists and accompanied by a wall-mounted museum information card, however, and it only seems natural to consider how the net's form aids its function. Or to think about what UW–Madison professor Edward Birge, often referred to as the father of limnology, was trying to capture when he began designing similar nets 130 years ago.
"It has an interesting scientific history, but also this interesting shape and form," says Lauren Silverstein, another FIG member and a freshman from Arlington, Va. "It reminded me of other works of art we had seen, with the materials and the shadows it makes."
Ann Smart-Martin (left) and Lynn Nyhart
Some of the scientific objects chosen for the Chazen are themselves works of art — detailed taxidermy presenting animals in natural poses — or tools that can produce or present art, such as the Physics Department's massive, century-old Graflex camera and a phonograph donated by its inventor, Thomas Edison.
"We found out they were teaching photography to the students in the Physics Department at the time," Martin says. "That's one of the modern ways they had to capture and understand nature at the time — by photographing what was going on around them."
Capturing shows up in the fine art pieces, too, as in a lithograph depicting snowy owls and their prey or a painted miniature showing an elephant hunt, and literally, as in Kim Cridler's "Night #2," a vase-shaped cage holding dozens of identical birds.
"The students came to 'capturing nature' as a theme, and it gave them so many fresh ways to incorporate both science and art as it imagines, represents and seeks beauty in nature," Martin says.
It also gave them an opportunity at the Chazen museum rarely extended to novices."
"I think a lot of people would find the blue snakes creepy or disgusting. But, if you're willing to look, I think you can see the beauty I did, too."
Sierra Swenson
"It's a brand new idea for the Chazen museum, to incorporate objects from collections all over campus," Martin says. "And doing it in one semester was a lightning project in museum time. Most museum exhibits take two or three years to put together. This was a renegade project in almost every way."
Student input took the coursework in unexpected directions, helping direct some course-of-study plans for the next four years and fill a Chazen gallery with what Martin calls a "cabinet of curiosities" through April 13.
"Things happen when you have a group project. Guess what? They had their own ideas," Nyhart says. "That's really the point of the FIGs, to create a cohort to go through freshman year with while you start to explore all these ideas that are available to you on a campus like ours."