Bugher to retire after guiding University Research Park growth, success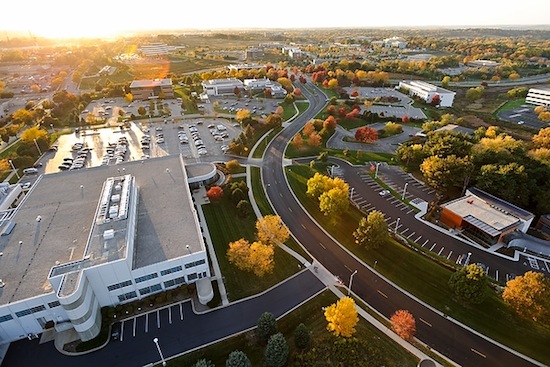 University Research Park is pictured in an aerial view looking west along Science Drive toward South Whitney Way in 2011. At lower left is the UW Health Research Park Clinic.
Photo: Jeff Miller
Mark Bugher, who helped to mold UW–Madison's University Research Park into an economic and technology transfer force admired nationally, plans to retire in October.
"We have 3,600 jobs and 126 companies," says Bugher, who has directed the park since 1999. "These are high-paid jobs, many of them filled by our graduates or UW System graduates. The university can be extremely proud of what's happened here since 1984."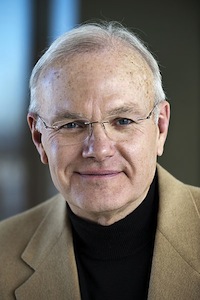 Mark Bugher
Bugher, 64, says he is pleased with how the research park —located on Madison's west side — has evolved.
"When I came, it was a much smaller operation and really not on the radar screen in terms of the university's commitment to economic development and job creation," he says.
Today, there is no question of the park's importance to the area's economic development and to the entrepreneurial culture on campus. Many of the firms at the park have emerged directly from UW–Madison research.
The park now encompasses 260 acres and officials are anticpating that its second phase, located on 370 acres southwest of Mineral Point and Junction roads, will be ready for development in early 2014. It also has a downtown facility, called the Metro Innovation Center, on East Washington Avenue, and a facility in Shanghai, China.
A 2010 economic impact study found that the park generated $826 million in economic activity and $42.6 million in tax revenue annually.
Interim Chancellor David Ward, who also serves as president of the park's Board of Trustees, says Bugher's role and vision have been critical to the park's  success.
"Mark recognizes the importance of cultivating ideas and taking research and discovery into the marketplace," Ward says. "That vision has led to job creation, local tax revenue and a realization that Madison is a vibrant venue for technology firms."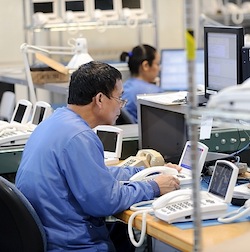 Workers program and test a new line of CapTel, a captioned telephone system, at one of Ultratec's multiple telecommunication and manufacturing facilities at University Research Park.
Photo: Jeff Miller
Bugher says that UW–Madison offers all of the tools to help recruit, retain and create new technology firms. The park has worked closely with the university's Office of Corporate Relations and the Wisconsin Alumni Research Foundation (WARF) to commercialize discoveries and technologies.
"Our success can really be traced to that three-legged stool and our ability to work collaboratively," Bugher says. "University Research Park has a significant commitment to the transfer of technology from the laboratory bench to the marketplace."
Carl Gulbrandsen, WARF's managing director, says Bugher has been an extraordinary leader and an excellent partner with WARF.
"Under Mark's leadership, University Research Park has been home to most of the faculty start-up companies commercializing WARF-licensed technology," Gulbrandsen says. "The ability of faculty start-up companies to locate in the University Research Park has been critical to their success."
Gary Wolter, president, chairman and CEO of Madison Gas and Electric, says Bugher has been a force in area economic development.
"[Mark's] vision has led to job creation, local tax revenue and a realization that Madison is a vibrant venue for technology firms."
David Ward
"Mark has served the community well with his unique mix of business and political skills," says Wolter, a member of the park's Board of Trustees.  "He has taken the University Research Park to the next level and set up the infrastructure needed for new businesses to flourish."
For the past two years, Bugher also served in an unpaid role as special assistant to Ward on policy matters and strategic priorities. "It's been a blessing to have David back because he is such a steady and trusted leader. He's a friend first and a chancellor second," Bugher says.
Ward says he appreciates Bugher's solid advice.
"Mark's counsel on a range of issues and key initiatives has helped stregthen this institution during a transitional time," Ward says. "He is a talented friend and I wish him the best in the future."
Before coming to the park, Bugher served as secretary of the state Department of Administration from 1996-99 and as state revenue secretary from 1988-96.
Bugher also sits on the boards of directors of Madison Gas and Electric Co. and MGE Energy Inc., and First Business Financial Services and is chairman of the Marshfield Clinic Health Systems board. He also chairs the Wisconsin Technology Council board.
Incoming Chancellor Rebecca Blank is expected to appoint an interim director in the fall, and a national search for Bugher's replacement is expected to begin in 2014.