Awards will recognize great advisors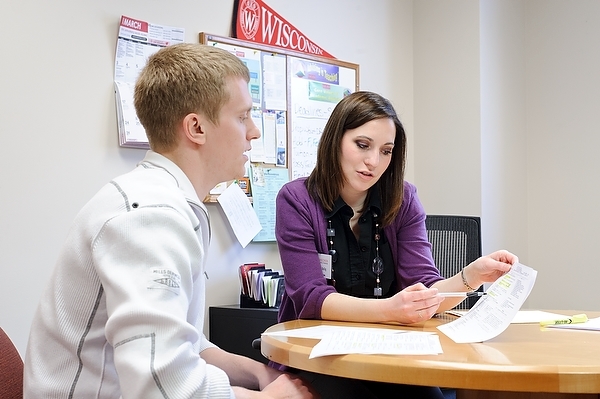 Nikki Bollig (right), an academic advisor at the Wisconsin School of Business, meets with undergraduate Mark Kaczynski for an advising session in her office at Grainger Hall.
Photo: Bryce Richter
The UW–Madison Office of Undergraduate Advising (OUA) is accepting nominations through Friday, Dec. 20 for its annual awards, recognizing individuals who have made significant contributions to advising at the university.
"It's a privilege to be able to honor the work of the fine advisors at UW–Madison," says Wren Singer, director of OUA. "Advisors help students make the most of their time on campus and to be ready for the next steps after graduation."
Staff and faculty award winners will receive up to a $2,000 reimbursement apiece for advising-related professional development, such as travel to national conferences. Awards recognize Outstanding Achievement, Early Career Excellence (for individuals who have been at UW–Madison for fewer than five years) and Faculty Excellence.
In addition, up to two undergraduates will receive Peer Advisor Awards for their service to fellow students.
Earlier this year, John Puccinelli, associate faculty associate in biomedical engineering, was one of two recipients of the award for Early Career Excellence in Undergraduate Advising.
"It's an honor to have received this award; it's been a joy to advise these students in their curriculum and career goals," says Puccinelli. "Seeing more opportunities for staff to receive recognition, alongside faculty, is wonderful. It lets you know that you're doing the right things."
Award winners will be selected by the Office of Undergraduate Advising and a committee of previous award winners. Information about the nominating process and criteria, along with the nomination survey, may be found online.
Winners will be announced at the UW-Madison Advising Conference on Feb. 11, 2014.