Academic Staff Excellence Awards recognize nine outstanding professionals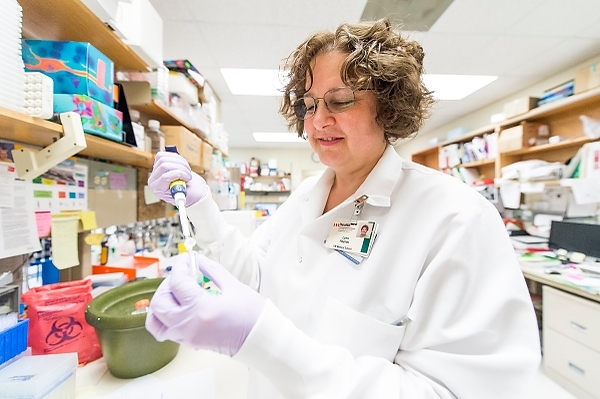 Lynn Haynes, distinguished researcher in the Department of Surgery, School of Medicine and Public Health, works her lab. Haynes is one of nine recipients of the 2014 Academic Staff Awards.
Photos: Bryce Richter
Nine members of the University of Wisconsin–Madison's academic staff are receiving recognition for their achievements in leadership, public service, research, teaching and overall excellence.
"We depend upon academic staff to have a vision that extends well beyond their own departments – a vision that enables them to see opportunities for collaboration and innovation," says Chancellor Rebecca Blank. "These awards celebrate not only extraordinary work but the gift of joyful, compassionate, caring colleagues."
The Academic Staff Assembly will honor recipients of the 2014 Academic Staff Excellence Awards at its meeting on Monday, April 14. They will also be honored at a reception with the chancellor on Wednesday, April 23 at the Fluno Center.
The recipients are:
Christine Seibert, associate dean for medical education in the School of Medicine and Public Health
Chancellor's Hilldale Award for Excellence in Teaching 
Christine Seibert
In addition to practicing general internal medicine at UW Health and serving as an attending physician at UW Hospital and Clinics, Seibert is a valued educator and advisor for students, residents and junior faculty.
As associate dean, Seibert has built exemplary education programs while continuing to teach in the classroom and at the bedside. She oversees an educational team that develops, implements, and evaluates the school's entire medical student curriculum. She has played a key role in transforming the curriculum and serving as a principal or co-investigator on several institutional and federal grants.
Nationally, Seibert has served on several education committees for the Association of American Medical Colleges and develops test materials for the United States Medical Licensing Exam.
"She goes beyond the curriculum," says fellow Excellence in Teaching Award winner Bennett Vogelman. "She models great interpersonal skills at the bedside, showing empathy and compassion. In fact, she shows these characteristics not just to patients and families but everyone on her team. In summary, Christine Seibert does it all."
Marcel Wüethrich, senior scientist in the Department of Pediatrics
Chancellor's Award for Excellence in Research — Independent Investigator
Marcel Wüethrich
Wüethrich's work focuses on the basic immunological question of how pathogenic fungi and human pathogens are sensed by the immune system to protect the host. His contribution to the work of his department includes both his own outstanding scientific work and his service as a colleague, teacher and mentor.
The quality of Wüethrich's mentoring is clear in the letters of support from several former students. This support extends to the leader of his lab.
"I often turn to Marcel when key experiments or assays need problem solving," says Bruce Klein, professor of pediatrics, internal medicine, and medical microbiology and immunology. "His steady hand at the bench and sharp mind often clarify my and others' ideas."
Wüethrich thrives in this mutually beneficial environment.
"I work at the cutting edge of science along with a national and international community of collaborators and colleagues," he says. "I also enjoy educating and mentoring trainees at any level of their research career."
Lynn Haynes, distinguished researcher in the Department of Surgery
Chancellor's Award for Excellence in Research — Critical Support
Lynn Haynes
Haynes spends the majority of her time researching transplant immunology in the labs of Dixon Kaufman and William Burlingham. Additionally, she serves as research operations director for the Department of Surgery.
"It is incredibly rewarding to know that the work I do may help someone in their research endeavors or that the research we do may help a patient maintain their transplanted organ for a longer period of time," she says.
In both roles, she relishes the ability to solve problems. She helps other investigators within the department do their work more efficiently through operations management; she works with students at all levels of training – from undergraduates to post-doctoral fellows and surgery residents – to solve research problems.
"Her teaching is simply outstanding," says lab leader William Burlingham. "She understands the importance of carefullab technique, but does not neglect the conceptual side, so that individuals training with her know what they are doing and why they are doing it."
Fran Breit, Program Manager III for Wisconsin Careers in the Center on Education and Work
Chancellor's Award for Excellence in Service to the University
Fran Breit
Fran Breit describes her work as "a career of careers." As the Center on Education and Work (CEW) expanded, she managed projects including the first CD-ROM-based career information system in the country, and – after the advent of the internet – career development websites WISCareers and CareerLocker, which allow students to set educational and career goals, develop class plans, and put together resumes. She also spearheaded work on CEW's first international project, eCareers, a web-based education and career guidance portal for students in Singapore.
Breit also contributed to shared governance, serving terms on the Academic Staff Assembly, the Committee on Academic Staff Issues, the University Ridge Oversight Committee, the Athletic Board Finance Committee, and the Academic Planning Council.
Set to retire in June, Breit considers herself lucky to have found a job so early in her career that provided her with so much joy and satisfaction. To her, the most rewarding part of her work was creating products that "helped so many people in very profound ways."
Paul Evans, director of University Housing
Wisconsin Alumni Association Award for Excellence in Leadership: College, School or the Larger University Community Level
Paul Evans
No one in elementary school tells the class that they want to lead university housing. Evans planned to be a dentist. But in 1978, he began "what quickly became, and has remained, a love affair with University Housing and UW–Madison."
Evans has held six positions with Housing during almost 36 years on campus, serving as director since 1998. He plans to retire at the end of the academic year.
During his career, Evans has particularly enjoyed the satisfaction of shepherding many major projects, such as the rebuilding of Ogg Hall and Gordon Commons, from idea to design to completion.
Under his leadership, Housing has both followed national trends and established its own, promoting student success through the integration of academic, extracurricular and residence life.
"Everything revolves around students," says Evans. "It is their enthusiasm for what they are doing, and for the adventures that are in front of them. Their excitement at being Badgers is infectious."
Matt Sanders, executive director of the Department of Chemistry
WAA Award for Excellence in Leadership  — Individual Unit Level 
Matt Sanders
Sanders has served as the administrative head of his department since the position's creation in 1996. He brings stability amidst transition, allowing academic leaders to maintain active scholarship.
"Matt has been a strong partner for six chairs and has increased the effectiveness of each substantially," says former chair Fleming Crim. "He has emerged as the leader of all the senior staff in the department."
In 2013, while welcoming a new department chair, the department lost its academic department manager, two key classified staff members and the building superintendent. Sanders steered the department toward calmer waters – all while recovering from a serious accident.
"I get to interact with the talented faculty, staff and graduate student scholars who are the heart of this highly-ranked graduate program," says Sanders. "The intelligence, creativity and drive of my faculty colleagues constantly impresses me. The knowledge and dedication of the staff help to keep it a pleasant place to work. In particular, I enjoy watching the graduate students grow as they progress through the program."
Christine DeSmet, faculty associate in the Division of Continuing Studies
Robert and Carroll Heideman Award for Excellence in Public Service and Outreach
Christine DeSmet
DeSmet's nominators note that she has "single-handedly created the brand" of the Continuing Studies creative writing program. Thanks to retreats such as the Writers' Institute, now in its 25th year, and the summer Write-by-the-Lake Writer's Workshop & Retreat, the program has won awards and gained national prominence.
DeSmet's outreach has touched thousands of adult students in Wisconsin and beyond. Her students have published books and short stories, optioned scripts, and enjoyed successes in national contests and at film festivals. Her online courses take the UW–Madison campus around the world, helping writers in countries including Armenia, Canada, England, Guatemala, Ireland, Italy, Malta, Mexico and Norway.
"I'm humbled and proud when I witness the successes of my adult students," says DeSmet. "Some live in areas that lack sufficient writing classes. Some have been told in the past they can't write; I love proving that they can. The students are ecstatic when they finish or sell their short story, novel, or screenplay. So am I."
Jean Petersen, student services coordinator in the Department of Genetics
Martha Casey Award for Dedication to Excellence
Jean Petersen
Petersen considers herself "the bridge to the richness of the genetics department." She advises both undergraduates and graduates in academics and, often, life. She spurs them to think about careers and sort out strategies and opportunities in the face of unexpected challenges.
At all levels, Petersen has encouraged a healthy environment for student-faculty interaction, building a community where everyone can thrive. Genetics majors want to be involved as leaders in CALS. Faculty want to be involved as mentors, not just teachers. Petersen also "keeps the family together," maintaining close relationships with department alumni. This synergy makes the department successful.
On campus and at national events, Petersen's dedication to recruiting has particularly encouraged underrepresented minorities to pursue opportunities in genetics and other areas of the sciences.
"Watching students grow as they pursue opportunities at UW–Madison is what I enjoy most," says Petersen. "Through these experiences, students discover their passion: the most critical component of success.  I learn something new every day; typically, this learning comes from the students."
Jane Terpstra, director and instructor of Distance Education Professional Development in the Division of Continuing Studies
Ann Wallace Career Achievement Award 
Jane Terpstra
Before coming to Continuing Studies, Terpstra's impressive resume included teaching experience from the K-12 level through higher education, as well as instructional design and program management of academic technology units.
She used the knowledge, skills, and natural leadership developed throughout her career to make a major impact in her final working years, retiring in 2013.
Terpstra's service to UW–Madison extended across campus, with several terms as a representative to the Academic Staff Assembly. She was also a member of four DoIT advisory and planning committees, the Committee on Academic Staff Issues in both the School of Education and Continuing Studies, and many others.
"Jane made significant contributions in distance education, changing not only the field, but also UW–Madison's place in the field," says Narra Cox, chair of Professional Development & Applied Studies. "She has been a pioneer in the field of distance education – being an early adopter, advocate, and promoter of the use of technology for effective teaching. Her DEPD legacy is a commitment to learner-centered excellence in service to adult learners throughout the world."