5 student entrepreneurs to keep an eye on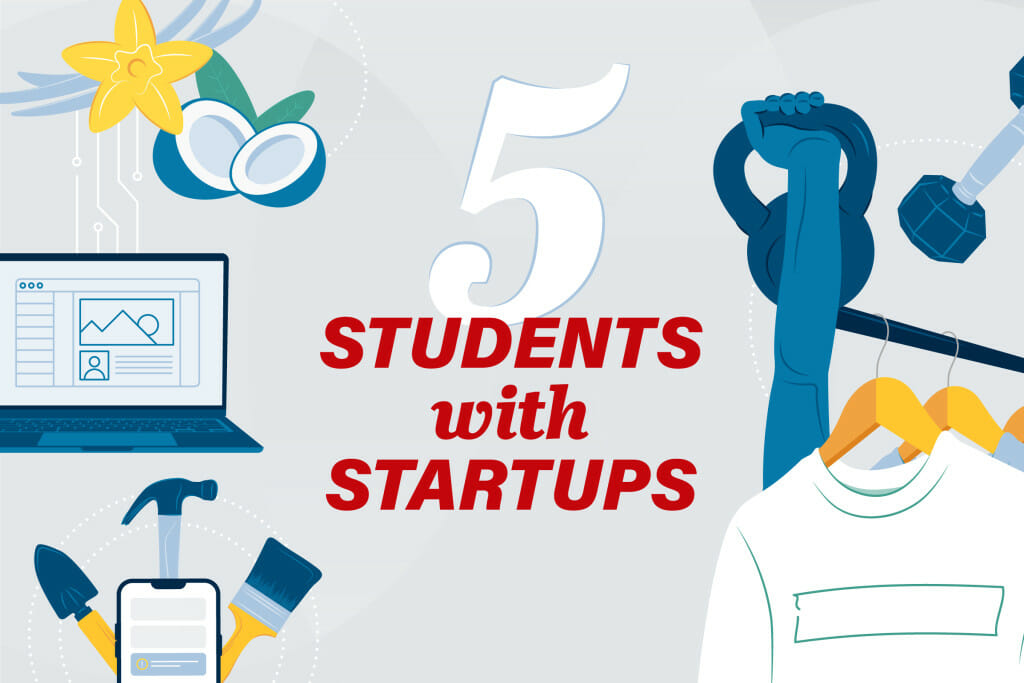 When it comes to helping Wisconsin residents and the state's economy, you Can't Stop a Badger. See how UW–Madison supports innovative ideas that deliver tangible benefits for Wisconsinites and the world. Follow along using #CantStopABadger on social media. Your support can help us continue this work.
---
For some Badgers, being a college student means more than going to class, writing papers and studying for exams. It also means starting a business. Hundreds of University of Wisconsin–Madison students have entrepreneurial ambitions. In fact, entrepreneurship has been the No. 1 most popular certificate program on campus since 2018.
That comes as no surprise to Dan Olszewski, the Goldberg Family Director of the Weinert Center for Entrepreneurship at the Wisconsin School of Business.
"UW–Madison students are focused on solving problems and making the world a better place," Olszewski says. "Some do so by working in a research lab, others by volunteering at a nonprofit and some choose to be entrepreneurs to see their vision become a reality in the market."
Part of entrepreneurship's appeal is its "sky's the limit" potential and the fact that there's no single path to get there — each journey is as unique as the entrepreneurs themselves.
Regardless of major or degree program, UW–Madison sets students up for entrepreneurial success by providing a vast web of resources, programs and networks that Badgers can tap into while on campus. And when they leave campus, these young entrepreneurs are ready to expand their impact by growing their companies, creating new jobs and delivering innovative goods and services.
Meet five students whose grit, entrepreneurial spirit and business know-how are already taking them places. 
Jayla Thompson: Helping college students lead healthy lives
College can be an exciting time with countless new opportunities — but a sedentary, pizza-based lifestyle doesn't have to be one of them. Marketing major Jayla Thompson's (BBA '23) wellness startup, Shape with Jay, helps students get on a healthy track during their university years with meal planning, individual training and personalized support. Though Thompson designed Shape with Jay for all students, she had one group in particular in mind. "You don't really see that many Black women in the wellness space," she says. "I'm providing a platform and a voice for women who look like me and helping them realize what they're capable of with just a little support." Looking ahead, she hopes to offer resources for healthy living that appeal to Black culture, speak at school districts, provide a space for women to focus on wellness and open her own gym.
Xiaohan Shen and Hankel Bao: Harnessing the power of AI for personalization
Xiaohan Shen (BA '23) and Hankel Bao (BA '23) met while studying computer science and data science at UW–Madison and soon after co-founded Easyjobs, an AI-based tool that helps job seekers stay organized and save time by finding relevant positions and automatically filling applicant information. Later, after writing more than 1,000 personalized sales emails for Easyjobs—which ate up their own time — Shen and Bao saw room for further innovation. Enter their second startup, Coldreach, which uses AI to generate personalized sales emails at scale. Coldreach was recently accepted into and backed by Y-Combinator, a highly competitive, San Francisco-based accelerator program that has launched companies such as Instacart, DoorDash, and Airbnb.
Jake Piekarski: Creating flexible job opportunities for students
With three majors and three startups, Jake Piekarski (BBA '23) is as busy as they come. But his drive for providing students with flexible job opportunities makes it worth his while. The Huntington Beach, California, native founded ChoreHub, an online marketplace that connects homeowners with college students for maintenance tasks. First launched during the pandemic, ChoreHub now has more than 80 student contractors across California and Wisconsin. Following the success of ChoreHub, Piekarski turned to two other student-centered businesses: He launched the snow-removal service Snow Scholars and became the campus co-founder of Storage Scholars, handling marketing and storage solutions for UW–Madison students after seeing the company on Shark Tank.
Oyindamola "Damola" Owolabi: Developing technology that connects Africans
The daughter of entrepreneurial parents in Lagos, Nigeria, Damola Owolabi's (MS '23) first startup, Spicy Nigerian, gives Nigerians living overseas a taste of home through artisanal foods that showcase the region's trademark hot peppers and spices. Her latest venture is a dating app called Jaiye that is designed to connect Africa's 1.4+ billion people with the continent's expatriates living abroad. A global citizen herself after growing up in Nigeria and England and now living in Wisconsin, Owolabi says "the dating apps that exist today don't serve Africans at all and even barely serve Black Americans." Currently in the hiring process to grow her startup team, Owolabi will put her business analytics degree to use with Jaiye, leveraging the power of data to grow her business and expand its reach.
CJ Wilkerson: Building community by building business
For CJ Wilkerson (BBA '25), creating a business and creating community go hand in hand. Originally from Washington, D.C., Wilkerson started a barbershop inside his high school before founding his apparel brand, Croesus, in 2019. He's grown both businesses while pursuing a double major in marketing and graphic design and working toward the entrepreneurship certificate. Wilkerson has a clear vision for the future: to create a space that is half-barbershop, half-clothing store. After that, he plans to pay it forward. A long-term goal is to start a scholarship program that helps people learn about accessing and building wealth. "Business can be broken down into a lot of different categories, but ultimately for me, it's people," he says.
From healthy living and apparel, to dating apps and artificial intelligence, these students are just five examples among many UW–Madison students who are charting their own courses and developing the entrepreneurial chops to build companies and create opportunity.
"Our students cultivate an entrepreneurial mindset in their courses, student groups, and for some, the ventures they start while at UW–Madison," says Olszewski. "This entrepreneurial mindset of imagining, creating and leading serves them well as both a student and whatever future career they choose."