Reilly announces departure as UW System president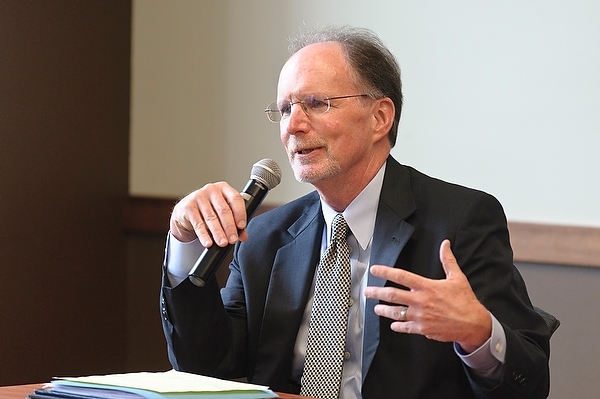 Kevin Reilly speaks at a news conference on Tuesday, July 30, after announcing his resignation as president of the University of Wisconsin System.
Photo: Bryce Richter
For nine years, Kevin P. Reilly demonstrated his passion for education as UW System president. Today (Tuesday), Reilly announced that he will step down as president to serve as a presidential advisor for leadership with the American Council on Education, and also return to teaching.
Reilly's new role will begin in January 2014, allowing for a nationwide search for a replacement and time for a gradual transition. A new president is planned to be selected in the spring of 2014.
"In my time as president, I have faced a number of major challenges," Reilly said. "The debate over whether the system should stay together, the overheated partisanship in our political culture and the worst economic recession since the Great Depression were not the least of these. But Wisconsinites stepped up to meet those challenge, and together we have achieved much."
Related: UW System news release
Reilly, who had been weighing a departure since fall, had previously served for four years as chancellor of the University of Wisconsin-Extension and is the second-longest serving leader in the system's history.
"Kevin Reilly's commitment to higher education has had a tremendously positive impact on our state," says UW–Madison Chancellor Rebecca Blank. "During his time as president, he has worked diligently to improve the UW System and make it more responsive to the needs of the citizens of Wisconsin, ensuring that more people acquire the skills that drive economic growth."
In his years as president, student enrollment has increased by nine percent, transfer students by 13 percent, degrees conferred by 13 percent and private need-based financial aid by 124 percent.
"Through thick and thin, he never forgot — or let anyone else forget — that students are the reason we're all here. Students come first."
Michael Falbo
"With all of the challenges facing higher education and the UW System in particular, this will be a critical period of transition," Blank says. "I look forward to working with my fellow chancellors to ensure that the new president will have the cooperation and support of all campuses as we work together to maintain the excellence Kevin was so instrumental in advancing."
Regent President Michael Falbo credits Reilly's leadership and dedication to students.
"Through thick and thin, he never forgot – or let anyone else forget – that students are the reason we're all here," Falbo says. "Students come first."
Reilly is not only a gifted leader but has helped find new leaders, says regent vice president Regina Millner, overseeing the hiring of 31 chancellors and interim chancellors.
"Over the past year, I've had the great pleasure of visiting each of our 13 four-year campuses and I can tell you that these UW chancellors have proven themselves to be strong, effective leaders – powerful advocates for their students and their institutions," Millner says. "Those UW leaders are in place as a result of President Reilly's efforts. They represent an important and impressive legacy that will endure for many years."
In Reilly's new role, he will work closely with ACE President Molly Corbett Broad to expand the capacity and reach of the council's wide array of programs that serve college and university presidents and chancellors as well as other senior leaders and rising administrators.
Reilly will also prepare to return to teaching in 2015 in the disciplines of literature and higher education policy. Fittingly, Reilly quoted William Butler Yeats' "The Municipal Gallery Revisited":
"Think where man's glory most begins and ends/And say my glory was I had such friends."
"I can say the same," Reilly said.