Why Files recognized by school librarians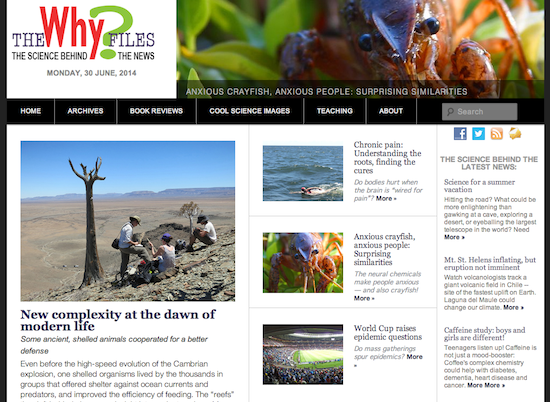 The Why Files, honored by the the American Association of School Librarians, has been published since 1996.
The Why Files, an online science magazine published by the University of Wisconsin–Madison was honored as one of the Best Websites for Teaching and Learning by the American Association of School Librarians, a division of the American Library Association (ALA).
The school librarian association said the award recognizes "25 Internet sites that provide enhanced learning and curriculum development for school librarians and their teacher collaborators."
"The Best Websites committee reviews over 100 amazing sites every year," said Heather Moorefield‐Lang, chair. "Best Websites offers a multitude of online learning opportunities for students, librarians, and their peer educators."
The awards were announced at the ALA's annual conference in Las Vegas.
The Why Files has been covering the science behind the news every week since 1996 — ranging from archeology and evolution to physics and zoology. The website — http://whyfiles.org — combines an attractive design with engaging, readable prose and clear scientific illustration. The publication's goal is to exploit interest in the headlines to increase science literacy.
"As a scientific institution, UW–Madison relies on a public that understands the importance of science and the changing scientific landscape we live in," says editor Terry Devitt. "The Why Files has proved to be an effective way to share science and provide a reliable resource about the process and context of modern scientific exploration."
One recent article used the "Blade Runner" murder trial of Oscar Pistorius in South Africa as a starting point to talk about the difficulty of detecting lies. Another used the World Cup to explore how epidemics can spread at mass gatherings.