WARF announces annual grant figures and Innovation Award winners
At a ceremony honoring several of the year's most outstanding inventions, the Wisconsin Alumni Research Foundation (WARF) announced that it has granted the university $61.9 million for the 2017-18 academic year.
WARF also announced $19 million in grants to the Morgridge Institute for Research.  Combined, WARF's investment in UW–Madison-based research and education is approximately $80.9 million for 2017-18. As in prior years, the annual grant does not include the significant additional value of WARF's in-kind support in covering patenting, licensing and other expenses.
The grant was unveiled the same night as two research teams took home WARF Innovation Awards for their outstanding technological achievements: David Jarrard and Bing Yang for their work predicting prostate cancer in tissue biopsies, and Peiman Hematti, John Kink, Eric Schmuck and Amish Raval for developing therapeutic cells for tissue-specific repair.
An independent panel of judges selected the Innovation Award winners from a field of six finalists drawn from approximately 400 invention disclosures submitted to WARF over the past 12 months. The winning inventions each receive an award of $10,000, with the funds going to the UW–Madison inventors named on the breakthroughs.
The other Innovation Award finalists included:
Ive Hermans, Joseph Grant, Juan Venegas, Samuel Burt, Philipp Mueller and Somphonh Phivilay for improved catalysts to meet global propene demand.
Michael Arnold, Gerald Brady, Katherine Jinkins and Padma Gopalan for their work developing high quality carbon nanotubes for semiconductor devices.
Mohit Gupta, Brandon Smith, Pratham Desai and Vishal Agarwal for their imaging technique for recognizing hand gestures and other micromotions in 3-D.
Mehdi Kabbage, Damon Smith and Ashish Ranjan for modified soybeans with resistance to stem rot disease and increased drought tolerance.
"WARF invests in the research and extraordinary ideas of UW–Madison," said WARF Managing Director Erik Iverson. "The annual grant is one way we are helping our campus partners continue to dream big and solve the most pressing problems of our time. Celebrating WARF's annual grant in tandem with some of our most innovative technologies and their faculty and student inventors draws the clear connection to WARF's partnership with our university community."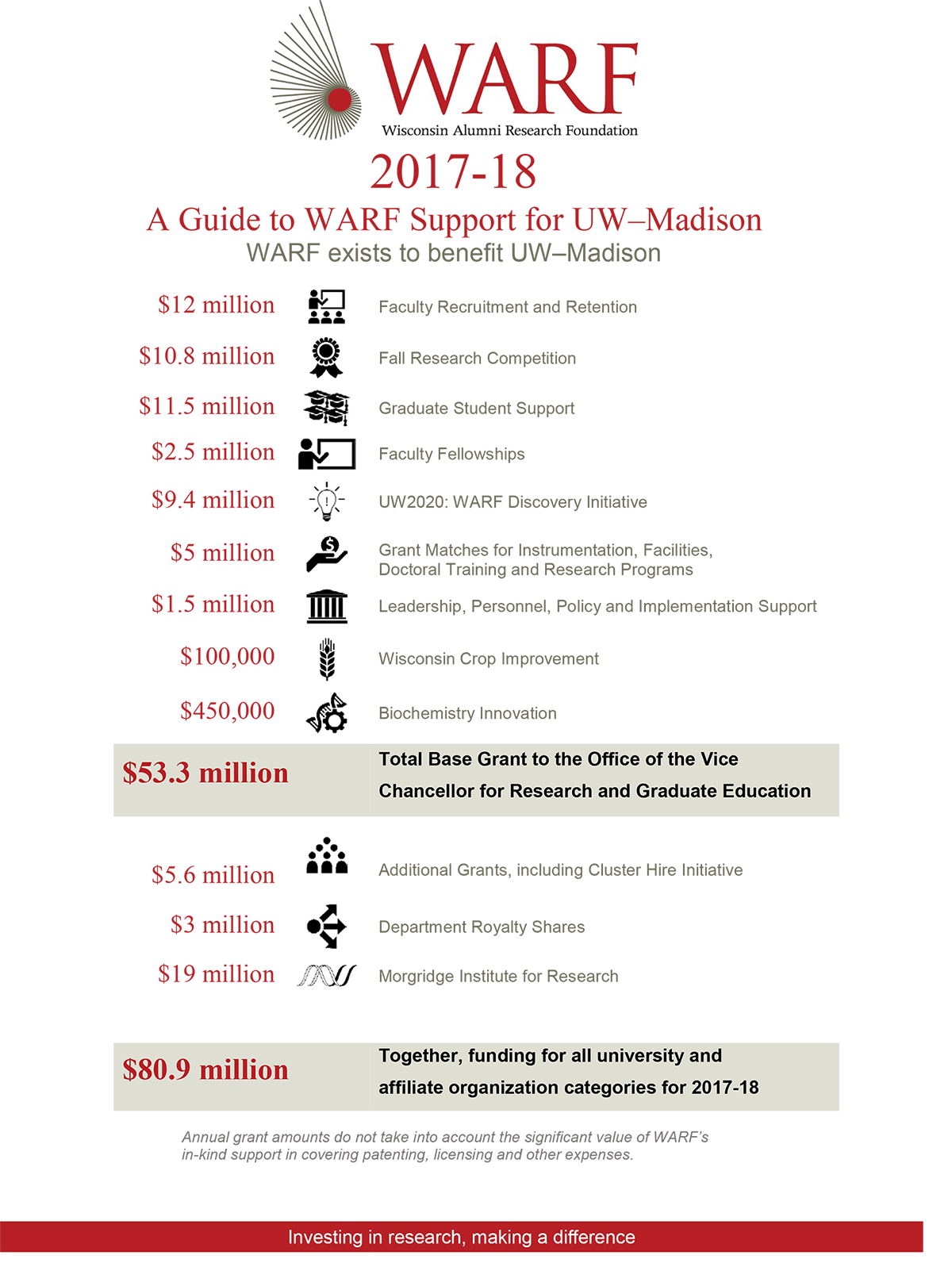 The total grant includes $12 million for faculty recruitment and retention and $2.5 million for faculty fellowships. Another $11.5 million for graduate student support is part of the grant.
"The annual award from WARF helps give our university a margin of excellence in research and innovation," says UW–Madison Chancellor Rebecca Blank. "WARF provides critical support for our faculty, staff and students, and gives them the flexibility needed to jump-start important new lines of research. We're grateful for this significant support, which provides Wisconsin scholars the opportunity to innovate and continue the cycle of generating new knowledge to advance science and technology for the benefit of everyone."
Some $10.8 million has been dedicated to the time-honored Fall Research Competition which draws hundreds of research proposals from as many as 120 different academic departments each year.
In addition, $9.4 million has been allocated to the UW2020 WARF Discovery Initiative which offers seed funding to advance some of the boldest and most prescient research on campus. Another $5 million provides grant matches for instrumentation, facilities, doctoral training and research programs.
"The annual award from WARF helps give our university a margin of excellence in research and innovation."

Chancellor Rebecca Blank
"WARF's annual investment in UW–Madison touches all areas of research on campus as it allows us to recruit and retain the best faculty, provides the backbone of support for interdisciplinary research through special initiatives such as UW2020, and assists graduate students and junior faculty as they develop their research areas, setting the stage for future research success," says Marsha Mailick, vice chancellor for research and graduate education. "I know firsthand that the seed funding we are able to provide to researchers, based on the WARF award, is critical to their ability to extend their research in the most creative and impactful directions. This is a hallmark of faculty life at UW–Madison."
WARF's support for the Morgridge Institute for Research continues, with an investment of $19 million. The private, nonprofit institute works to improve human health through interdisciplinary biomedical research in collaboration with UW–Madison.
"WARF's foresight in helping create and support the Morgridge Institute is paying dividends for UW–Madison competitiveness," said Morgridge chief executive officer Brad Schwartz. "Through our private status and close collaboration with the university, we will continue to make unique contributions to Wisconsin's biomedical research landscape."
Also, $5.5 million was tagged for additional grants including the university's cluster hire initiative — an effort to support interdisciplinary studies.  Some $100,000 was allocated for Wisconsin crop improvement, and another $450,000 committed to biochemistry innovation.