Waisman early childhood alum pursues career of caring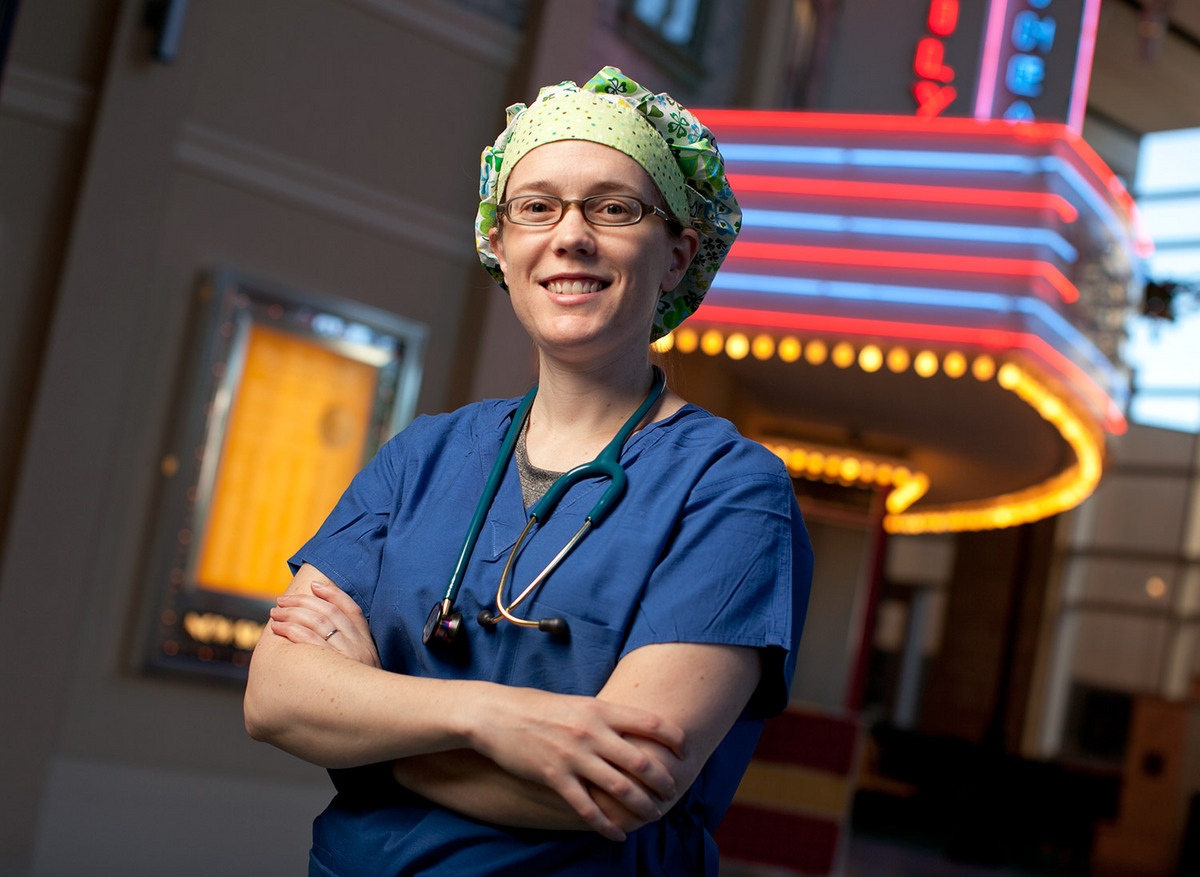 Bridget Muldowney is now a pediatric anesthesiologist at American Family Children's Hospital, across the street from where she attended preschool at the Waisman Center. (Photo by John Maniaci.)
When Bridget Muldowney was a little girl, she and her friends at the Waisman Early Childhood Program (WECP) would look up from the playground every time the noisy Med Flight helicopter landed at UW Hospital across the street.
Today, she's across the street herself. She's Bridget Muldowney, M.D., a pediatric anesthesiologist at American Family Children's Hospital, and the helicopter may well be bringing a small patient into her operating room. Her childhood of playing with children with disabilities has led to a career where she provides medical care for children, some of whom have the complex medical needs of her childhood friends.
Muldowney is one of hundreds of graduates from the WECP who are contributing to their community as adults.
Director Joan Ershler says that when the WECP opened in 1979, the majority of preschools refused to admit children with disabilities. Waisman had a mission to serve both typically developing children, like Muldowney and her sister Colleen, and those with special needs. Today it serves about 80 children a year, ages 1 to 5, and reserves about a third of its spots for children with disabilities.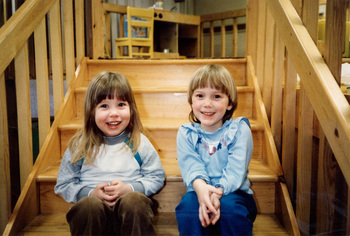 Bridget Muldowney, right, as a preschooler at the Waisman Early Childhood Program in the mid-1980s. At left is Kirsten Torgerson, who is now 30 and owns the House of Healing Hands massage center in Eureka, Ark., with her sister Caitlyn, also a Waisman alumna.
Muldowney's connection to the Waisman Center continues today. Gregg Rice is a Waisman expert on biochemical genetics, and Muldowney turns to him when she has young patients whose metabolic disorders could affect the way they handle anesthesia.
"We treat children who are very complex," she says. "There are syndromes that are so rare that it's really wonderful to be able to consult with an expert."
Many of the preschool children, like the Muldowney girls, come from the university community. Their mother, Jackie Hank, is a UW cancer researcher in the Wisconsin Institutes for Medical Research, across the street from Waisman. She remembers signing up on the waiting list for the Waisman preschool when Bridget was a baby. The campus location and accessibility were pluses.
"I liked that I could drop in on my lunch hour and be able to look through the mirror and watch the girls playing," she says. "You could see what they were doing without disrupting their day."
"And the teachers were just exceptional," she adds. The family, which includes father Tim Muldowney, a Madison attorney who has served as president of the Friends of the Waisman Center, still fondly remembers the late Rebecca Berning Lewis, who was the teacher of the school's smallest children for many years.
In addition to the low teacher-to-child ratio, Hank says the entire family benefited by having friends and teachers with disabilities.
"One of the things that benefited me greatly was that I developed a greater comfort level of interacting with kids with special needs."
Jackie Hank
"The children learn to be more accepting of others and to recognize the unique qualities of others," Hank says. "One of the things that benefited me greatly was that I developed a greater comfort level of interacting with kids with special needs."
Of course, the preschool was founded especially to enrich the lives of children who had challenges. A ceremony in July to dedicate a playground memorial to Lewis brought back one of her first students: David Egan, now 39, who entered the first Waisman preschool class as a little boy with Down syndrome, and went on to great success.
Egan has traveled to Morocco, the Netherlands and Greece as an athlete and Special Olympics volunteer and has addressed the U.S. Congress and the United Nations General Assembly in his role as National Down Syndrome Association Global Ambassador. When National Public Radio did a piece on the legacy of Eunice Shriver, they interviewed Egan.
Now living in Virginia and working for Booz Allen, Egan says it all began in the Cloud room at the Waisman Center, where he was given "inclusion and a desire to excel."
It's a story echoed by many former students. Liz Hecht, who works for Waisman as an outreach specialist for public policy, says that her son, Will Simmons, started at the Waisman preschool as a 2-year-old who used a wheelchair and adaptive communication devices because of cerebral palsy. Today, he's 24 and an information technology student at Madison Area Technical College. He interns one day a week at Wisconsin Aviation.
"This was his first inclusive experience," she says. "The values and philosophy of inclusion set him on the path to where he is today — a young man with a vision of himself working in the community and being part of the community."