WAA to honor civil rights pioneer Phillips at March 26 conference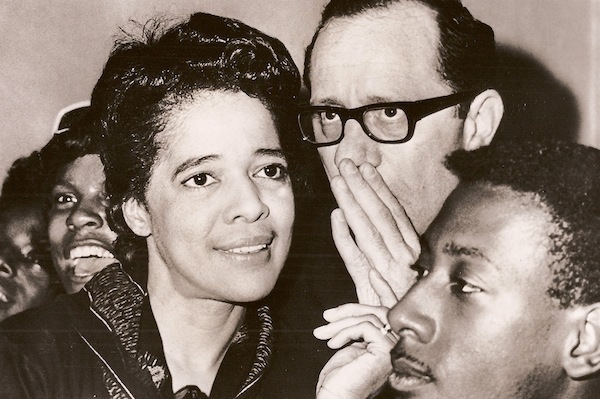 Civil rights pioneer Vel Phillips is shown in September 1967 with another prominent Wisconsin civil rights advocate, Rev. James Groppi.
The Wisconsin Alumni Association will present Velvalea "Vel" Phillips with a Distinguished Alumni Award on Wednesday, March 26 as part of a campus event to observe the 50th anniversary of the signing of the Civil Rights Act.
The Distinguished Alumni Award is the highest honor bestowed by WAA. Since 1936, WAA has presented the awards to the most prestigious graduates of UW–Madison to recognize their professional achievements, contributions to society and support of the university.
Phillips, the first African-American woman to graduate from the UW Law School in 1951, is one of Milwaukee's foremost advocates for civil rights and social justice.
"There are few UW alumni who are as courageous or inspiring as Vel Phillips," says WAA President & CEO Paula Bonner MS'78. "She has never backed down from the mission to extend civil rights and social justice to all."
As the first woman and African-American elected to Milwaukee's Common Council, she fought tirelessly for a fair housing ordinance to prohibit discrimination against minorities who wanted to buy or rent property in Milwaukee. In 1978, Phillips became the Wisconsin secretary of state, making her the highest-ranking woman elected to state office in the 20th century. She is currently engaged in a variety of philanthropic projects. For more on Phillips, click here.
On Wednesday, March 26, Phillips will be the keynote speaker at a daylong event co-sponsored by the UW–Madison Office of the Vice Provost for Diversity and Climate and the Department of Afro-American Studies, that will reflect on the local, regional and national history of civil rights. For more details on the conference, click here.
"A Nation Under Construction," is free and open to the public. It will be held at Union South, 1308 W. Dayton St. Phillips will speak at 9:30 a.m. The conference will be live-streamed here.
Phillips is among four honorees to receive WAA's 2013 Distinguished Alumni Award. Honorees also include international fashion icon Iris Apfel '43; Laurie Benson '75; entrepreneur and former CEO of Inacom Information Systems; and Michael Splinter '72, MS'74, chair of the board and former CEO of Applied Materials, a Silicon Valley-based nanomanufacturer.