Vice provost Damon Williams to leave UW
Damon A. Williams, UW–Madison's vice provost and chief diversity officer, has announced that he will leave the university on August 2.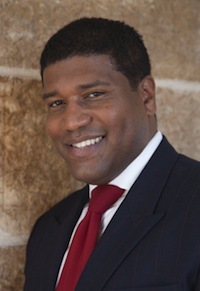 Damon Williams
A nationally recognized figure in diversity, leadership and organizational change, Williams will take on an "epic opportunity" as senior vice president for programs, training and youth development for the Atlanta-based Boys & Girls Clubs of America, working with close to 5,000 clubs around the world.
"Damon Williams has brought energy and dedication to a complex role," says Provost Paul M. DeLuca Jr. "This is an outstanding opportunity that employs his knowledge and strengths."
When Williams came to UW–Madison in 2008, the university was nearing the end of its Plan 2008 timeline, a ten-year plan to increase representation among both students and faculty of color on campus. He leaves as collaborators from across campus work on the next steps in a new university-wide diversity plan.
"It's important to understand the culture of how this place works: to move forward in ways that are consistent with that culture, but trying to evolve the culture in ways that benefit equity and inclusion," says Williams. "It's that delicate balance. But a lot of powerful collaborators here have the same kind of mindset."
Creating the infrastructure of the new Division of Diversity, Equity & Educational Achievement (DDEEA), Williams and his staff aimed to enhance strategic impact, collaborative possibilities and equitable educational outcomes on local, national, and global levels.
Under Williams' leadership, campus collaborations have included a faculty diversity effort with Steve Stern, vice provost for teaching and learning, as well as a leadership project (the Beyond the Game Initiative) with Intercollegiate Athletics and the Wisconsin Equity & Inclusion Laboratory (Wei Lab). Students and staff in the groundbreaking First Wave program recently began collaborating with the Center for the First-Year Experience (CFYE), introducing principles of identity and community to incoming students at SOAR.
"I can practice the principles of the Wisconsin Idea as I get a chance to work with communities all around the nation and world."
Damon Williams
"I'm most proud of the team that we've put together," says Williams. "Our initiatives are about using a centralized infrastructure to create stronger partnerships and get more done. In the world we're heading into, that will be more important than ever."
Off-campus collaborations have also flourished. Locally, community-based groups such as Centro Hispano, 100 Black Men of Madison, the YWCA and Boys and Girls Clubs of Dane County have strengthened ties with the university. On the national level, figures such as the New York Knicks, the Hip-Hop Sisters Network and Russell Simmons have built relationships with DDEEA, resulting in a higher profile for UW–Madison students and programs — and groundbreaking scholarships.
Humbled by the support he has received from his staff, Williams says that he'll always consider himself a Badger — in ways he couldn't have predicted when he arrived five years ago.
"I can practice the principles of the Wisconsin Idea as I get a chance to work with communities all around the nation and world," says Williams. "For me, it's not about leaving higher education; it's working at an earlier place in the pipeline to help expand educational possibilities for young people — particularly young people in vulnerable circumstances."
Repeatedly, he mentions how honored he has felt to work with students and staff at UW–Madison.
"Our students are engaged," says Williams. "They're concerned about the issues that matter; they're not sleeping at the wheel. They expect accountability, and for all of our leaders to find a higher gear in their leadership."
So when the Boys & Girls Clubs look for talented, passionate employees, Williams knows where to start his search.
"We have great students at Wisconsin; they're prepared to contribute to the workforce," he says. "I look forward to recruiting them!"