Veterinary medical researcher honored for lifetime achievement
Ian Duncan, a professor of neurology at the University of Wisconsin–Madison School of Veterinary Medicine and a world leader in the study of myelin disorders of the central nervous system, has received the 2015 Lifetime Excellence in Research Award from the American Veterinary Medical Association (AVMA).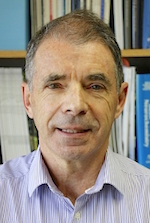 Ian Duncan
The award honors a veterinary medical researcher for accomplishments in basic, applied or clinical research throughout his or her career. Each year the AVMA Council on Research — a group of elected members representing veterinary medical research, private practice and veterinary medical colleges — selects a recipient.
Duncan's work focuses on the development and disease of myelin, a material that covers and protects nerve fibers and is essential to the proper function of the central nervous system. The deterioration of this protective sheath, or demyelination, is associated with several debilitating diseases, including multiple sclerosis.
"Dr. Duncan has spent his career exploring the causes and potential solutions for myelin disorders in a variety of species," says Mark D. Markel, dean of the School of Veterinary Medicine. "His research holds the promise of identifying pathways to either slow or reverse disorders of myelination, with the hope of benefiting both animals and humans."
Duncan is a world authority on the genetic disorders of myelination and has identified numerous genetic mutations in animals. He has used these discoveries to establish animal models for exploring the various roles of mutant genes in myelin formation and maintenance. Duncan is also a pioneer in the use of stem cell transplantations to repair myelin disorders of the central nervous system.
Duncan's work focuses on the development and disease of myelin, a material essential to the proper function of the central nervous system.
Currently, Duncan is studying the remyelination of the central nervous system in multiple sclerosis and genetic disorders affecting myelin. In 2009, he and colleagues provided definitive evidence that remyelination restored nerve cell function, confirming its therapeutic significance.
As one of the earliest faculty hired at the School of Veterinary Medicine after it was established in 1983, Duncan played a key role in creating the school's instructional and clinical programs in neurology. He has published 160 peer-reviewed articles in publications such as Nature, Science, Nature Medicine, Journal of Neuroscience, and Proceedings of the National Academy of Sciences.
Duncan earned his veterinary medical degree and his doctoral degree in experimental neuropathology from the University of Glasgow in Scotland. He is a corresponding member of the Royal Society of Edinburgh, which has just 60 members worldwide. Duncan is the second member of the veterinary medicine faculty to garner the AVMA award since it was established in 2005. Gerald Bisgard, professor emeritus of comparative biosciences, received it in 2010.
Established in 1863, AVMA is a not-for-profit association representing more than 86,500 veterinarians working in private and corporate practice, government, industry, academia, and uniformed services.