UW's Wisconsin TechSearch serves state businesses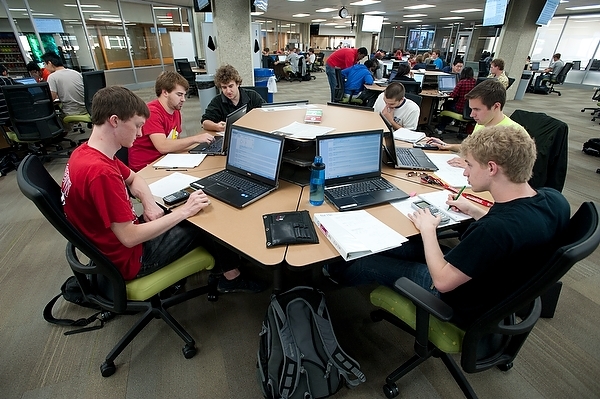 Students in the Wisconsin Collaboratory for Enhanced Learning (WisCel) in Wendt Commons Library. The library is home to Wisconsin TechSearch, a service to businesses intended to foster commerce and increase economic development.
Photo: Bryce Richter
Each month, the Wisconsin TechSearch handles an average of 3,500 information requests from engineering firms, manufacturers, small businesses, law firms and private citizens, both around the state, nationally and internationally.
Originally called the Information Services Division of the University of Wisconsin–Madison Engineering Library, WTS was created under federal law in 1965 to foster commerce and increase economic development. Essentially, the WTS team helps clients track down information resources that allow businesses to move new products and projects forward more quickly and efficiently. It's not only part of the UW–Madison Libraries, but also the College of Engineering, and is housed in Wendt Commons Library. This unique structure allows WTS to access collections from libraries across the UW–Madison campus and beyond.
Rachel Watters
"We have our feet in both the academic and private industry worlds," says WTS director Rachel Watters. "We're part of the UW Libraries, which means we have access to world-class collections. These collections ultimately help our economy, because their contents are used by professionals around the state to advance their businesses."
As WTS celebrates its 50th anniversary, it finds itself emerging as a beacon for industries seeking quality, rapid-fire information through these specialized delivery services from an increasingly shrinking resource pool. WTS currently works with approximately 500 clients from a wide range of industries, and some are in touch with WTS staff daily. Clients say it's not only the speed, but the accuracy and depth of resources WTS offers that keeps them returning.
"Without WTS there would be documents I just would not be able to obtain because the personal cost in terms of time trying to find them would not be cost effective," says Gerald Reinke of MTE Service, Inc. in Onalaska, Wisconsin. "Alternatively, if because of not having WTS as a resource I missed something of significance, it could set back some of our research efforts."
"These collections ultimately help our economy, because their contents are used by professionals around the state to advance their businesses."
Rachel Watters
MTE Service is a commercial research and development lab that measures, observes and tests equipment. Reinke says his company uses Wisconsin TechSearch anywhere from once a month to three or four times in a single day, depending on project and research needs. He says it's a great resource that meets both the information and time constraints that businesses face during projects.
"WTS is cost and time effective. If I am in need of a specific paper rapidly, I can choose to have it expedited, for which I am happy to pay additional. If on the other hand the document I need is more for background information, I can afford to wait and pay less," Reinke says. "WTS is able to track down documents from older journal numbers as well as chapters or papers from conference proceedings that are not easily accessible any other way."
WTS clients pay a fee based on the speed of delivery necessary. While previously offering four- and eight-hour options, WTS now offers one-hour turnaround on requests. Staff receive 10-20 one-hour rush requests a week, with 45 percent of current requests choosing the rush order option.
Deborah Helman
"We're often an extension of many businesses' operations," Watters says. "Without WTS, (some) simply wouldn't be able to move forward with their work. We like to say if WTS can't find what you're looking for, it probably doesn't exist."
As more library resources shift to digital formats, the WTS team continuously evolves to help clients keep up-to-date. "Technology (has changed) everything we do," says Deborah Helman, Director of Wendt Commons. "But at the end of the day, businesses need information to advance their work. Our job is to continue to be a leader in providing that information, no matter the format."
For more information on WTS, visit https://wts.wisc.edu/, email wts@engr.wisc.edu, call 608-262-5917 or fax 608-262-4739. WTS is open Monday through Friday from 8:30 a.m. to 5 p.m.
—Natasha Veeser