UW repository stores anthropological artifacts from around the world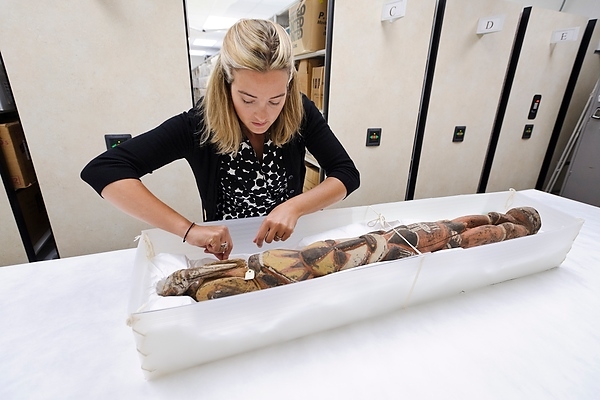 Danielle Benden displays a carved and painted wooden statue collected from New Guinea, one of countless artifacts stored in the Anthropology Repository in the Sewell Social Sciences Building.
Photos: Jeff Miller
Like Hercules assigned to clean the Augean stables, curator Danielle Benden was hired by the UW–Madison anthropology department in 2007 to sort and systematize the final resting place for the department's collection of pots, bones, baskets, spear points, clothing, musical instruments, kayaks and effigies.
The collection in the Department of Anthropology repository was gathered on six continents by roving UW–Madison anthropologists for more than a century. Then it began gathering dust in a warehouse.
In the myth, the Greek strongman cleaned the stables by rerouting a river. Benden, however, must tackle the Herculean labor of sorting, labeling, cataloging and reboxing the boxes, bags and bins one by one.
By now, the ongoing process has already converted much of the hoard into a functional scientific resource.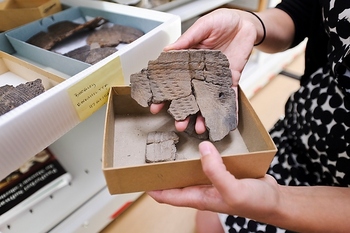 Benden displays pottery shards collected from Grant County, Wis. Collected and boxed in 1985, it was forgotten in storage — until now.
"My job is to oversee, manage and care for these resources," says Benden, who combines training as an archeologist and a museum professional. "I teach curation methods, an archeological excavation course, and also provide support for the teaching faculty."
Benden's "before" photos say it all. In one, a kayak — a relic of intensive UW–Madison studies in the Arctic — crushes boxes crammed with who-knows-what. In a place where preservation, order and data ought to rule, gravity and entropy seem paramount.
Benden supports two teaching labs: one for artifacts such as arrow points and pot shards, and the other for casts and skeletons that illustrate human evolution. Her labor, augmented by that of students in her museum curation class, is turning the collection into an intensely-cataloged treasure trove that is making a name for the campus in the world of anthropology.
"This collection rivals some of the best facilities in the country," Benden says of the recently renovated biological anthropology teaching laboratory. The castings of great ape skulls and fossil human ancestors "are a selling point for attracting graduate students."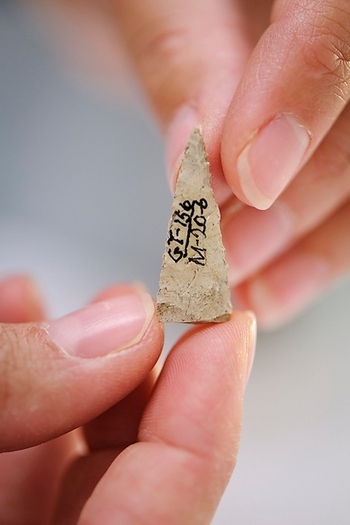 A stone arrow point, also found in the Grant County collection.
Benden, who was hired as the department's first curator six years ago, says, "We had been teaching anthropology since 1897, and had 100-plus years of collecting these amazing objects with nobody to care for them."
Today, the collections have been transferred to new, "compactor" shelving that doubles the effective space of the repository, in a room with modern temperature and humidity controls.
Benden picks one of the still-unsorted boxes from the shelf, and discovers material from Grant County, Wis. "This was collected in 1985, and nobody has ever even opened it," she says, and we gaze at more than 100 brown bags, each carefully labeled, holding pot shards. "There is a crazy amount of analytic potential in this room."
One of Benden's most satisfying finds was a series of beautiful black-and-white photos of Menominee Indians. To identify the photographer, she consulted Larry Nesper, a cultural anthropologist in the department. "He took one look, said 'My gosh,' and brought down a book by George and Louise Spindler, who had studied in Madison in the 1940s and '50s. These were the fieldwork photos they took while living at the Menominee nation!" Benden asked Nesper to deliver copies to the Menominees.
Maintaining good relationships with Wisconsin's 11 federally recognized tribes is critical, Benden says, as the university continues to comply with the Native American Graves Protection and Repatriation Act. This federal law, passed in 1990, permits tribes to request return of human skeletal remains and grave goods.
"This is the gift that keeps on giving. I am still finding amazing things. I think of it as excavating in the collection."
Danielle Benden
"When the act passed, there was a scare factor, people said museums would be emptied, but that is not true in our case," says Benden. As the department consults with the tribes, she hopes for a resolution that is good for both the university and the tribes.
In the meantime, Benden continues to open musty boxes. Decades after the paper they delivered was turned into memos and manuscripts, these Xerox and Nekoosa boxes are still holding unseen artifacts and samples. "This is the gift that keeps on giving," Benden says. "I am still finding amazing things. I think of it as excavating in the collection.
"This is the wave of the future in archeology. There are so many amazing objects in repositories around the country. When the person doing the work moves on, the collection, if no one is caring for it, gets forgotten."
Our attention quickly shifts to glass holding the remains of a birch bark basket from South Dakota, collected in the 1940s. "It's still in amazing shape," Benden marvels. "After at least 700 years, the stitching holes are still visible. We preserve and catalog this stuff, and now people can come in and see it and learn from it."