UW-Madison seminar marks 50 years of the Civil Rights Act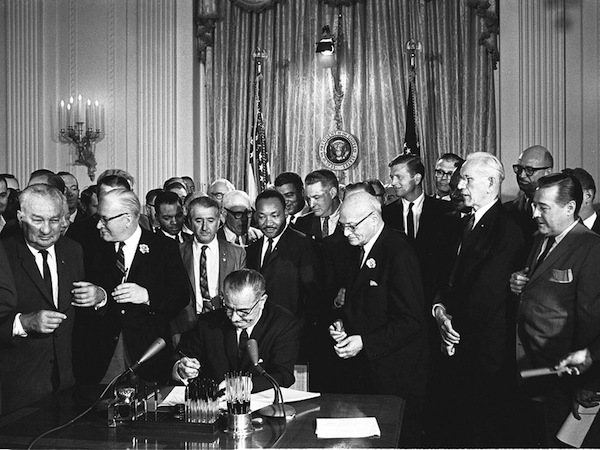 President Lyndon B. Johnson signs the Civil Rights Act of 1964, as Rev. Martin Luther King Jr. and others look on.
Photo: White House archives
A daylong seminar focusing on civil rights, "A Nation Still Under Construction: Observing the 50th Anniversary of the Civil Rights Act," will be held on Wednesday, March 26.
The event, co-sponsored by the UW–Madison's Office of the Vice Provost and Chief Diversity Officer and the Department of Afro-American Studies, runs from 8:30 a.m. to 3:30 p.m. in Union South's Varsity Hall.
The featured keynote speaker will be Wisconsin civil rights pioneer Vel Phillips, 90, a native of Milwaukee and the first African American woman to graduate from the UW Law School, (LLB '51) and serve as Wisconsin's secretary of state.
Also keynote speaking on March 26 will be UW–Madison graduate Roberto Rivera, a Chicago-based contemporary youth development, social justice and hip-hop culture specialist.
Rivera is an award-winning artist and educator who specializes in applying best practices in engaging youth. He is the president and lead change agent of the Good Life Organization, which publishes multi-media educational tools and trains educators, youth workers and parents in connecting positive youth development to community development.
The event will cover the history of civil rights from the events leading up to the passage of the Civil Rights Act of 1964, and the social, political and institutional evolution that followed.
Faculty experts will provide historical overviews on the legislation and the university, city and state's role in the Civil Rights movement.
The program will include history Professor Brenda Gayle Plummer's presentation, "The Continuing Legacy of the Civil Rights Act of 1964," and Professor Emerita of African and African American Art History and Visual Culture Freida High W. Tesfagiorgis' presentation, "Afro-American Studies at the University of Wisconsin–Madison and the Historical Impulse of Civil Rights."
A faculty-led expert discussion on the state of contemporary American civil rights moderated by Michael Thornton, professor of Afro-American, Asian American Studies and sociology will also be held. Panelists include:
Ellen Samuels, assistant professor of gender and women's studies and English;
Will P. Jones, history professor;
Patty Loew, life sciences communication professor;
Carrie Sperling, interim director of the Frank J. Remington Center and co-director of the Wisconsin Innocence Project, and law professor;
Steve Kantrowitz, professor and director of Graduate Studies, Department of History, and;
Ben Marquez, political science professor.
Registration is available here.
In the evening, attention turns to the future with a session on student activism and engagement hosted by the Office of the Vice Provost interns from 6-9 p.m.
Starting with dinner, speakers and visiting guests will present a historical perspective on student engagement and campus change, followed by work to formulate a call to action on future student activism and community engagement.
To register for the student event, visit here.
The event is wheelchair accessible. Those requiring any accommodation due to a disability may call 608-265-5228 or email jscott1@wisc.edu by Monday, March 17.