UW-Madison researchers helping to attract Kickapoo Valley tourists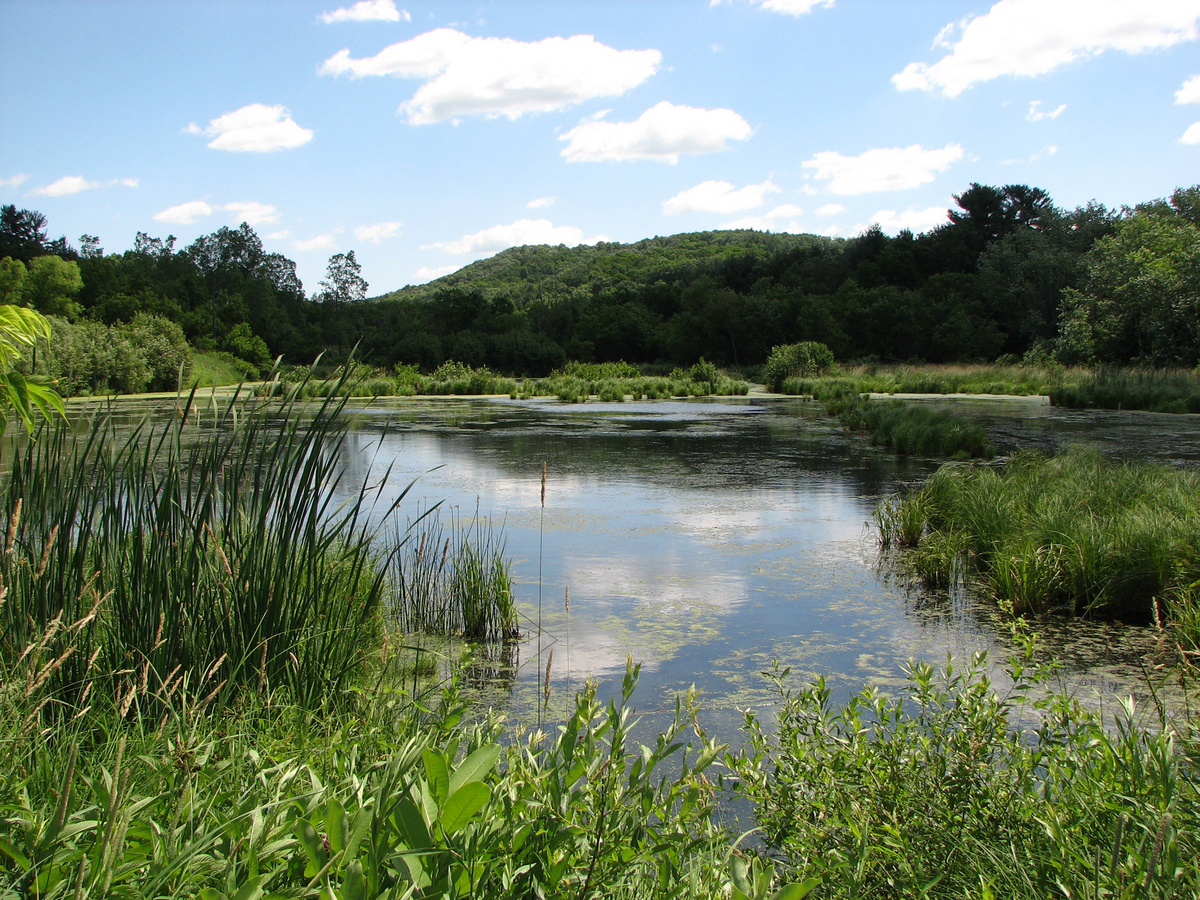 A pond along Old Highway 131 Trail within the Kickapoo Valley Reserve. In a collaboration with UW–Madison, officials of the reserve are hoping to produce an increase in tourists and economic development.
Photo courtesy of Kickapoo Valley Reserve
The Kickapoo Valley is a picturesque area of western Wisconsin that attracts many visitors during the summer. But to improve economic development throughout this rural region, many residents and business owners want to lengthen the tourism season, and University of Wisconsin–Madison researchers are helping them make plans to do so.
"We're fairly busy in the peak season, but tourism drops off in the shoulder months," says Sadie Urban, the events coordinator for the Kickapoo Valley Reserve, an 8,500-acre natural and recreational area. "There's still a lot to do in the area during those times, but we don't really see the tourists then."
To form a plan of action to attract new visitors, the Kickapoo Valley Reserve applied for funding help from the Kickapoo Valley Reforestation Fund, also known as the Ralph Nuzum Fund. The fund supports projects that enhance the ecological, economic and social well-being of Kickapoo Valley residents.
Bret Shaw
As part of the grant, Urban and her colleagues needed a University of Wisconsin partner, and Bret Shaw, an associate professor of life sciences communication, was the right fit to help develop the project.
"I am interested in the intersection of tourism, sustainability and economic development, so this project was right in my wheelhouse of market research and helping rural communities," says Shaw, who also has an appointment with University of Wisconsin-Extension as an environmental communications specialist.
Shaw started work in the valley by talking with stakeholders and identifying the goal of attracting tourists during the shoulder months. He and graduate student Heather Akin then surveyed Kickapoo Valley visitors and wrote a report about tourist demographics, behaviors and feelings.
Community organizers in the Kickapoo Valley are now using Shaw's findings to influence their marketing materials and plan new events. The research indicated that excitement, adventure and food-related experiences would attract visitors. As a result, the Kickapoo Reserve Tromp and Chomp, a trail run that will be held May 30, is one of the new events designed to attract adventure-seeking and local food-loving tourists.
A rock bluff along the Kickapoo River.
Photo courtesy of Kickapoo Valley Reserve
"Runners can do an 8-mile or half-marathon trail run, and after the run there's a meal included in their registration," says Urban. "The meal will feature food from the area, which has a high concentration of organic farms."
In addition to consulting on new events, Shaw is also involved in the Ralph Nuzum Lecture Series, which introduces valley residents to experts on topics such as agriculture, wildlife and sustainability. Shaw also helped establish an Extension video channel to share the lectures with a broader audience and showcase the valley in general.
Shaw says he's optimistic these ongoing collaborations between UW–Madison and the Kickapoo Valley Reserve will produce the increase in tourists and economic development area residents are looking for.
"Each time we attract a new visitor, that person spends around $140 if they stay overnight, so we'd like to see these (events) continue to help local businesses and residents," he says.
The research findings were reported in the most recent edition of the Journal of Extension.
—Caroline Schneider