UW and Madison Fire Department co-hosting Campus Fire Safety Month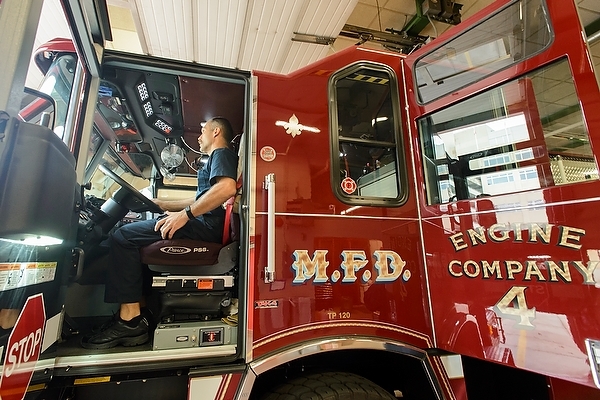 Apparatus Engineer Al Schmid prepares to roll out the truck from the Madison Fire Station #4, located across the street from Camp Randall Stadium. The station, known as Bucky's House, provides services to the UW campus area.
Photo: Bryce Richter
The University of Wisconsin–Madison's Environment, Health & Safety department, in partnership with University Housing and the Madison Fire Department, will host the first UW–Madison Campus Fire Safety Month in September.
Dates for interactive educational events are Sept. 3 from 11 a.m. to 2 p.m. at Orchard Street near the Wisconsin Institutes for Discovery, Sept. 10 from 11 a.m. to 2 p.m. at the Sellery and Gordon basketball courts, and Sept. 17 from 5 to 8 p.m. at the University Apartments Community Center.
There will also be raffles and giveaways taking place at each event. Scheduled activities include:
Fire safety house
Fire sprinkler trailer
Hands-on fire extinguisher training (including live fire)
"Test your fire safety knowledge" quiz
Firefighter turnout gear to try on
Insurance representative discussing renter's insurance and smoke detector agreements
UWPD alcohol impairment simulation goggles
Madison Fire Department fire trucks
Campus Fire Safety Month is recognized across the United States with the goal of raising awareness about fire and life safety on college campuses. EH&S — Fire & Life Safety plans to make this an annual event on the UW–Madison campus.