UW and M-WERC expand Wisconsin's energy industry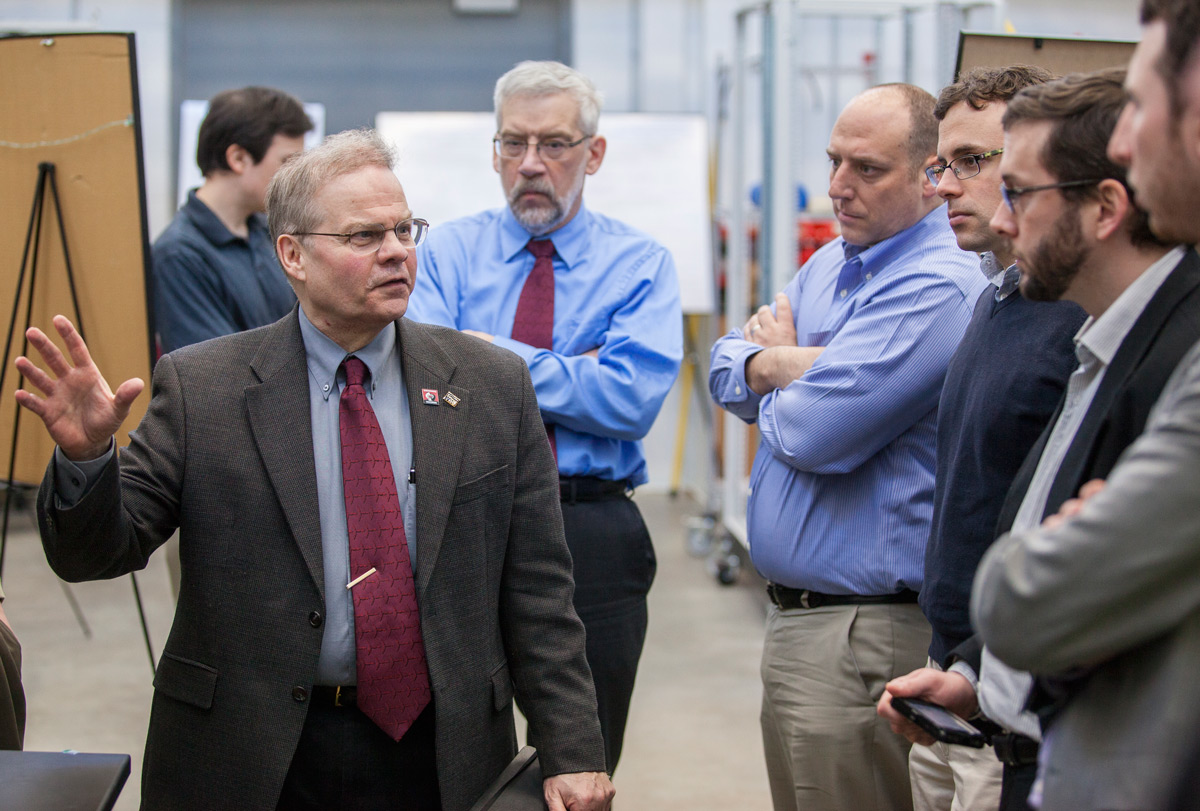 Bruce Beihoff gives a tour of the Wisconsin Energy Institute's Johnson Controls Advanced Systems Test Lab. The lab contains state-of-the-art battery testing technology and is designed to study energy storage systems.
Photo: Matt Wisniewski/Wisconsin Energy Institute
Researchers at the Wisconsin Energy Institute (WEI) at the University of Wisconsin–Madison are developing an industry partnership that promises to create jobs here in Wisconsin.
WEI is working with M-WERC (Mid-West Energy Research Consortium), a Milwaukee-based consortium of researchers and industry representatives focused on the Midwest's energy, power and control industry (EPC), to move its clean energy technologies and innovations out of the lab and into the marketplace more efficiently and with greater impact on local economies.
Founded in 2009 by four industrial companies and three universities, including UW–Madison and UW-Milwaukee, M-WERC now has more than 75 members and an annual budget of more than $1 million. Its public-private consortium model provides the opportunity for companies, research institutions and training colleges to benefit from each other's expertise while coordinating efforts to grow the Midwest's EPC sector.
"By building this bridge, we help ensure that companies are not missing out on valuable opportunities to innovate their products or processes"
Bruce Beihoff
"With M-WERC, we build the bridge between researchers and private industry," Bruce Beihoff, WEI's technical director of industry relations, says. "By building this bridge, we help ensure that companies are not missing out on valuable opportunities to innovate their products or processes."
According to Beihoff (who holds a joint appointment with M-WERC, where he is director of technology innovation), WEI and M-WERC's other university members have filed two new patent applications for technologies with the potential to grow the Midwest's energy sector. These collaborative projects, he adds, also expose companies to some of the universities' most talented students.
WEI also contributes leadership to M-WERC. In 2014, M-WERC appointed WEI director and UW–Madison Professor of Engineering Physics Michael Corradini chair of its board. Corradini, a nationally recognized nuclear energy expert who joined the board in 2013, provides research and industry leadership, and helps expand M-WERC's strategic partnerships.
"Mike and Bruce are tremendous assets to M-WERC and its members," says M-WERC Executive Director and CEO Alan Perlstein. "Their contributions highlight the important role WEI and the broader university research community play in keeping the Midwest energy sector competitive and growing."
Though M-WERC's focus is on the energy, power and control sector of the greater Midwest region, its impact on Wisconsin's economy is particularly noteworthy. Wisconsin's EPC sector includes more than 900 companies from nearly every county in the state, employs 100,000 people, and generates more than $38 billion in economic activity.
"Our technical outreach touches companies that do billions of dollars of business in the world, millions of dollars of which impact the state of Wisconsin," Beihoff says. "There's no question that by making this community more competitive, we are helping these companies succeed — and that their success is growing Wisconsin's economy and creating jobs here at home."
—Krista Eastman