Urban Horticulture Day set for Aug. 15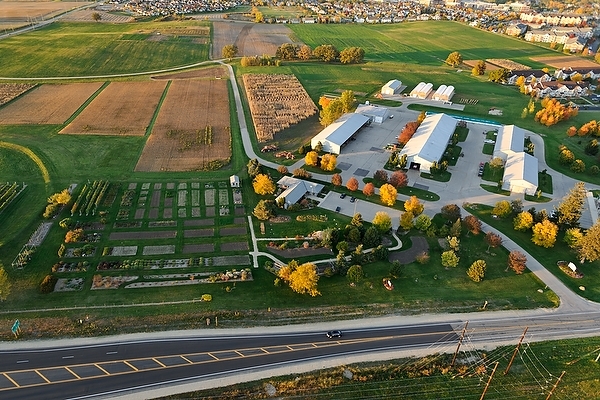 West Madison Agricultural Research Station as seen from the air in 2011. Mineral Point Road is in the foreground. The station focuses on urban agriculture, plant breeding, and providing feed for the UW–Madison campus dairy.
Photo: Jeff Miller
Want some fresh ideas for your home garden? Stop by Urban Horticulture Day at UW–Madison's West Madison Agricultural Research Station on Saturday, Aug. 15 between 10 a.m. and 2 p.m. The event is free and open to the public.
At this family-friendly field day, visitors can tour the station's vineyard, vegetable garden and extensive flowerbeds, and taste fresh fruits and vegetables from the gardens. More than 300 cultivars of annual and perennial flowers will be on display, along with the largest display in the Midwest of coleus — the National Garden Bureau's 2015 "Plant of the Year" — with over 100 varieties. There will also be pollinator exhibits, large farm equipment displays and fun activities for families and kids.
Experts from the College of Agricultural and Life Sciences and UW-Extension will be there to answer questions and offer advice, including:
Area Master Gardener Volunteers will also be on hand.
West Madison ARS is located approximately a half mile west of the Highway 12/14 Beltline at 8502 Mineral Point Road, Verona.