University Research Park event seeks to jump-start startups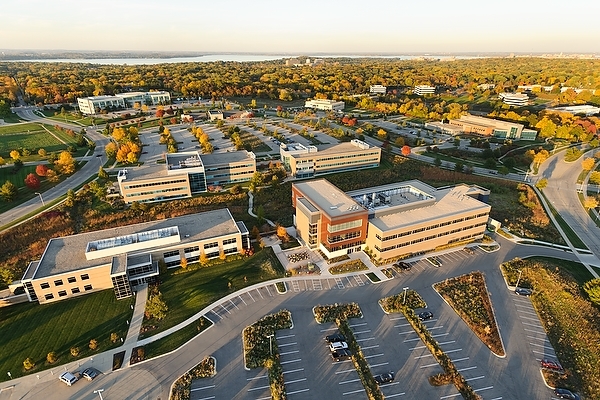 The MGE Innovation Center, site of this year's Madison Startup Weekend, is seen at the center of this aerial view of University Research Park on Madison's west side.
Photo: Jeff Miller
Madison's third annual Startup Weekend event, whose goal is to assemble entrepreneurial minds from Southern Wisconsin and beyond to collaborate on innovative projects and potentially form startup companies, will be held April 4 to 6 at the University Research Park in Madison.
"Essentially, this is an incubation ground for entrepreneurial behavior," says Allen Dines, assistant director for new ventures at the Office of Corporate Relations at UW–Madison. "It's open to the entire community. We'll begin with people coming together to talk about ideas, and quickly form teams to pursue the ideas with the most legs, the greatest potential."
For the rest of the weekend, each team will build a business concept and possibly a prototype around the idea, and finish with a sales pitch to selected judges. "They will be doing all the things that an entrepreneur needs to be good at," says Dines. "It's a skill development process that will focus on three key abilities: honing an idea with potential, being able to execute and develop that idea, and telling a compelling story about why that idea is worthwhile."
Startup Weekends are hands-on experiences that allow entrepreneurs and aspiring entrepreneurs to test startup ideas and skills. More than 100,000 entrepreneurs have attended 1,000 Startup Weekends around the globe. Typical attendees include developers, designers, marketers, product managers and startup enthusiasts.
Anyone looking to test the entrepreneurial waters is welcome, Dines says, though he notes that the experience will be especially useful to entrepreneurs interested in getting feedback on an idea, looking for a co-founder, or wanting to learn new skills.
"This is the third Startup Weekend Madison, and the enthusiasm of the Madison startup community has made this into one of the city's leading opportunities for creative minds to explore and hone their inner entrepreneur," says Forrest Woolworth, the co-founder of Capital Entrepreneurs and a member of the organizing committee. "We expect 2014's event to be no exception."
At each of the past two Madison Startup Weekends, 100 people formed teams working on everything from social networking sites to a homebrewing app.
Startup Weekend Madison will take place at the MGE Innovation Center, University Research Park, 505 S. Rosa Rd., Madison. Registration covers the cost of instruction, mentorship, seven locally prepared meals, and a t-shirt. Early bird registration (by March 14) and student discounts are available, so the cost will range from $49 to $99. Online registration is available.
Organized by leaders from University of Wisconsin–Madison, Edgewood College, Capital Entrepreneurs, Sector67 and Madworks Coworking, Startup Weekend Madison is sponsored by Google, Earthling Interactive, American Family, Gener8tor, Fine Point Consulting, Neider and Boucher, and University Research Park.