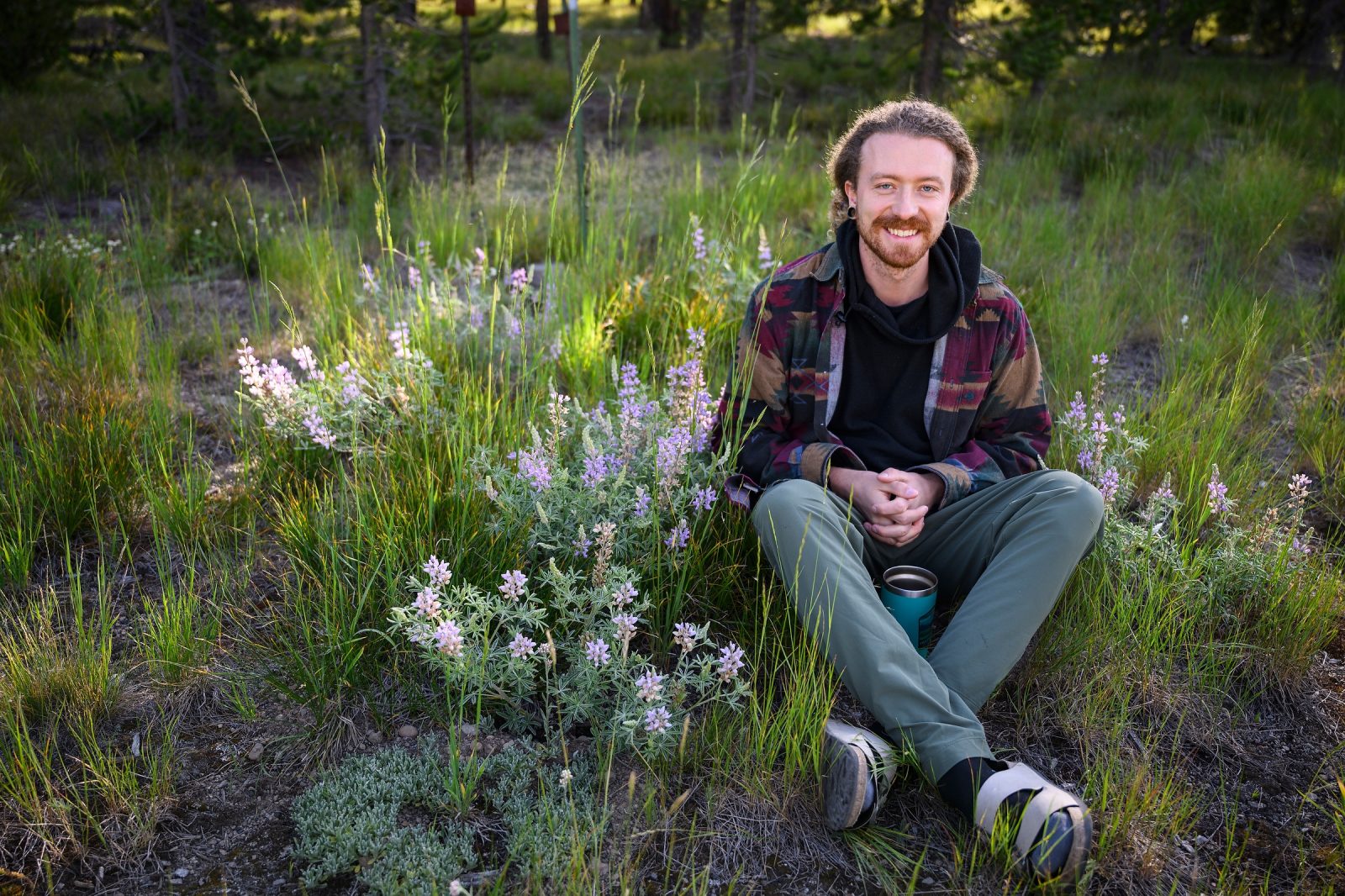 Tomorrow's Yellowstone
Timon:
Climate
in
conversation
Park visitors coming from all across the globe crisscross down a shaded path, making their way to the shore of Jenny Lake, a popular scenic stop nestled in Grand Teton National Park. Just around the bend of the path, the dramatic backdrop of the Teton Mountain range rises up behind the bright blue lake. The visitors excitedly make their way to the shoreline.
Standing just off the edge of the path, in stark contrast with his green and brown surroundings, is Timon Keller, a PhD student in a UW–Madison-red polo shirt.
"Hi there, we're taking a survey to see how people feel about the park and some of the changes that may happen to the landscape. Do you have a few minutes?" he asks a group as they pass by.
Timon is a student in Monica Turner's lab in the Department of Integrative Biology. He assists with a number of projects, including the lab's long-term forest resilience studies dating back to 1988, and he is leading his own research for his graduate work. That work is focused on understanding how nutrients important for plant growth recover after large fires burn stands of lodgepole pine forest. He is also studying how fire refugia — areas that remain unburned or minimally affected by fire — affect forest regeneration under potential future climate scenarios.
On this day in the park, Timon is using decades of the lab's data to show park visitors what the future of Yellowstone might look like in a world that's hotter and drier due to climate change. He's showing them how it may transform if we don't collectively do more to curb carbon emissions.
When people take the survey, they're shown different versions of iconic landscapes throughout the park. First, they're shown a landscape as it currently exists, thanks to photos Timon took there in the summer of 2022.
Then visitors are shown what that same landscape could look like if carbon emissions continue to increase, leading to hot, dry weather and more frequent fire. Fire has long been a natural part of the ecology of the region, but it now occurs at much shorter intervals, altering the ability of the forests to recover. These future landscapes are based on computer model projections that rely on decades of data from the Greater Yellowstone Ecosystem; they forecast future climate conditions and their effects on forests.
The survey prompts visitors to choose their preferred landscape and also asks them to share why they prefer one over the other.
In the midst of everyday life, it can be difficult to connect with the urgency and magnitude of climate change, but by first explaining the changes that are happening in national parks people love, Timon hopes people will reflect on what a changing climate may mean for their own communities.
Timon says on the drive back to camp after a long day of surveying, "I want people to go, 'When a bear can't survive because its food doesn't grow anymore, what will that mean for my corn in Iowa?'"
The survey sparks a lot of conversation around climate, and Timon is glad for the opportunity to hear people's range of perspectives.
Survey visitors with Timon