Tickets available Oct. 1 for Shakhashiri's science show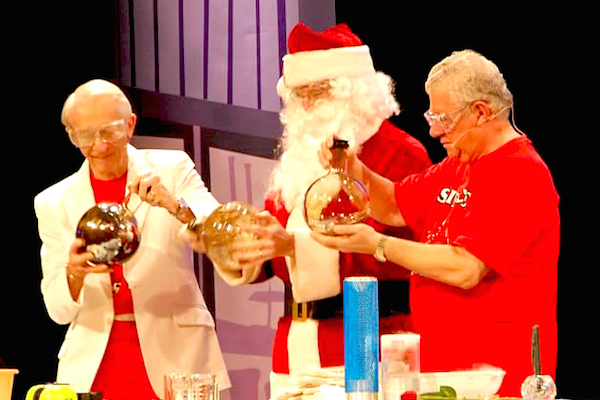 Bassam Shakhashiri (right) teaches UW Band director Mike Leckrone and Santa Claus how to make glass ornaments during last year's edition of "Once Upon a Christmas Cheery in the Lab of Shakhashiri."
Photo courtesy of Bassam Shakhashiri
There's only one place that you can find Bucky Badger, Mike Leckrone, and Santa Claus himself doing science experiments – in Professor Bassam Shakhashiri's lab.
Shakhashiri, a professor of chemistry at the University of Wisconsin–Madison, will host his 46th annual holiday science presentation – "Once Upon a Christmas Cheery, In the Lab of Shakhashiri" – on Dec. 5 and 6.
The idea to host an entertaining, educational holiday program came from Michael Faraday, an English physicist who, in the 1840s, would gather young people and their families around Christmas time at the Royal Institution of Great Britain to do experiments intended to show the public how science works.
Shakhashiri learned about this tradition while teaching at the University of Illinois, and when he came to UW–Madison he decided that he wanted to do something similar for the students in his class.
"So that's what I did in my first semester here," he says, "way back in the fall of 1970."
"We want to catch 'em young so that they develop good healthy attitudes not just toward science, but toward learning."
Bassam Shakhashiri
Word quickly got out about what Shakhashiri planned to do, so he decided — in a very Faraday-esque way, to open the lecture to the public.
"And we've been at it for 46 years," he says with a smile, "more than one fourth of the life of this university."
The show is so popular that the free tickets usually disappear within a week. This year, they'll be available online starting Oct. 1.
Shakhashiri, 75, says it is important to engage minds — young and old — in thinking about the beauty of the complex chemical world. His program as well as his work, both as a professor and as the William T. Evjue Distinguished Chair for the Wisconsin Idea, reflects this.
The experiments Shakhashiri performs at his Christmas program are aimed at giving everyone the best exposure to science and scientific progress.
"We make progress in science by being skeptical, so that's one thing that we try to encourage everyone to do," he says.
Even though he emphasizes that his program is meant for all ages, Shakhashiri especially aims to engage the younger members of his audience.
"We want to catch 'em young," he says, "so that they develop good healthy attitudes not just toward science, but toward learning." He also hopes that what his audience learns in his lecture follows them into their daily lives, changes how they look at the world and inspires curiosity.
"I want everyone to think about what they have experienced (in the lecture) — not just what they've seen, not just what they've heard, but how they feel about what they've seen and what they've heard, and to decide for themselves what avenues they want to pursue as they grow up, not only as kids but also as adults. Growing up means developing maturity and satisfying the curiosity that we all have."
The biggest lesson Shakhashiri wishes to share can be seen in big letters on the shirt he wears and the buttons he gives out: Science is fun.
The program will be broadcast later on Wisconsin Public Television, dates and times to be determined.
Watch a video of last year's show
—Madeline Fischer