The 15th edition of Curb Magazine is all about love in Wisconsin
Each year, 21 students in the School of Journalism and Mass Communication at the University of Wisconsin–Madison participate in a unique capstone project: writing, designing, publishing and circulating an award-winning publication, Curb Magazine.
In September, as Curb staff members debated the philosophy behind this year's issue, they finally came to a last-minute consensus: at a time of such division, why not talk about love? From love of the land to cherished traditions and strong passions, this year's edition of Curb, "Wisconsin: A Love Story," focuses on the many different forms that love takes in Wisconsin.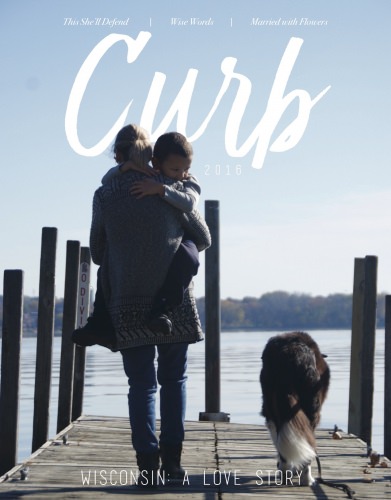 Bailey Nachreiner-Mackesey, Curb Magazine's editor in chief, says "Wisconsin: A Love Story" allowed the Curb staff to cover a wide variety of topics that show the many ways people in Wisconsin experience love.
"Our philosophy led us to meet people from all over the state and to share their stories," Nachreiner-Mackesey says. "We have articles on everything from social justice issues to the love behind a local microbrewery."
The 15th edition of Curb launches today (Dec. 5), but getting it to that point required more work than is typical of a four-credit class. Over the course of the semester, students on the Curb staff were responsible for everything that goes into producing a magazine. The team worked together to design apparel, offer professional headshots, sell ads and collect generous donations from family and friends to raise more than $11,000 to cover all of the publication's costs, including printing. For the seventh year, Royle Printing of Sun Prairie donated half of the cost of printing.
Additionally, all members created stories, videos and more for a print, tablet and online version of the magazine. This year Curb videographer, Melissa Behling, produced more videos than ever before, making the 15th edition of Curb an engaging, multimedia experience for readers.
"Not only is this year's magazine about love in all its forms, but its creation has been driven by the passion these students have for telling the stories of people from all walks of life," says instructor Stacy Forster. "The magazine and website are a true labor of love for them, and in the process, they've gotten the real-world experience of producing a multimedia publication."
The 15th edition of Curb will be distributed to more than 10,000 UW–Madison alumni across Wisconsin, and can be found in print, online at curbonline.com or in the iTunes store.