Terrace renovation presents opportunity to enjoy other Union spots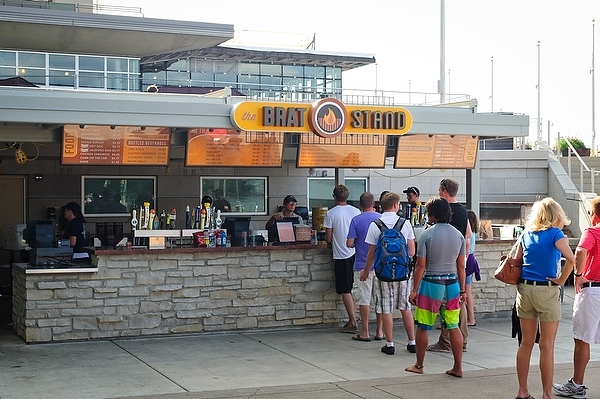 The popular Brat Stand will remain open through Homecoming, even as renovations to the Memorial Union Terrace begin. After its first upgrade in two decades, the Terrace will reopen next summer.
Photo: Bryce Richter
This fall brings a chance to find a new cozy spot at the Memorial Union while some old favorites close for renovations.
Part of the Terrace will close Sept. 1 for its first significant upgrade in two decades, part of the final phases of the Memorial Union Reinvestment project, which began in 2014. It's slated to reopen early next summer.
The deck outside the newly renovated Shannon Sunset Lounge and the deck above will remain open as long as the weather permits. The Brat Stand will be open through Homecoming and will continue to offer the summer snacks guests love. Outdoor UW will continue to operate as normal.
Inside the Union, there's plenty going on. Favorite study spots include the Hamel Family Browsing Library, the Rathskeller dining room and numerous nooks and corners around the west wing.
When the need to nosh strikes, the Daily Scoop in the Paul Bunyan Room offers coffee, Babcock ice cream and grab 'n go snacks. A new sub shop, the Subskeller, features sandwiches.
The Wisconsin Union Theater will remain open throughout the next phase of construction. Upcoming events include the Madison World Music Festival Sept. 18 and 19.
Wheelhouse Studios offers hands-on instruction in a variety of arts and crafts, for beginners and experts alike. Enrollment is open now for fall classes and workshops.