Learn about 250 UW-approved study abroad programs at fair on Sept. 13
Start planning your study abroad adventure at the Study Abroad Fair on Wednesday, Sept. 13 in Union South.
The Study Abroad Fair is your one-stop opportunity to learn everything you need to know about more than 250 UW-approved study abroad programs:
· Chat with advising staff, program leaders, and returned students.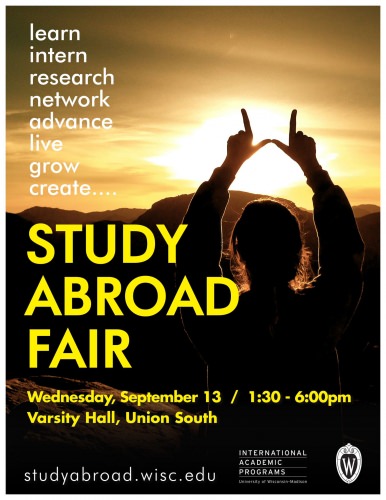 · Attend a session on Funding Study Abroad or Internships Abroad.
· Explore opportunities from International Academic Programs, the College of Agricultural & Life Sciences, the Wisconsin School of Business, and the College of Engineering.
· Enter for a chance to win study abroad gear and prizes from the UW Book Store.
About 25 percent of UW–Madison undergraduates study abroad. Students can even earn in-residence UW credit so they can take classes that count toward their degrees.
Don't speak another language? No problem! Most UW approved programs have no language requirement. Many programs cost the same or less than studying on campus, plus scholarships and financial aid apply to most programs. Check out the International Academic Programs website for more information on the Study Abroad Fair, or visit the Study Abroad Resource Center on weekdays from 8 a.m.–4:30 p.m. on the 3rd floor of the Red Gym at 716 Langdon Street.