Student organic seed enthusiasts to gather in Madison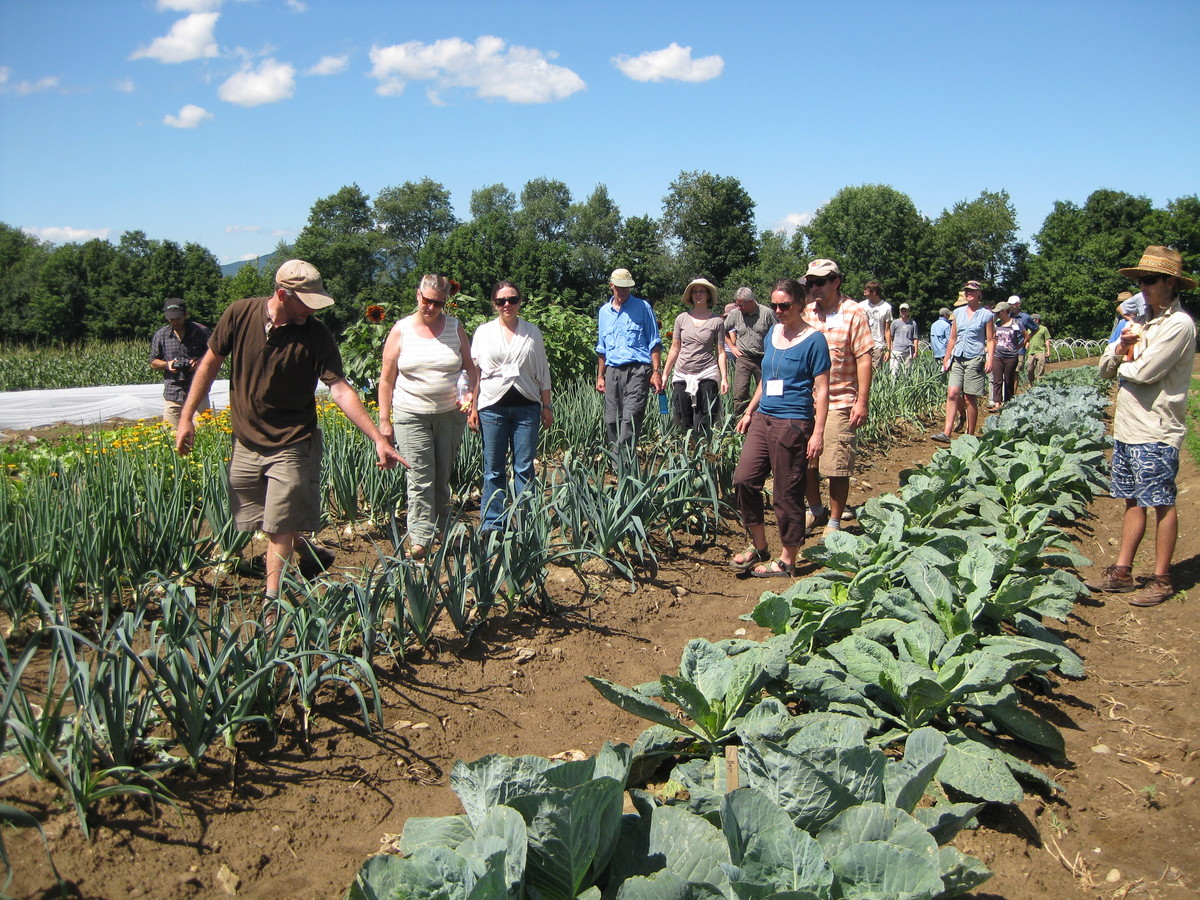 Students watch and learn at the first Student Organic Seed Symposium in rural Vermont in 2012. High Mowing Organic Seeds representative Tom Stearns is describing his company's vegetable varieties.
Photos courtesy of SOSS
While organic foods are popular among consumers, the organics segment remains a lonely field for future plant breeders. At many of the universities that offer graduate programs in plant breeding, for instance, there are only a handful of students focused on developing better fruit, vegetable and field crop varieties for organic farming systems.
"The conventional seed industry is very well stocked, and there's a pipeline of students that go into the industry. But the organic seed industry is small and it's just developing," explains Irwin Goldman, professor and chair of the UW–Madison horticulture department.
To gather this group of widely dispersed young scientists and build a national organic seed community, UW–Madison graduate students helped establish the Student Organic Seed Symposium (SOSS) in 2012. The first symposium brought 20 students from around the nation to rural Vermont to hear from organic-focused plant breeders and seed company owners while touring farms and seed company fields and facilities. It was a big success.
The symposium, now in its fourth year, is coming to Madison for the first time this summer. About 32 graduate students have signed up to attend the event, which runs Aug. 9-12. Symposium organizers are also hosting two public events, an Organic Seed School and a Science Café.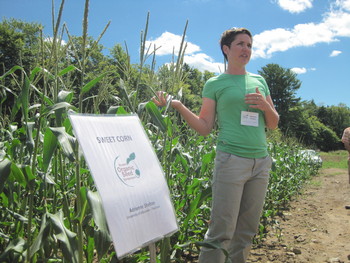 UW-Madison grad student Adrienne Shelton discusses the sweet corn variety she was working on with agronomy Professor Bill Tracy.
The theme of this year's SOSS is "Growing the Organic Seed Spectrum: A Community Approach." Attendees will participate in a variety of talks and tours, including visits to organic food and seed companies of various sizes — from Organic Valley, which serves national markets, to A.P. Whaley Seed Company, which focuses on local and regional markets. They will also participate in an interactive chef-breeder workshop where local chefs will prepare vegetable varieties bred by SOSS attendees, and then the group will discuss what chefs want in new crop varieties and how the upcoming generation of plant breeders can best serve regional culinary communities.
While these events are extremely valuable, one of the major benefits of the symposium for graduate students is the opportunity to connect with fellow graduate students, professional plant breeders and seed company representatives in the down time between scheduled activities. The small size of the symposium allows strong bonds to be formed in a short time.
"We have a lot of one-on-one interaction during the symposium that you don't necessarily get at other, larger conferences," says UW–Madison horticulture graduate student Lynn Maher, one of the symposium organizers. "Those interactions lead to professional relationships and collaborations with other students."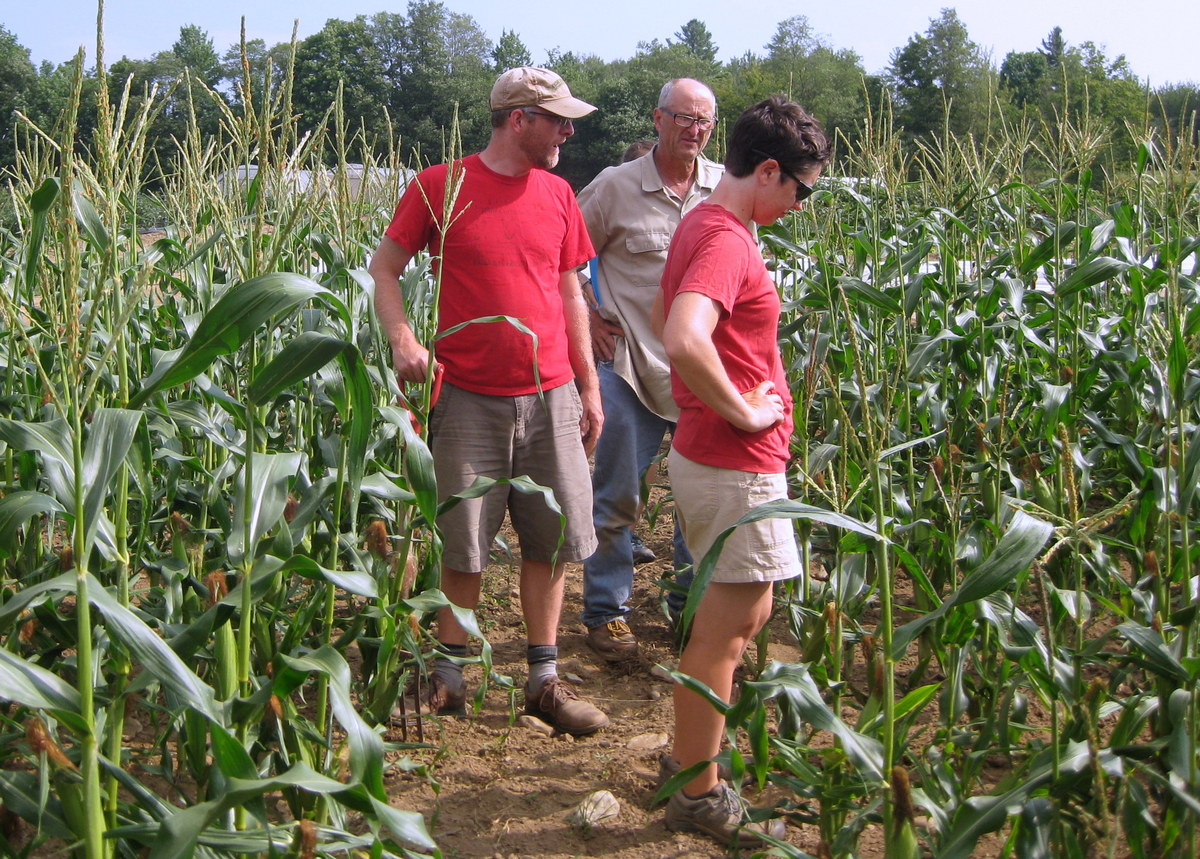 Tom Stearns, Bill Tracy and Adrienne Shelton in the field looking at sweet corn varieties at the Vermont symposium, which UW–Madison grad students helped organize. The event moves to Madison for the first time this year.
One of the most anticipated events of the symposium will take place on Monday, when attendees will gather at UW–Madison's West Madison Agricultural Research Station at 8502 Mineral Point Road to observe — and taste — each other's work in the field.
"There's a heavy investment in looking at student research," explains Maher. "Students send us their seed (in the spring), and we plant trial gardens with them. Then we can actually have the (full-grown) plants here to talk about during the symposium."
One of the public events affiliated with the symposium is an Organic Seed School, set for 8 a.m. to 4 p.m. on Aug. 9, which will provide attendees with hands-on experience in breeding organic seeds. A $20 registration fee covers practical instruction, tours of breeding plots, updates from seed company representatives and time for informal discussion. This event takes place at the West Madison station.
"We … have smart students who see the future in sustainability and they push us, the faculty, to do more. This symposium represents a cohort of students from around the country who are pushing organic seeds forward."
Irwin Goldman
SOSS organizers will also host a Science Café featuring scientists, industry representatives and other symposium speakers. This free public event, titled "Green Genes: Seed Breeding for Organic Agriculture," will take place at 7 p.m. on Aug. 10 at the Goodman Community Center at 149 Waubesa St., Madison. A panel of plant breeders will kick-start the conversation with a short presentation, which will be followed by a Q & A session.
"The Science Café is a new effort this year for the symposium," says horticulture graduate student Solveig Hanson, who helped plan SOSS. "The idea is to facilitate communication and break down barriers. We want to open up people's thoughts to how we grow plants and make food, and why we do it the way we do."
The public events fit well into a long-standing goal of SOSS. In addition to developing collaborations and a pipeline of talent, Goldman wants the symposium to serve the entire organic seed community. The students involved have been invaluable in that effort, he says.
"We're serving a constituency that's important in agriculture, and that's part of our job," says Goldman. "We also have smart students who see the future in sustainability, and they push us, the faculty, to do more. This symposium represents a cohort of students from around the country who are pushing organic seeds forward."
Read more about the Organic Seed School
Find more information about the Science Café 
—Caroline Schneider