Statewide tornado drill planned April 24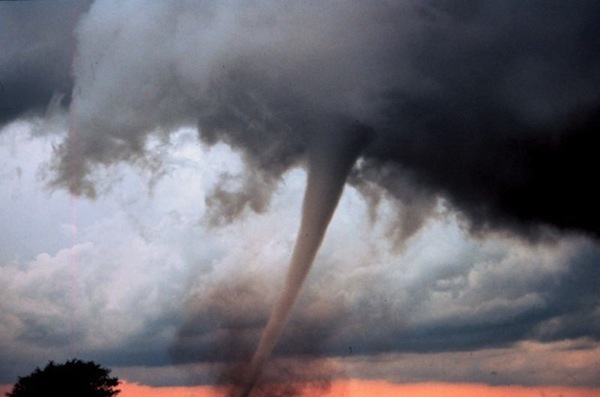 As part of Tornado and Severe Weather Awareness Week, officials are asking people to review plans for staying safe during storms.
Photo: NOAA
It's Tornado and Severe Weather Awareness Week in Wisconsin, making it a good time to plan ahead and think about storms and safety.
On Thursday, April 24, a statewide tornado drill is planned. The drill in an ideal opportunity for UW–Madison staff and students to practice their safety procedures for severe weather. 
A mock tornado watch will be issued statewide by the National Weather Service (NWS) at 1 p.m. The NWS will then issue a statewide mock tornado warning at 1:45 p.m.
Once the alarm is sounded via outdoor warning sirens and weather radios, all building inhabitants are asked to seek shelter in gathering areas designated by building manager or Occupant Emergency Plan.
In the event that there is severe weather reported anywhere in the state, the drill will be postponed until Friday, April 25. People are encouraged to participate in the drill, but participation is not mandatory.
Tornado and Severe Weather Awareness Week is designed to remind people of the dangers associated with tornadoes, thunderstorms, flooding, and hail and to encourage citizens to take protective safety measures such as developing a personal preparedness plan and putting together a disaster supply kit.
Knowing what to expect and the steps to take in an emergency is the key to protecting yourself and your family.
Preparation for disasters reduces the impacts of a disaster. Every household's emergency preparations should include an emergency plan.
If you work on campus, you should also review your Occupant Emergency Plan or evacuation maps, posted in your building, to refresh your memory of where to go during a weather emergency.
If you need additional information on personal plans or Occupant Emergency Plans e-mail the UW–Madison Police Department Emergency Management Unit at emergencymgt@mhub.uwpd.wisc.edu.  If you have questions regarding your building's evacuation map, contact FPM Environment, Health & Safety at 608-265-5000.
Note to campus building managers: If you conduct a tornado drill, please send an email to emergencymgt@mhub.uwpd.wisc.edu with the building the drill was held at, the date it was held, estimated time to evacuate all individuals to shelter locations, and estimated number of individuals that participated.