Spring commencement to remain at Camp Randall in 2015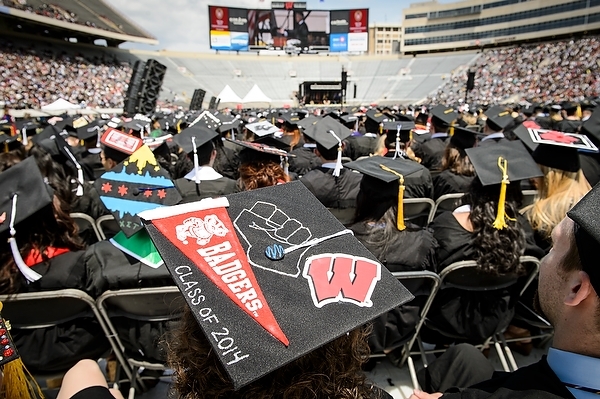 Graduates gather for commencement at Camp Randall Stadium last May. Thanks to the success of that ceremony, commencement activities will return to the stadium in 2015.
Photo: Bryce Richter
On a beautiful Saturday last May, 6,000 undergraduates and master's students celebrated their graduation from the University of Wisconsin–Madison with a crowd estimated at over 44,000 family members and friends at Camp Randall Stadium.
The ceremony looked significantly different from those in previous years, held in shifts at the Kohl Center. Thanks to the success of this year's ceremony, spring commencement activities will return to Camp Randall in 2015.
"My first UW spring commencement would have been exciting anywhere, but the historic return to Camp Randall made it truly memorable," says Chancellor Rebecca Blank. "Celebrating and honoring our new graduates in a place so steeped in tradition was a joy. I look forward to joining the Class of 2015, their family and friends at Camp Randall once again."
The 2015 ceremony will take place on Saturday, May 16 at noon in Camp Randall Stadium, 1440Monroe St. Schools and colleges will once again host recognition ceremonies and receptions throughout the weekend.
As in previous years, doctoral and MFA candidates will celebrate in the Kohl Center on Friday, May 15 at 5:30 p.m.
Maria Giannopoulos, senior class president, was inspired by observing the 2014 commencement ceremony.
"When we attended the ceremony at Camp Randall, we were thrilled by the opportunity to share Commencement activities with our classmates all together in one place," says Giannopoulos. "We're excited to continue this new tradition with the Class of 2015."
More details about spring commencement will be available in January 2015; check commencement.wisc.edu for information and updates.