Residential camps, conferences keep campus busy all summer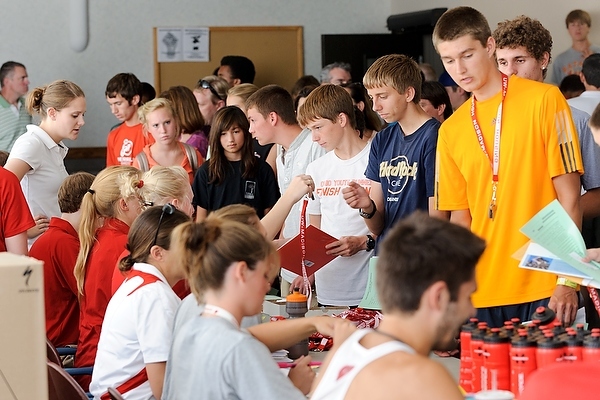 More than 100 residential programs, including camps, conferences and classes, take place during the summer on the UW–Madison campus.
Photos: Jeff Miller
The spring semester may have ended in May, but the learning never stops on campus.
While most students are on vacation, UW–Madison opens its doors to more than 100 residential programs that take place during the summer — each offering visitors an opportunity to learn something new.
For 20-year-old Sam Fauble of Verona, it means eight weeks of Arabic as part of the UW–Madison Arabic, Persian and Turkish Language Immersion Institute. Students agree to not only speak in their studied language during class but outside of the classroom in their shared living space on campus, at meals and at other activities. The program started June 15 and ends Aug. 10.
"In the beginning, it was really a challenge," Fauble says. "After awhile, it gets exponentially easier."
Those first days, charades were often played to communicate. But Fauble says that as they've grown more comfortable, Arabic is replacing the charades.
Fauble, who will be a junior this fall at the UW, had previously taken two semesters of Arabic.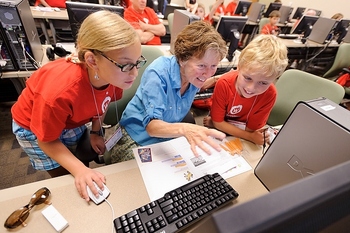 Grandparents University is one of many youth camp opportunities.
"I wanted to pick a language that would be a challenge," Fauble says. "Arabic is definitely a challenge."
Fauble plans to study in Morocco this fall, so improving his Arabic came as the perfect preparation. "There are few places in the United States where you can immerse yourself in Arabic, especially in the Midwest," Fauble says.
Besides honing his language skills, the program offers Fauble and others an opportunity to meet fellow learners from all across the country. "You really learn from each other," Fauble says.
That's a big part of what residential programs offer besides the course material — the chance to meet others and, for many, an opportunity to visit the UW–Madison campus for the first time.
Visitors staying in the residence halls range in age from 8 to over 80, with programs lasting for as little as one day to up to nine weeks.
Getting ready for more than 15,000 guests requires quite a bit of planning. Fortunately, Sharon Seagren has plenty of experience in her 13 years as director of conference services with University Housing.
"Every year, you learn from the previous programs and experiences," Seagren says. "During the academic year, we're planning three or more years in advance. During the summer, we're delivering the services to our guests across campus."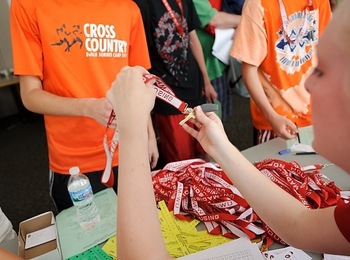 A ritual of many summer camps: checking in and receiving your lanyard.
Planning is ongoing, although University Housing has about a week after the end of the spring semester to prepare halls. Programs this year began May 27 and end Aug. 23.
Housing staff send surveys each summer so they can better improve the experience for the guests and visitors, for those who will be returning more than one summer, and for new guests on campus.
Housing's Conference Services office serves as command central for visitors' needs — whether people have questions about residence hall accommodations, meals, meeting rooms, tech centers, catering, parking — and for other campus resources, Seagren and her team are ready to help.
"Campus is decentralized, which can be pretty overwhelming for people," Seagren says.
All that learning cannot happen without proper fuel. Last summer's meal count: approximately 73,000 breakfasts, 61,000 lunches and 55,500 dinners were served to visitors from more than 40 countries. This summer, residential guests are  enjoying the new marketplace dining experience with the variety of menu options in the new Gordon Dining and Event Center, Four Lakes Market in Dejope Hall, and the newly renovated Carson's Market.
"The outstanding resources and quality faculty and staff on campus really attract groups to do research and attend conferences at our institution," Seagren says. "They're coming here because of UW–Madison and our excellent reputation."
Seagren has seen an increase in the number of pre-college academic programs over the past few summers.
The Wisconsin Center for Academically Talented Youth (WCATY) offers the Accelerated Learning Program (ALP) for gifted high school students from June 23 to July 13 and the Summer Transitional Enrichment Program (STEP) for students completing 7th and 8th grades July 14-27.
Because the learning never stops, neither does the planning. Seagren is already focused on summer 2015 and beyond.
Priscilla Pardini has taught a STEP class on journalism for several years. In it, students learn how to interview, write, take photos and even put together a newspaper.
Last summer, social media was introduced as part of the class with students writing blogs and tweets.
"I find that at this age, kids love journalism. They make great reporters because they're naturally curious," Pardini says. "And at STEP they find themselves with likeminded kids and feed off each other's knowledge and skills."
Students also learn how to work on deadline.
"We try to make it as real as possible," says Pardini, who co-teaches the class with Sami Ghani, a UW senior. "We push them to produce high quality work and really stretch."
One perk of the job: getting numerous thank you notes from visitors to campus, including one handmade card from 17 children who were part of Operation Military Kids University, a camp for kids who have a family member serving in the military. UW-Extension developed the program to build resilience throughout the deployment cycle to connect youth to other military families.

"For a lot of children, living on campus is a pretty big eye-opening experience, especially those coming from a small town," Seagren says.
For youth, there are sports camps, computer camps, science and engineering classes, gaming, 4-H programs and music clinics. Adult learners participate in research forums, and a variety of seminars and conferences with an abundance of annual and new offerings.
Yes, things are a bit quieter on campus in the summer. But because the learning never stops, neither does the planning. Seagren is already focused on summer 2015 and beyond.