Recent Sightings: Campus from the rooftop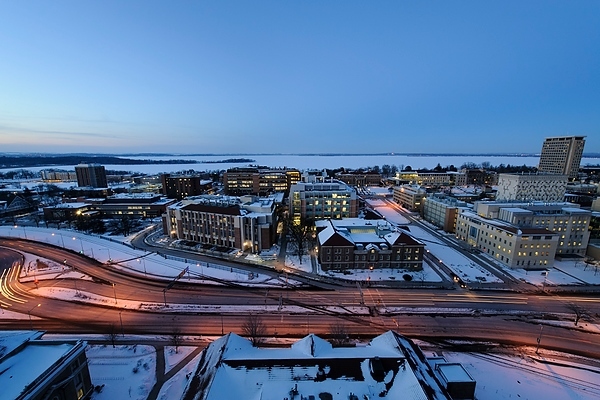 The central campus is pictured in the gathering darkness of a late winter evening. At center is the biochemistry complex. Major facilities in the background, from far left to right, include the Animal Science Building, Bacbock Hall, Russell Laboratories, Microbial Sciences, Agricultural Hall, Nancy Nicholas Hall, Wisconsin State Laboratory of Hygiene, 445 Henry Mall and the Genetics-Biotechnology Center Building. At far right is the McArdle Cancer Research Building and Van Hise Hall. These views are from the roof of the Engineering Research Building.
Photos: Jeff Miller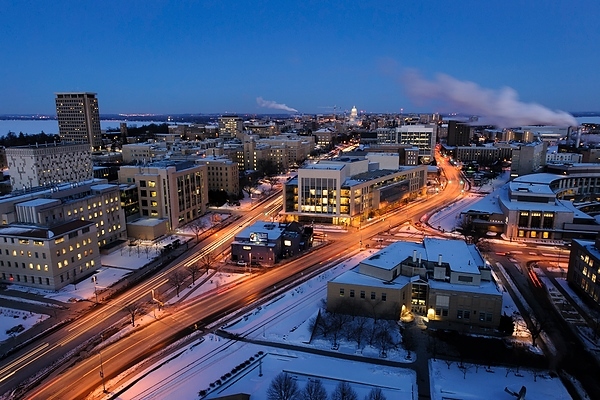 As darkness continued to fall on this urban part of campus, this view to the east captures traffic moving through the triangle formed by Campus Drive and University Avenue. At center, from left to right are the Genetics-Biotechnology Center Building, Wisconsin Institutes for Discovery and Union South. In the foreground is Engineering Mall and 1410 Engineering Drive. On the horizon is the dome of State Capitol.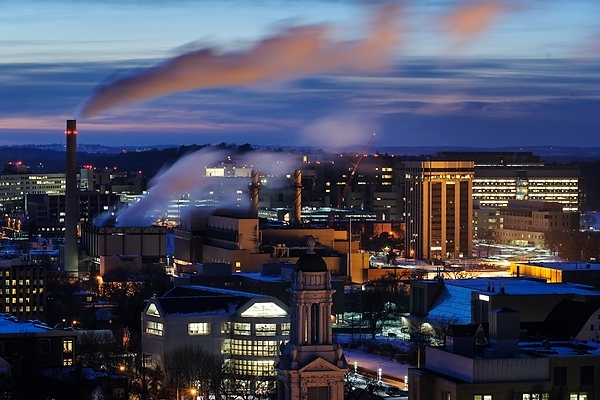 Steam and heat hit frigid air as dusk falls to nighttime, in a western view. Prominent campus facilities in the background include, from left to right, the Walnut Street Heating and Cooling Plant, West Campus Cogeneration Facility, UW Hospital and Clinics, and WARF Building. In the foreground, well-lit at left, is the UW Foundation building.