Read On Wisconsin sponsors school visits by author Jacqueline Briggs Martin
Award-winning author Jacqueline Briggs Martin will visit schools in Madison and Milwaukee June 1-2 as part of the Cooperative Children's Book Center's Read On Wisconsin program.
Read On Wisconsin is a statewide, online literacy program aimed at pre-kindergarten through high school students in Wisconsin that promotes high-quality books throughout the year. Each month features one or two recommended books for children and teens in five age groups. Originally established by former Wisconsin First Lady Jessica Doyle in 2004, Read On Wisconsin has been administered by the center since 2011.
Martin lives in Mount Vernon, Iowa, and grew up on a dairy farm in Maine, where all members of the family were involved in farming and food creation. Martin explains that delicious meals were a way to celebrate and show affection in her family.
Martin enjoys talking to others about gardens, growing food and their own food stories, and plans to discuss her research and writing process during upcoming visits with elementary school students hosted by Read On Wisconsin.
"Every family has a 'family favorite.' And there's usually a story associated with that food," Martin says. "I love hearing these stories from children or adults. And it reminds us that we all have stories to write."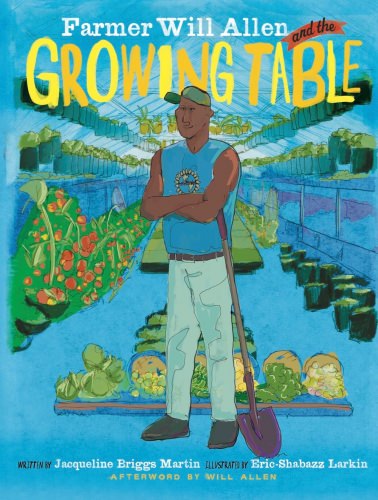 Martin's book "Farmer Will Allen and the Growing Table" is a Read On Wisconsin selection for intermediate age readers this summer. It tells the true story of Allen's work establishing urban farming in Milwaukee through an organization he launched, Growing Power.
Martin's visit to Wisconsin is in conjunction with the eighth national Farm to Cafeteria Conference in Madison June 2-4.
Martin is scheduled to visit a class at Orchard Ridge Elementary School in Madison at 9:50 a.m. on Wednesday, June 1. On Thursday, June 2, at noon, she will be in Milwaukee visiting a class and the hydroponics lab at Gaenslen School. At 2 p.m. she'll visit Growing Power.
Read On Wisconsin offers monthly book recommendations to pre-K through 12th grade educators, public librarians serving children and teens, early childhood care providers, and young readers from birth through high school.
The CCBC is a book examination and research center within UW–Madison's School of Education that serves pre-service and practicing teachers and librarians across Wisconsin.