Pulitzer Prize-winner to explore future of journalism in digital age
Technology is changing how news consumers stay informed, shaping a new era of journalism that's faster, more interactive and more in-depth than ever before.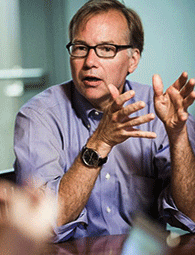 Steve Coll
Steve Coll, the new dean of the Columbia University Graduate School of Journalism, says data and computational sciences, sensors, and even drones (of the unarmed type) are creating new possibilities for journalists, yet we have only started to apply new technologies to the goals of journalism in a democracy.
"The next phase of the digital era in journalism requires us to interrogate technology, to ask how these new tools can advance investigative reporting into closed and powerful institutions, or document atrocities, or tell stories from excluded communities," Coll says. "Digital technology is not an end in itself — we must learn how to seize it to advance the values of an open society."
Coll will be on the University of Wisconsin–Madison campus on Monday, Nov. 11, to deliver a talk on "Journalism in the Digital Age." His lecture is scheduled for 4 p.m. in the Alumni Lounge of the Pyle Center, 702 Langdon St.
Coll 's career as a reporter has included stints writing for The Washington Post and The New Yorker. He also served as president of the New America Foundation, a public policy institute in Washington, D.C., that encourages new voices to contribute ideas for how the United States can confront emerging challenges.
Coll has won two Pulitzer Prizes, including one for his book "Ghost Wars: The Secret History of the CIA, Afghanistan, and Bin Laden, from the Soviet Invasion to September 10, 2001."
Coll's lecture is part of the Ralph O. and Monona H. Nafziger lecture series and is sponsored by the UW–Madison School of Journalism and Mass Communication.
The talk is free and open to the public.