Public invited to UW Family Gardening Day on May 10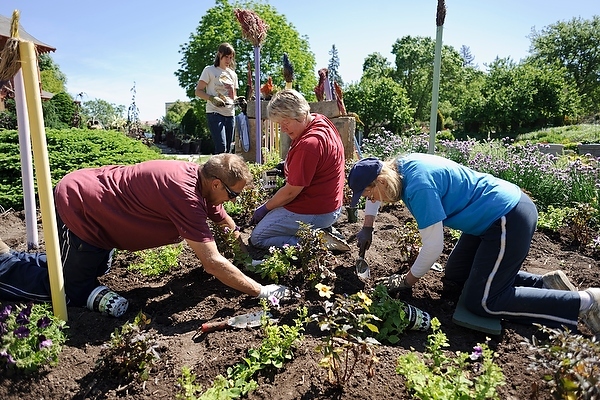 A group of staff and volunteers plant a spiral-patterned display of annual flowers at the Allen Centennial Gardens in June 2013.
Photo: Jeff Miller
After a frigid winter and chilly spring, area gardeners are invited to celebrate the arrival of the gardening season — and gather a cornucopia of helpful ideas — at the UW Family Gardening Day on Saturday, May 10, on the University of Wisconsin–Madison campus.
The free, family-friendly event runs from 10 a.m. until 2 p.m. at the university's Allen Centennial Gardens and D.C. Smith Instructional Greenhouse, where UW–Madison and UW-Extension experts and volunteers will be on hand to answer all kinds of questions about plants, soils, weeds and pests; offer advice and tips for gardens large and small; and host a variety of demonstrations and displays, including topics such as limited-space gardens, edible gardens and ergonomic tools for lifelong gardening.
There will also be plenty of fun, hands-on activities for kids. At the greenhouse, children will be able to assemble tiny terrariums (using deli containers they can take home), look at insects under a microscope and assemble unconventional flower arrangements. Young visitors to Allen Centennial Gardens can make a "living locket" containing a seed that they can wear home.
While supplies last, Allen Centennial Gardens will also be distributing Pasta Four-Packs — sets of tomato, oregano, basil and pepper plants — for visitors to take and plant in their home gardens.
Across the street from the gardens, Steenbock Memorial Library invites visitors to check out its extensive collections related to gardening, horticulture and floriculture, including UW-Extension materials for master gardeners. The library will also distribute information about various local gardening resources and services, including extension, Olbrich Gardens and the new Dane County Seed Library project.
And don't forget to start or end your visit with a trip to the Babcock Hall Dairy Store, which will be open and dishing up all sorts of ice cream treats.
Allen Centennial Gardens is located at 620 Babcock Drive. The D.C. Smith Instructional Greenhouse is located one block south at 465 Babcock Drive. Free parking is available in Lot 34 at 1480 Tripp Circle; in Lot 36 just west of Steenbock Library; and in Lot 40 behind Babcock Hall.