Program matches doctors and rural communities that want each other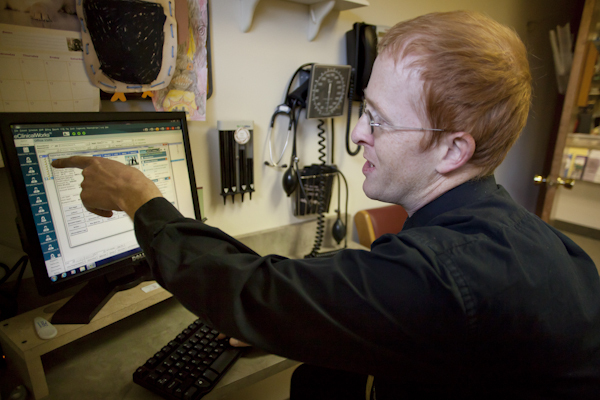 Physician Dave Hubbard was paired with a clinic in Soldier's Grove, Wis., by a UW–Madison program that matches rural hospitals and clinics with new doctors who want to practice in smaller communities.
Photo: Kait Vosswinkel
For some people, moving away from their small hometown is the ultimate goal. Dave Hubbard wanted the complete opposite. In his search for the perfect career in family medicine, the physician from southwestern Wisconsin wanted to return to his roots.
"It was important, not only to get a job, but also to have options to select where I would work," says Hubbard. "I knew I wanted to work in rural Wisconsin."
Hubbard grew up in Norwalk, a village of a little more than 600 people in Monroe County. It is only about a 45-minute drive from where he has practiced for the past year, the Kickapoo Valley Medical Clinic in Soldier's Grove.
"I traveled around a bit, but I always wanted to come home," Hubbard explains.
Dave Hubbard
To help him to find the perfect placement near his hometown, Hubbard turned to UW–Madison's New Physicians for Wisconsin program. He had discovered the program, part of the Wisconsin Office of Rural Health (WORH) in the School of Medicine and Public Health, while still in medical school prior to his job search. When he began looking for a position, Hubbard called on WORH's Randy Munson for guidance.
"I would tell Randy 'Here are the places I'm considering' and he would let me know what jobs were available there," Hubbard says. "I've been so happy with Randy, and I trust his judgment. He will tell you the bad with the good, and lets you know the dynamics of a clinic before you visit."
New Physicians for Wisconsin is a physician recruitment program that helps physicians find satisfying careers in Wisconsin communities, and also helps clinics, hospitals and health care systems fill vacant positions.
The program provides these services to the physicians at no cost, and emphasizes the priority of finding the best fit between the doctor and clinic, hospital and community. This best-match strategy is what encouraged Hubbard to utilize the program.
Randy Munson
"(Munson) doesn't just find you a placement," says Hubbard. "He finds a place that benefits both the doctor and the clinic."
Munson, the sole recruiter for New Physicians for Wisconsin, says the program has changed significantly since it was started in 1979. While originally focused on recruiting physicians solely for rural areas and only for general medicine, it now offers diverse opportunities in all parts of the state.
"It started out very small, mostly working with … family medicine, internal medicine and pediatrics," Munson says. " The program expanded to where at one point, the decision was made that we wouldn't say no to anybody. In addition to rural, now it opened up to where it was serving the whole state, not just the little towns."
In addition to matching physicians with available Wisconsin positions, Munson provides the physician with information about clinic and hospital environments, arranges site visits, assists in spousal employment searches and advises the physician throughout the recruitment process.
"This is by far the place that has the single largest listing and most comprehensive listing and the most information about the jobs here in Wisconsin," Munson emphasizes. "Not many other states have programs that have been around as long as us. If you want to know where the jobs are, this is the place to come."   
"We've always had trouble attracting doctors to the more rural areas, and especially keeping them once they're here. I am glad that the Office of Rural Health is working on this issue."
Elizabeth Johnson
Wisconsin is experiencing a shortage of doctors in rural areas, making it difficult for some residents to find necessary health care. According to the Wisconsin Academy for Rural Medicine, only 11 percent of physicians have practices that serve rural communities, leaving many areas understaffed.
"If a rural clinic loses even one doctor, that can be a quarter of their medical staff if there are only four or five doctors in a community," says Munson. "It's just a huge loss. It would be like UW losing 400 doctors at once. … It means that all the other doctors have to work that much harder to pick up the slack until they can find someone new."
Elizabeth Johnson, director of the Vernon County Health Department, agrees that attracting new doctors can be a struggle for small communities, but any program that addresses the shortage is beneficial to the area.
"We've always had trouble attracting doctors to the more rural areas, and especially keeping them once they're here," says Johnson. "I am glad that the Office of Rural Health is working on this issue."
The program works with physicians from all across the nation to find them placements in Wisconsin. Over the history of the program, more than 500 physicians have been placed from Kenosha to Superior and many points in between, assuring that those communities have access to the doctors they need.