Posters in the Rotunda event showcases student research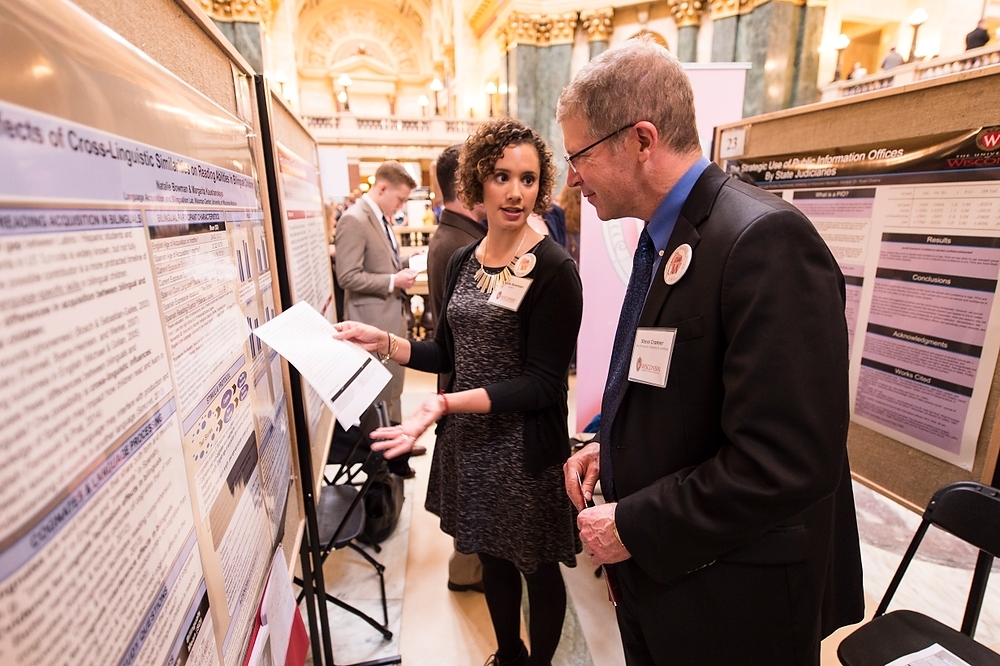 University of Wisconsin–Madison student Natalie Bowman speaks with Steven Cramer, vice provost for teaching and learning, about her undergraduate research display during Posters in the Rotunda at the Wisconsin State Capitol on April 22, 2015. The event provides students and faculty advisors from across the UW System with the opportunity to share their research findings with Wisconsin legislators, state leaders, UW alumni and the public.
Photo: Jeff Miller
The environment, artificial intelligence, anthropology — subjects varied for the 12th annual Posters in the Rotunda event Wednesday at the Capitol, but what all had in common were curious students in search of answers.
State legislators were joined by UW System and institutional leaders in welcoming 130 students and nearly 90 faculty mentors. Undergraduates from the System's 26 campuses set up poster displays and shared the findings of their research.
Thejas Wesley, a sophomore majoring in chemical engineering from Madison, spoke about "Synthesis and Support Effects on Platinum-Molybdenum Activity for Water-Gas Shift," a subject he's enthusiastically been researching for the past year.
"I like to understand how things are happening," Wesley says.
As a student at Memorial High School in Madison, Wesley took part in a program that allowed high school students to work in labs on the UW–Madison campus.
"I didn't know I wanted to be a chemical engineer, but that helped me decide," Wesley says.
Natalie Bowman, a senior majoring in Spanish and communication sciences and disorders from Bloomington, Ill., will graduate in May and attend graduate school at UW–Madison.
Her poster, "Effects of Cross-Linguistic Similarities on Reading Abilities in Bilingual Children," was partially personally inspired.
"I'm bilingual myself," Bowman says. "Sometimes when I speak in English, some Spanish pops out."
Her mother is a speech pathologist, the field Bowman plans on pursuing. Bowman is most interested in figuring out how to better educate bilingual students.
"We're learning that we need to encourage bi-literacy," Bowman says. "This research helps identify how we can help and teach students."
Margarita Kaushanskaya, a communication sciences and disorders professor, served as Bowman's advisor and mentor.
"Most of the world isn't speaking one language," Kaushanskaya says. "We can use what we find to improve reading fluency in kids who are struggling."
The University of Wisconsin System is a national leader in undergraduate research, which contributes to the state's priorities, including student retention and graduation rates and workforce development. Posters in the Rotunda is one way to showcase that research.
"I think it does wonders for the way we think, ask questions and find answers," Kaushanskaya says. "It doesn't matter what your field of study or subject is. You're learning how to ask questions and think critically while having an open mind."
Kaushanskaya wasn't just impressed with Bowman's work — she enjoyed seeing the variety of research from students across the state.
"They are the future of our state," Kaushanskaya says. "They have a voice. And it's a good voice."
The other UW–Madison students presenting were Matt Holtz (Oshkosh, Wis.), Aidee Guzman (Kerman, Calif.), Ethan Kay (Madison) and Donya Khadem (Menomonee Falls, Wis.).