Period to sign up for or change employee benefits begins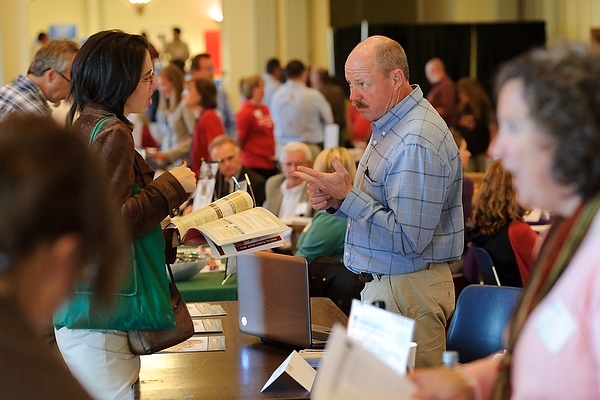 Faculty and staff talk to and collect information from representatives of nearly 50 university offices and benefit providers during the annual Employee Benefits and Resource Fair in 2011.
Photo: Jeff Miller
The Annual Benefits Enrollment period for University of Wisconsin–Madison employees is Oct. 5 through Oct. 30. This is the time when an employee may enroll in or make changes to existing benefit plans. Any changes become effective Jan. 1, 2016.
All eligible employees received an email at the start of the enrollment period that described benefits changes and enrollment options for 2016. Employees can also learn about benefit changes at the Employee Benefits and Resource Fair, 9 a.m. to 3 p.m. on Tuesday, Oct. 6, at Union South. For more information, visit the Office of Learning and Talent Development Web page.
Some important changes are coming to employee benefits which will have financial impacts. The Office of Human Resources will be offering a variety of Benefits Seminars campuswide to ensure employees are able to make informed decisions based on these changes for 2016. All benefit-eligible employees are encouraged to attend to learn more about the following benefit changes for 2016:
State Group Health Insurance with Uniform Dental
The Uniform Dental Benefit (preventive dental coverage included with your health plan) will be administered by Delta Dental instead of through individual health plans' networks. Current State Group Health Insurance members will be automatically enrolled in Uniform Dental Benefits for 2016. Employees may opt out of the Uniform Dental Benefit and save on their monthly health insurance premiums.
Medical and Prescription Drug Costs
You will need to meet a medical deductible before your health plan will start paying toward certain medical expenses (except office visits).
You will pay a copayment for office visits.
You will pay coinsurance instead of a copayment for certain prescription drugs.
Out-of-pocket limits are increasing.
Increased Health Savings Account (HSA) Employer Contribution
The employer contribution in the HSA will be increased to $750 per individual/$1,500 per family for those enrolled in the high-deductible health plans in 2016.
Group Health Insurance Opt-Out Option
Employees enrolled in State Group Health Insurance in 2015 may be eligible to receive a $2,000 incentive if you opt out of state group health insurance coverage for 2016.
Other Benefit Plans
VSP Vison and Dental Wisconsin are both offering an open enrollment.
Individual and Family Life Insurance: If currently insured, an individual may increase coverage.
Flexible Spending Accounts (FSA) Medical and Dependent Day Care: Individuals need to enroll in this plan on a yearly basis to carry the benefit.
Employees should visit the Annual Benefits Enrollment website for 2016 Benefit Change Seminars and additional resources.
Please note: The following departments — Office of Human Resources, Chemistry, and DoIT — will be participating in eBenefits, which is an electronic enrollment process. Employees outside these departments will use paper for their enrollments with the exception of Flexible Spending Accounts (FSA) and Health Savings Accounts (HSA) through TASC.