Parents' Weekend to bring campus to life for Badger parents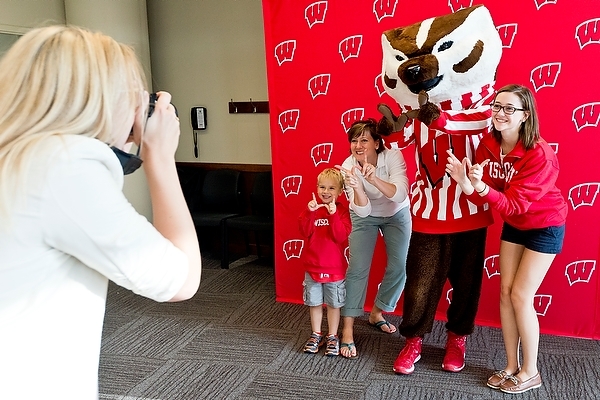 UW-Madison students and their family members will have a chance to snap a photo with Bucky Badger during the Family Festival, one of many Parents' Weekend events taking place on campus Sept. 19-21. 
Photo: Bryce Richter
Friday afternoon lectures, Friday evening activities, Saturday morning pregame tailgates, Sunday strolls around campus.
What may sound like a standard fall weekend for UW–Madison students will soon be experienced by their parents. From Friday through Sunday, Sept. 19-21, campus will host the annual Parents' Weekend, formally introducing parents to the staples of campus life.
"We want parents to come to campus and feel connected to it, feel our traditions, see our traditions and make memories with their students," says Patti Lux-Weber, assistant director of parent relations and special events.
After checking in at the Gordon Dining and Event Center, parents will have no shortage of options from which to choose. On Friday alone, parents can pick from over a dozen scheduled events — open houses at key campus services, hands-on science stations, crafting at Memorial Union's new Wheelhouse Studios, a campus photo tour and more.
Chancellor Rebecca Blank addresses a group of parents during the 2013 Parents' Weekend.
Photo: Bryce Richter
But just as students must balance school and outside activities, a new emphasis for this Parents' Weekend is bringing the classroom to life, Lux-Weber says. On Friday afternoon, parents are encouraged to attend Chancellor Rebecca Blank's official welcome, UW Marching Band director Mike Leckrone's discussion of campus traditions and UW faculty's presentations on areas of expertise.
"Our concept this year was to try to get more of campus as a whole involved in Parents' Weekend," Lux-Weber says, "so that parents really feel welcomed."
Friday evening will feature a trio of new events. Parents can snap a photo with Bucky Badger and greet campus celebrity ice cream scoopers during the Family Festival at Union South. Alumni Scott Dikkers, founding editor of The Onion, and Jim Mallon, a writer and producer, will speak at the Our Funny University panel. The night will cap with an event teaching techniques for relaxation and stress reduction.
With so many options, some of which overlap, Lux-Weber says the goal of the weekend is to give parents the flexibility to create their own, unique weekend experience that will be especially relevant and meaningful to them.
"We hear from some parents that they really don't want a structured weekend; they just want to spend time with their students. And then we hear from the other half of the parents that they really want some structured activities and to get to know other people," she says. "By putting out a schedule with options, we're hoping parents can kind of customize their weekend."
"We want parents to come to campus and feel connected to it, feel our traditions, see our traditions and make memories with their students."
Patti Lux-Weber
The marquee event on Saturday will be the UW football game against Bowling Green. Parents will also have a slew of options for pregame festivities: the Badger Family Tailgate and Badger Bash, both hosted at Union South, and Badgerville at Engineering Mall.
Sunday will bring Parents' Weekend full circle with a farewell brunch at the Gordon Dining and Event Center and another opportunity to go on a campus photo tour.
The weekend itinerary also suggests additional activities that are available to the public, including popular destinations like the Memorial Union Terrace, Lakeshore Path, Chazen Museum of Art, and State Street.
"We're really trying to bring lots of aspects of UW–Madison to parents as part of their short weekend," Lux-Weber says.
For a full schedule of events — as well as registration, campus trolley and parking information.