No live performances? Wisconsin Singers make video for 2021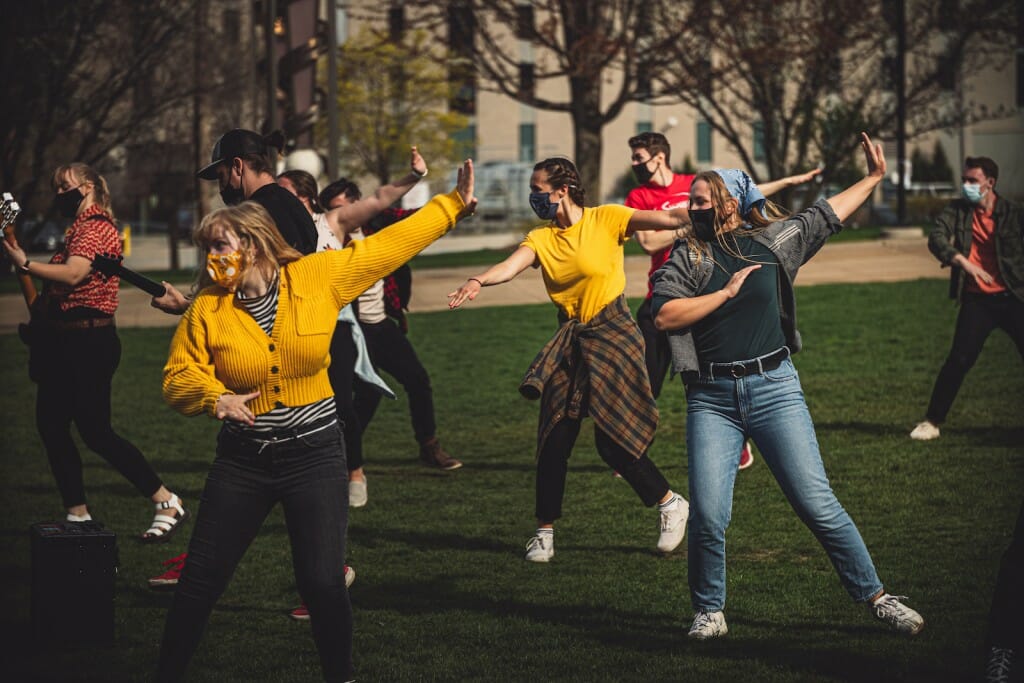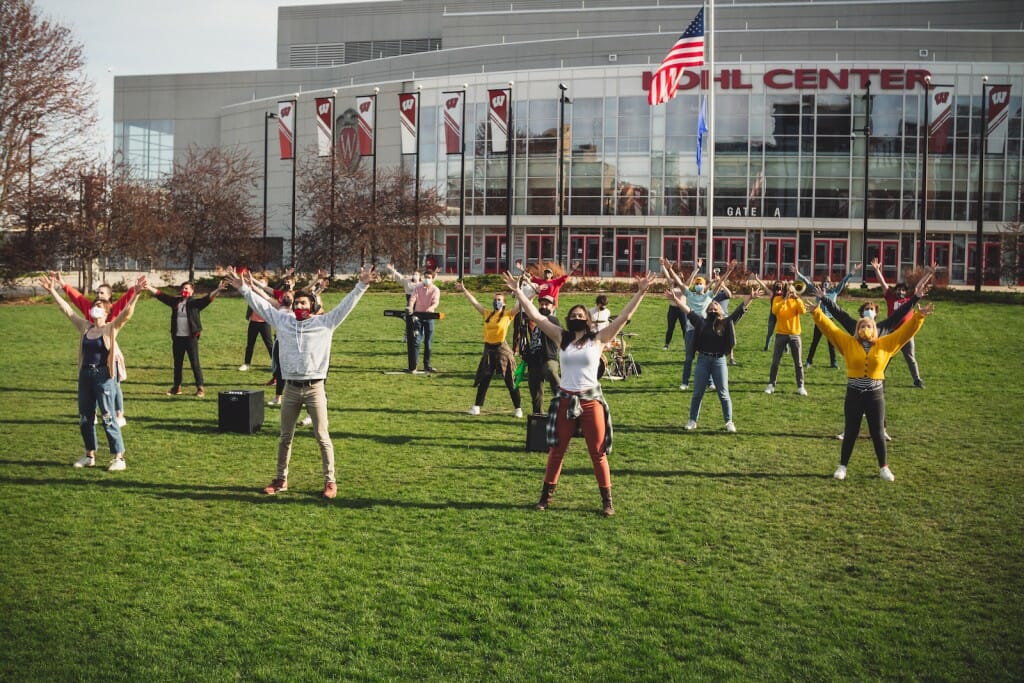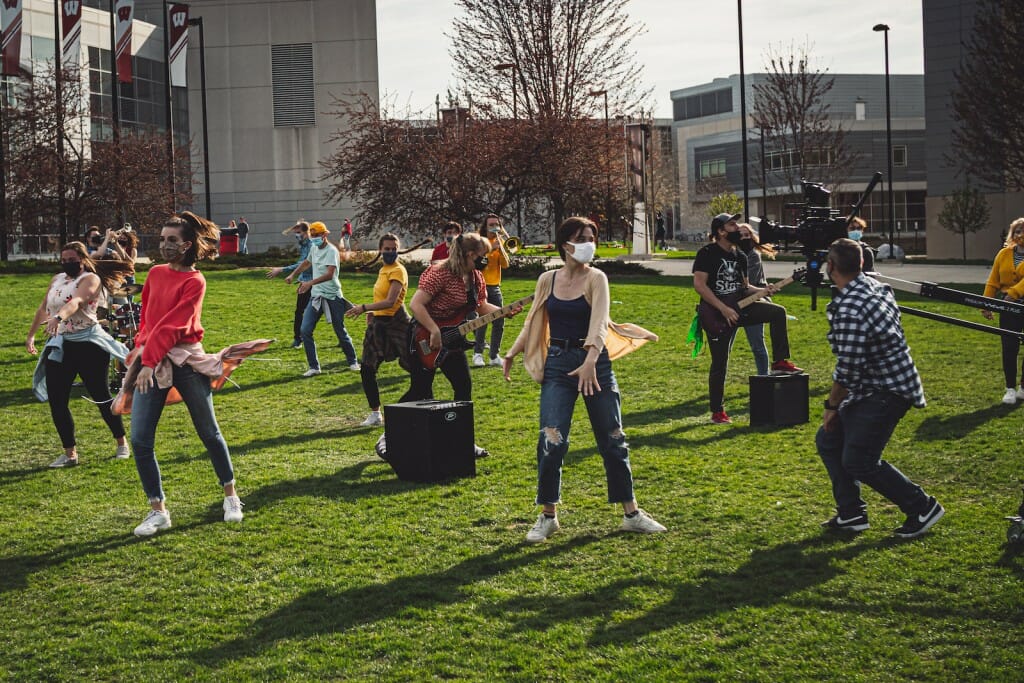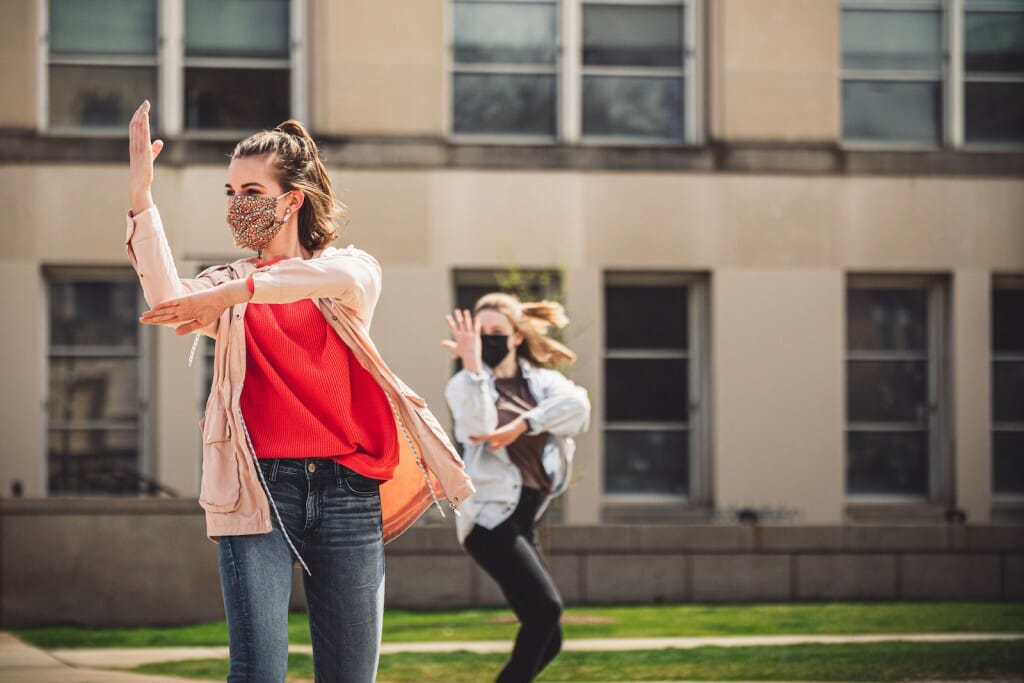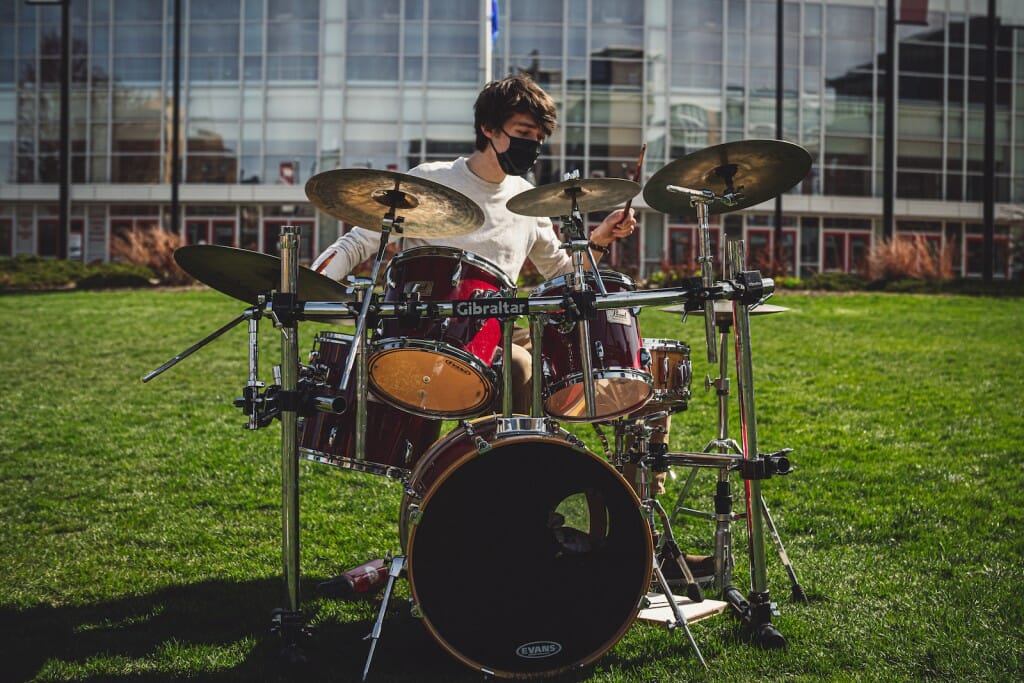 Watch the Wisconsin singers video.
In a typical year, The Wisconsin Singers, an ensemble of UW–Madison students that's been performing for 53 years, would learn the music, vocal parts, and choreography for their annual show before the fall semester even began.
They'd rehearse in the Humanities Building every Sunday during the semester and perform in Overture Center mid-year. Then, in the spring semester, the troupe would take their show on the road, performing for upwards of 50,000 people around Wisconsin as the "Official Ambassadors of Goodwill" for UW–Madison.
Of course, 2020 was not a typical year.
"We realized in the fall that it definitely wouldn't be possible to rehearse together and tour the state with our 90-minute production, but we didn't want to go dark," said Abby Pritzl, Executive Producer/Student Advisor for Wisconsin Singers and a UW–Madison and Wisconsin Singers alumna. "We have 18 singer/dancers, an eight-piece live band, two theater techs, and eight business interns, so we had to figure out how to incorporate those roles and do something uniquely Wisconsin Singers, safely. That was the scene that was set for us."
The group decided to film their opening number, "Come Alive," a song from The Greatest Showman, and release the video on May 16. It can be viewed here.
They recorded the music and vocals and filmed the dance numbers outdoors on campus with masks on.
"This grew out of wanting to bring everything together creatively on a larger scale," said Pritzl. "Our mentality was, since things have changed, let's change with them, to the best of our ability."
The recording process began when the Wisconsin Singers band laid down the instrumental track. Each instrumentalist played their parts in their individual residences, using sheet music and a click track.
"In a regular year, after we've spent hundreds of hours rehearsing, and the show is super tight, the rhythm section records the whole CD together," explained UW–Madison senior Brian Hogan, who has been the Wisconsin Singers' guitarist for four years and is also the student tech team's production manager and frequent photographer. "This time, we all got to record our tracks on our own time. That allowed us to play around with the sounds we were using, adding different layers, and really making the song our own."
The sound engineer, one of several Wisconsin Singers professional staff members besides Pritzl, combined the separate instrumental tracks and sent the baseline instrumentation to the singers, who recorded 18 vocal parts that were layered together with instrumentation and solos. Students used technology from iPhones to professional-quality microphones to record their vocal parts.
"It was really a feat to create an ensemble sound from individuals in their own spaces, which was the safest way we could think of managing this," said Pritzl. "I think the viewers will hear that these students put in a lot of time to make this possible."
A few months later, the singer-dancers got to hear the ensemble piece, compiled by the sound engineers. In the meantime, they learned and practiced their choreography over Zoom, with just one outdoor, in-person, socially distanced, masked choreography session. Then, they spent two weekends in April filming their dance pieces on campus, at the Kohl Center terrace, Union South Plaza, and Library Mall, with the additional challenge of using just their eyes for expression.
"It was super exciting and fulfilling to have everyone together in one space, creating something," said Pritzl. "Adapting our process for film was a really cool thing to learn about."
Filming requires multiple takes, angles, and close-ups, which can be exhausting for dancers.
"It was so interesting to sing and dance in a film setting, after years of experience singing and dancing on live stages," said singer/dancer Mari Pomroy, a UW–Madison senior. "It was a completely different atmosphere, with all-new goals and challenges."
The troupe's business interns are planning for distribution of the video, which went live on May 16. Photographs taken during filming will be used for social media channels and press.
"We used to put up posters, so how do we reach the student body when they're not on campus? Social media," said business team project manager Ellen Vaillant, a UW–Madison senior who was also an extra in the video. "We want this video to go viral."
"I am so excited to get to share our hard work with people again," said Pomroy. "We really are entering a phase of 'Coming Alive' after a year of hardship and isolation. I hope this video gets people excited for a new year and for the reemergence of the performing arts."
Students interested in the Wisconsin Singers can submit audition videos for band and singer/dancers by May 16, 2022.